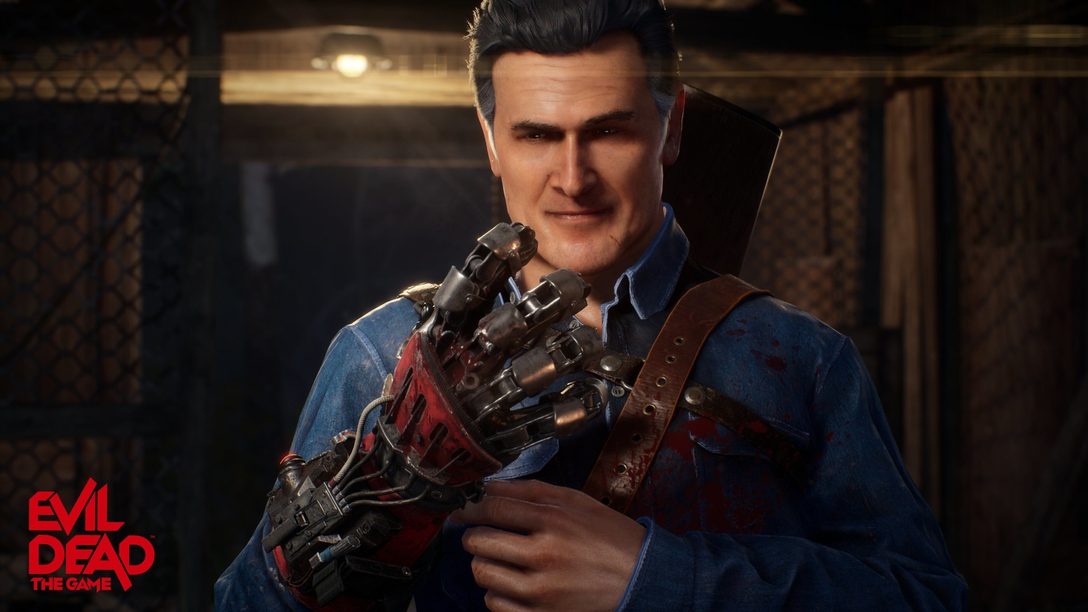 A look at the iconic characters and enemies Saber and Boss Team are bringing to PS5 and PS4 May 13.
Hello, Evil Dead fans, it's Tim Willits from Saber Interactive here to talk about the upcoming Evil Dead: The Game. Our talented Saber Interactive Madrid team has been working tirelessly to bring you a game that is as authentically Evil Dead as possible, from the characters to the locations to the franchise's signature humor and, yes, the over-the-top bloody gore that Evil Dead is known for.
When you play the game in May (pre-order available now), you'll join up with up to four friends (or play the solo mode option to team up with AI) and play as Survivors, exploring, looting, managing your fear and finding weapons and items to fend off an onslaught of Deadites who are hell bent on destroying you. You'll be battling to force the vile Kandarian Demon back into a rift between time and space and then seal it shut. Or  you can play as the demon itself and unleash hell on the Survivors by possessing items in the environment like trees and cars, summoning Deadites and, if you grow powerful enough, taking over the bodies of the Survivors themselves. 
One of the best things about making this game has been working closely with Sam Raimi, Bruce Campbell, and the studios behind the Evil Dead franchise to faithfully recreate the Evil Dead universe. Of course that starts with everyone's favorite characters.
Hail to the King
We've worked closely with Bruce Campbell himself to bring Ash Williams to life in our game. You'll get to play multiple versions of Ash from the Evil Dead timeline, including from the original trilogy of movies and the older, wiser and still badass Ash from the television show.
Ash isn't the only hero in the franchise and he won't be fighting alone in our game. It was important for us to do justice to the other characters that have also fought – successfully and unsuccessfully – against Evil. We've got Kelly Maxwell and Pablo Simon Bolivar, voiced by the original actors from Ash vs Evil Dead, battling side by side with Lord Arthur from Army of Darkness, Ash's sister Cheryl Williams from the original The Evil Dead, and many other heroes! As you can see from their outfits here, we've focused on recreating them exactly as they appeared on the screen.
This past October marked the 40th anniversary since the release of the original The Evil Dead (1981) film, and horror fans will be excited to know that the original five actors who made that fateful first trip to the cabin will all voice roles in the game. Bruce Campbell, Ellen Sandweiss and Hal Delrich will respectively reprise Ash Williams, Cheryl Williams and Scotty as playable characters. And while Shelly and Linda aren't playable Survivor characters, you'll hear Theresa Tilly reprising Shelly in the Knowby Recordings, and Betsy Baker as the voice of Linda, who's still… head over heels for Ash.
We're Going to Get You!
Of course, there's no Evil Dead without the Evil, and it was crucial for us to recreate the iconic Deadite enemies so that they were both instantly recognizable and supremely threatening to our Survivors. We've been able to incorporate not only fast, deadly and otherworldly movement of the Deadites, but also their signature sound effects – the creepy laughs, growls and screams that fans will appreciate.
The Deadites are powered and led by the Kandarian Demon, which is known to take on various forms while wreaking havoc on our world. We haven't revealed all of them yet, but today I am happy to spotlight Henrietta, one of three demons that players can control when trying to swallow the souls of Survivors. Each demon can summon Deadites, but they also have unique abilities and attributes to level up, all designed for different strategies and approaches in battle.
Dark Shadows Moving in the Woods
Our game features a large overworld map for players to battle across, and it's full of iconic locations as well as Easter eggs for fans to find. We don't want to spoil them all here, but we do want to show you a few things you can look forward to seeing in the game as we build the world for this map and future content as well.
The iconic cabin in the woods, setting of the first two Evil Dead movies.
Ash's trailer and car! This trailer screenshot shows a setting familiar to fans of the TV series — Ash's trailer and, of course, the classic yellow Delta 88.
Ash's Mechanical Hand! In this game screenshot, you can see that we've recreated the hand that was crafted by Pablo in Ash vs. Evil Dead.
—–
We're beyond thrilled to share these characters, enemies, and locations with you, and trust me when I say it's just the start of what we've got planned for the game. We think fans old and new will enjoy it and we can't wait to show you more and then get playing with you all when Evil Dead: The Game is released on May 13, 2022.