Season Two brings new weapons, Operators, maps, game modes, and more across all three modes.
Though winter still holds us in its grasp, the action continues to heat up. Following a packed first season, we're thrilled to announce Season Two, bringing more maps, weapons, game modes, events, and much more. PlayStation players have a lot to look forward to, with major updates across both Call of Duty: Vanguard and Call of Duty: Warzone.
As the Axis and Allied powers continue their battle throughout the Pacific and beyond, a new threat looms on the horizon: Nebula V. Captain Butcher and crew have uncovered intel regarding the chemical weapon, and it's now their mission to keep it out of enemy hands no matter the cost.
Season Two launches on February 14. Here's what we know.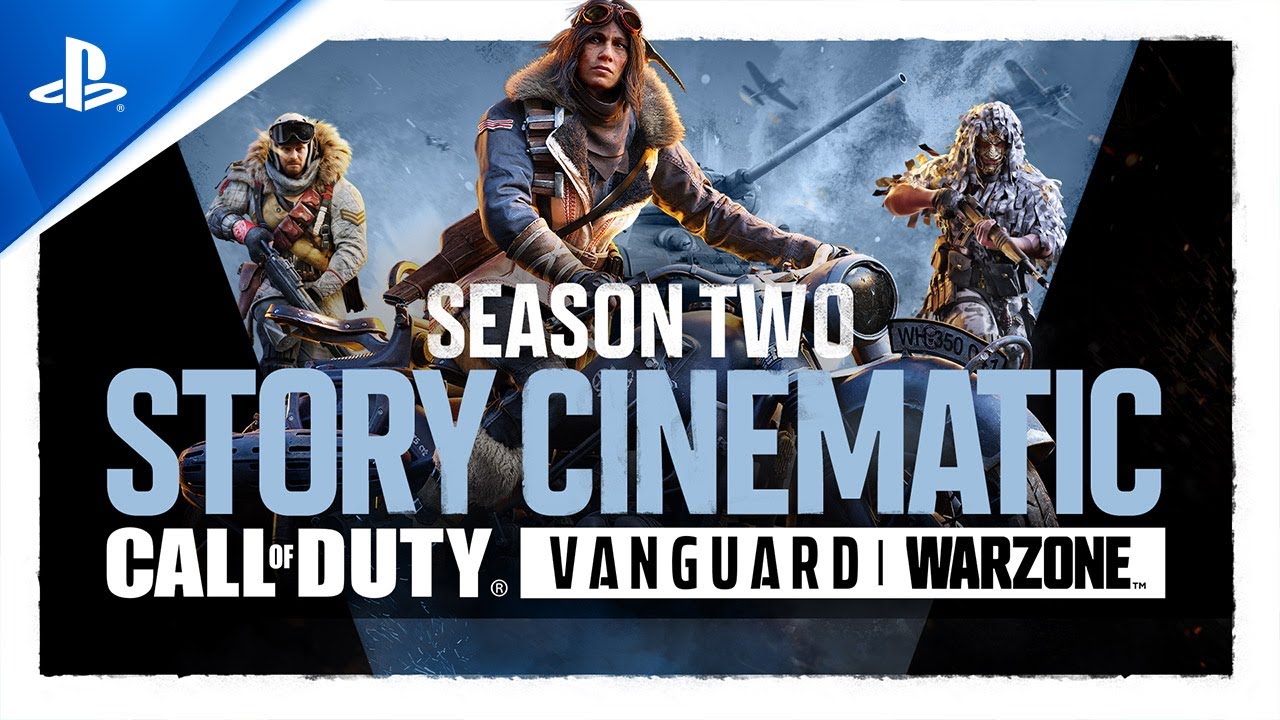 The Season Two Battle Pass
The Season Two Battle Pass brings 100 Tiers of new content, including two new weapons: the KG M40 Assault Rifle and the Whitley LMG.
KG M40 Assault Rifle: Adopted by Scandinavian armies during the war, the KG M40 is a high-caliber, fully automatic weapon with plenty of flexibility via Gunsmith.
Whitley LMG: The Whitley represents one of the first machine guns ever used in warfare, rivaling its Battle Pass peer for a strong mid- to long-range tool across all three game modes.
Other free Battle Pass tiers include the new Ball Turret Gunner Killstreak and the Sticky Grenade Lethal Equipment, a classic throwable that guarantees a kill when stuck to the enemy. Get new Perks, too: Armory makes your equipment immune to the Engineer Perk, while Mechanic charges your Field Upgrades more quickly.
Purchase the Season Two Battle Pass to get Task Force Yeti Operator Anna Drake instantly at Tier 0. Appearing later in the Store are the other two Yeti Operators, Thomas Bolt and Gustavo Dos Santos.
Earn two more weapons — the Ice Axe and the Armaguerra 43 SMG — by completing their in-game challenges or by purchasing their corresponding Store Bundles later in the season.
Warzone Introduces Nebula V, New POIs, and Game Modes
Nebula V: While meant for larger-scale armaments, Nebula V can be also be used for small-arms ammunition and bombs. Discover Nebula V ammo, which causes downed enemies to emit a poisonous gas cloud, making it harder for their teammates to revive them. Plant Nebula V Bombs, which upon completion of its countdown will emit high damage in a small radius, followed by a lingering gas cloud.
Decontamination Station: This new portable Field Upgrade momentarily filters the air, protecting anyone inside from the Circle Collapse or Nebula V gas. Note that all Operators will see its deployed position on the Tac Map.
Armored Transports: These steel behemoths move through the island while attacking anyone within their immediate vicinity. Take one out for high-value loot, including, if you're lucky, an intact Nebula V Bomb.
New Points of Interest: The refinery between the Mines and Docks that once produced phosphate has been repurposed and is now a newly constructed Chemical Factory spewing out Nebula V. Also uncover powerful loot in one of seven Chemical Weapon Research Labs built underground by the Axis and guarded by their soldiers.
Bomber Planes and Redeploy Balloons: Take to the skies in the Bomber, a formidable air-to-ground striker capable of leveling infantry and vehicles. Zipline up to a Redeploy Balloon, and then reposition by leaping off and deploying your parachute to cover great distances.
Plus, experience new modes. Caldera Clash pits two teams of up to 48 Operators against each other in a Deathmatch with wild events and power-ups. The first team to 500 points wins the match. Rebirth Iron Trials is custom-made for competitive Duos, featuring its own set of weaponry and numerous rule changes. Later in the season, expect some major changes to surface on Rebirth Island. 
Multiplayer Brings Two New Maps, Ranked Mode
The battle spreads to two new Multiplayer maps — Casablanca and Gondola, plus the debut of Ranked Mode.
Casablanca (Launch): The shining jewel of Morocco, Casablanca is a medium-sized, three-lane-style map within a bustling marketplace. Expect a variety of vertical engagements that invite combat at all ranges.
Gondola (Launch): Take a trip on the Gondola to travel above a large gulch and fire watchtower. Utilize the long sightlines this gondola route provides, or head through the power plant and caves for more close-quarters battle.
Plus, Ranked Mode kicks off during Season Two to commemorate the start of the 2022 Call of Duty League, providing a competitive Multiplayer mode featuring league-approved rules, visible Skill Ratings, and new competitive rewards among other innovations.
New Zombies Characters, Wonder Weapons, Arena, and Quest
The Dark Aether entities continue their supernatural war through the mortal world, bringing new changes to Vanguard Zombies.
New Hub Map: "Der Anfang" was just the beginning. Krafft and company take the fight to Von List in "Terra Maledicta," a new Zombies experience set in Egypt's Eastern Desert and abroad. Battle in new arenas as you attempt to obtain a lost page from the Tome of Rituals.
New Ally and Artifact: Vercanna the Last is the latest Dark Aether entity to lend her powers to the battle against Von List and Kortifex. Keep your allies on their feet with her Healing Aura ability, featuring five tiers with increasing power.
Zaballa the Deceiver: An evil charlatan with a devious sense of humor, Zaballa hides her true face behind three masks. Encounter her by braving multiple rounds in "Der Anfang" or "Terra Maledicta."
The Return of Wonder Weapons: Through exploration, elite skill, and perhaps some divine intervention, Operators can wield Wonder Weapons, energy-based arms with mysterious origins and herculean effects in battle. Wield the classic Ray Gun, found in the Mystery Box or as a lucky loot drop, or the new Decimator Shield, found exclusively within "Terra Maledicta."
New Objective, Story Quest: Disrupt a gruesome Dark Aether blood-magic ceremony in the new Sacrifice objective and complete a special Story Quest in "Terra Maledicta" to learn more about Vercanna the Last. Plus, side Easter Eggs are returning: Pick up a shovel and find hidden loot and more in the Eastern Desert.
New Covenant: Equip the new Artifact Ward Covenant for a chance to trigger your Artifact for free when hit by a melee attack from behind. Three rarity levels improve the chances of activating your Artifact when struck.
Get the PlayStation Exclusive* Combat Pack
Make waves with the Season Two Combat Pack, free for PlayStation®Plus members in Call of Duty: Vanguard and Warzone starting on February 23.
The Beach Bum Combat Pack includes a Legendary Operator Skin for Wade Jackson, Legendary Overlord and Neptune Weapon Blueprints featuring 10 attachments each, a Legendary Emblem, a Legendary Calling Card, an Epic Watch, an Epic Charm and a 60-minute Double XP Token.
Season Two Launches February 14
Season Two of Vanguard and Warzone launches on PlayStation on February 14. Expect all this and more, including the upcoming Arms Race game mode, new Store Bundles, Season Two Challenges, and a limited-time Valentine's Day celebration.
See you online.