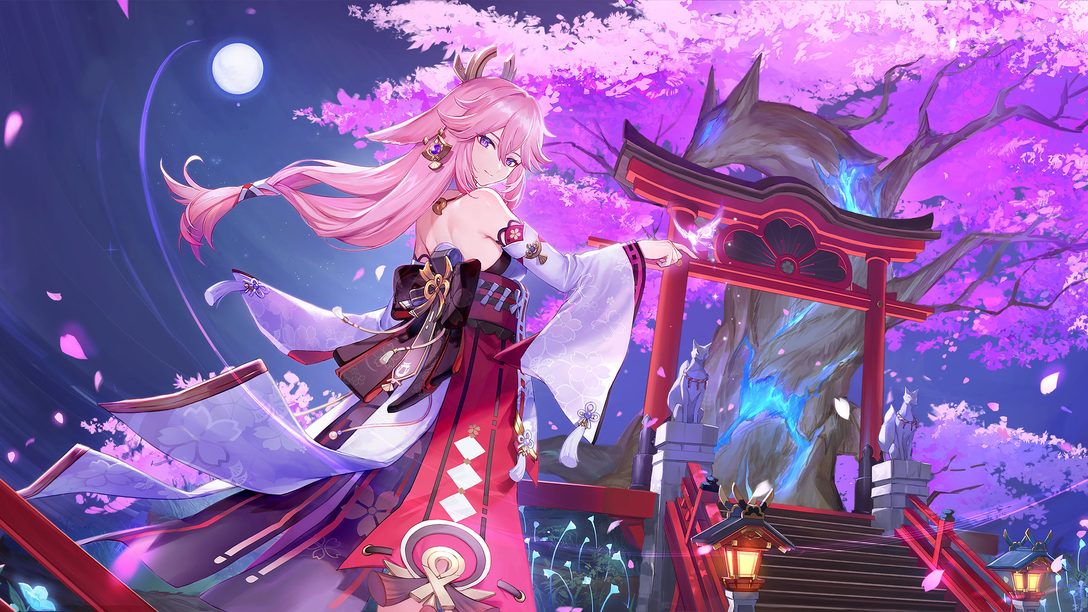 Repel the darkness looming over Enkanomiya, team up with Yae Miko and Raiden Shogun, and share your domain design with the community on February 16.
Hello Travelers! Your Genshin Impact dev team is here, and today we'd like to show you something about the version 2.5 update "When the Sakura Bloom" coming on February 16! Yae Miko finally joins the roster of playable characters. Her Story Quest and Chapter II of Raiden Shogun's Story Quest will also become available, revealing the past bounding the two and Inazuma over hundreds of years. Meanwhile, darkness from an unknown origin is recently encroaching on Enkanomiya. Help Kokomi to find out the truth behind it.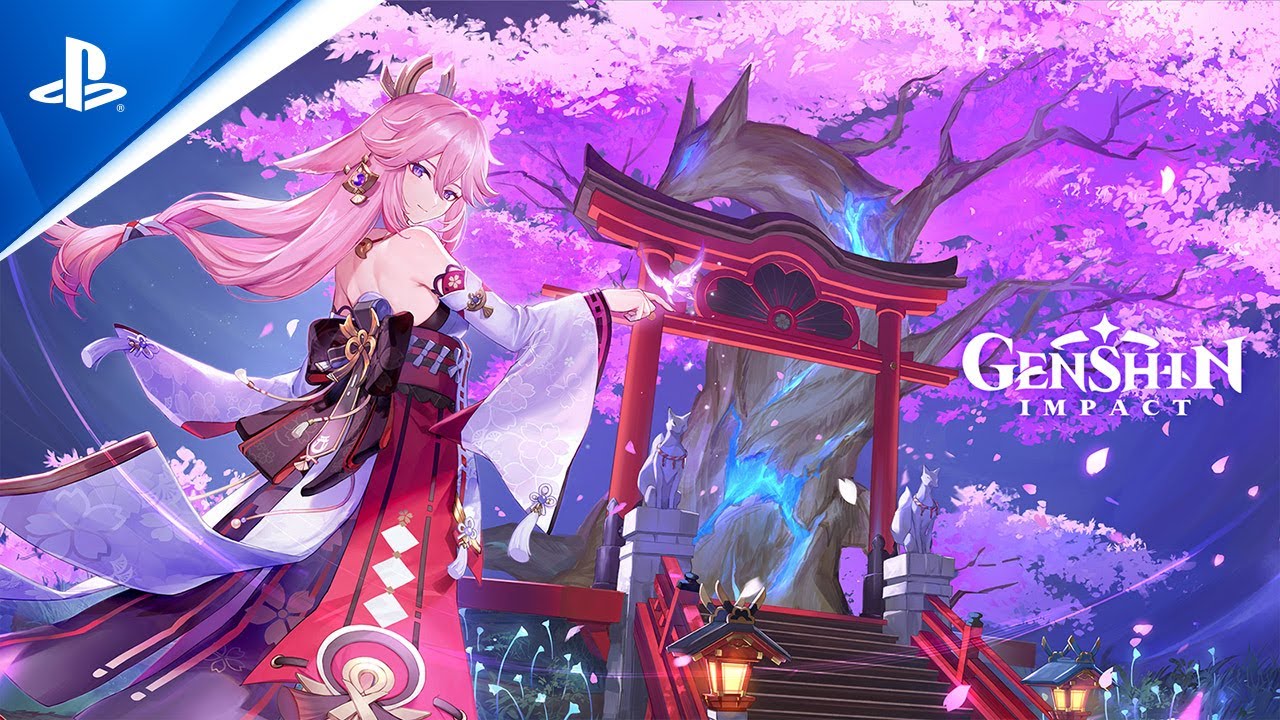 In addition to the adventures we prepared, you may also create your own gameplay. Check out the Divine Ingenuity event to create your own domain, or try out other Travelers' domains.
Repel the Darkness Invading Enkanomiya
Some veteran Travelers may have set foot in Enkanomiya, an ancient underwater nation that has been sealed away for thousands of years. In the latest seasonal event Three Realms Gateway Offering, an area based on Enkanomiya that is shrouded in an unknown darkness will challenge you with brand-new gameplay. But not to worry, as we've got a few tips for you.
Unlike your previous experience in Enkanomiya, you need to rediscover the event area in the dark, and you will have to brave the corrosive effects of this mysterious darkness. To help you repel the darkness, you will receive a gadget named the Bokuso Box. Please be aware that the Corrosive Darkness will accumulate over time, gradually draining the energy of the Bokuso Box along with your ability to take down certain monsters. You can Recuperate at the statues to clear the accumulated Corrosive Darkness and recharge the Bokuso Box. At the same time, you need to level up your Bokuso Box in order to strengthen its Corrosion Resistance and gain useful abilities that help you explore more areas.
To upgrade your Bokuso Box, offer the statues in the event area with the Light Realm Sigils gathered from opening chests, unlocking Waypoints, and completing exploration objectives. You can activate special Bokuso Arts with the Light Realm Cores found in Luxurious Chests.
Dangerous enemies also approach in the darkness. New monsters Shadowy Husks come in three types: Standard Bearers, Line Breakers, and Defenders. The weapons, elements and abilities used by each type vary. For instance, if a Standard Bearer hits a shielded character, it will create shields for itself and nearby Shadowy Husk members.
More fun, surprise, and a variety of rewards including Primogems and the new four-star catalyst Oathsworn Eye also await you this season. The event will last throughout the version 2.5 events, so take your time enjoying the adventure.
The Fox and the Shogun
If you're interested in the ladies who lead Inazuma, Version 2.5 will be a great chance for you to team up with Yae Miko, Raiden Shogun, and Sangonomiya Kokomi.
The new five-star character Yae Miko has made her debut in the Inazuma storyline as the head shrine maiden of the Grand Narukami Shrine. Her elegant and beautiful appearance belies her intelligent, cunning, and hard-to-predict personality. However, you, the Traveler, seems to have piqued her curiosity, and you now have a chance to know more about Yae Miko in her Story Quest Divina Vulpes Chapter.
Wielding a catalyst and the power of Electro, Yae Miko can provide both constant damage off-field and high burst damage on-field. Miko's Elemental Skill allows her to move swiftly and leave behind a Sesshou Sakura, periodically striking nearby opponents with lightning. With Miko's Elemental Burst, all nearby Sesshou Sakura will be unsealed, destroying their outer forms and transforming them into Tenko Thunderbolts that descend from the skies. With her Passive Talent, each Sesshou Sakura destroyed by her Elemental Burst resets the cooldown of her Elemental Skill. Besides, you can see her glowing fox tails when she casts her Elemental Burst.
Before you move on to Yae Miko's Story Quest, you need to finish the new chapter of Raiden Shogun's Story Quest: Imperatrix Umbrosa Chapter: Act II first. The Raiden Shogun's quest will be closely linked with the history and the Archon Quest in Inazuma. Meanwhile, you also need to defeat a formidable new enemy with a distinct look and abilities.
If you want to add Yae Miko, Raiden Shogun, and Sangonomiya Kokomi to your party, their Event Wishes are also available soon. Yae Miko will be featured in the first Event Wish, followed by reruns of Raiden Shogun and Sangonomiya Kokomi in the later stage of the update.
Create Your Own Game
Version 2.5 is also a time to flex your creative muscle: make your own drinks and domain. In the Of Drink A-Dreaming event, you can be a bartender at Diluc's tavern, mixing and serving various drinks to some familiar faces.
Another event, Divine Ingenuity, will invite you to create your own custom domain. Publish your design and see how other Travelers fare in them.
Our sharing for version 2.5 has come to an end, and we hope you will enjoy this update. We look forward to seeing you later with version 2.6 and The Chasm.