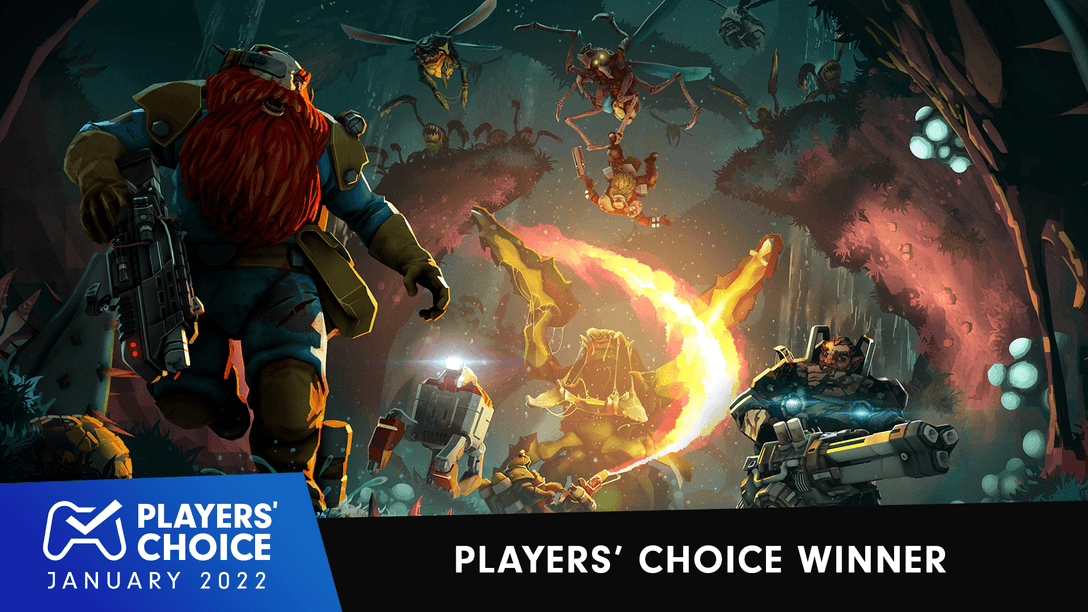 Poll numbers prove that miners on PlayStation dig this co-op gem.
Congratulations to Ghost Ship Games and Coffee Stain Publishing — Deep Rock Galactic smashed the competition last month, taking home the Players' Choice crown in a landslide victory. ROCK AND STONE!
---
Welcome back! It's a new year, which means 12 new Players' Choice champions.
January is usually on the slower side release-wise, but we still had a few fun drops. Deep Rock Galactic was a smashing success as part of your PlayStation Plus membership, Wanderer and Zenith: The Last City are fine new additions to your PS VR library, The Artful Escape made its PlayStation debut, and more.
Let's dive in and pick our first winner, shall we?
---
How does it work? At the end of every month, PlayStation.Blog will open a poll where you can vote for the best new game released that month. Soon thereafter, we'll close the polls, tally your votes, and announce the winner at PlayStation.Blog. PlayStation Store will also showcase some top Players' Choice winners throughout the year.

What is the voting criteria? That's up to you! If you were only able to recommend one new release to a friend that month, which would it be? In keeping with our long tradition in the Game of the Year Awards, remastered or re-released games won't qualify. Ambitious, larger-scale rebuilds and remakes like Demon's Souls and Crash Bandicoot N. Sane Trilogy will.

How are nominees decided? The PlayStation.Blog and PlayStation Store editorial teams will gather a list of that month's most noteworthy releases and use it to seed the poll. Write-in votes will be accepted.
---