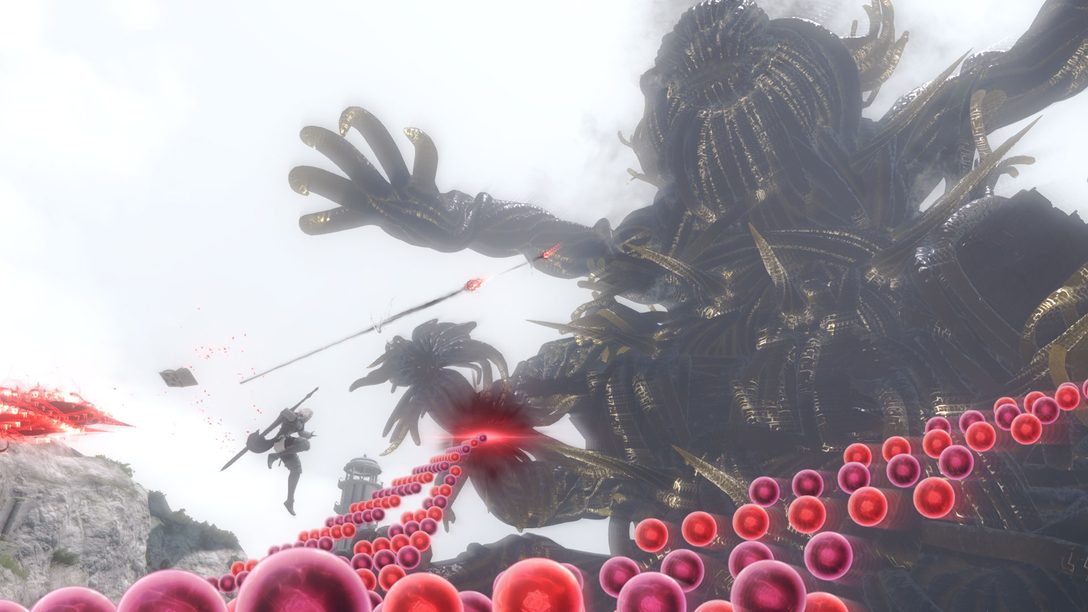 Yoko Taro talks us through NieR's ever-expanding lore, and adapting a boss from novella to in-game enemy.
Nier's universe is a weird and wonderful one. Born of what was initially thought a joke ending to 2003's PlayStation 2 title Drakengard, Nier's intricate story can be pieced together from delightful lore segments extending across guidebooks, novellas, concerts, and even stage plays. The Mermaid chapter, one of the brand-new additions to be found in the upgraded version of NieR Replicant ver.1.22474487139 is one such tidbit of lore, originally released as light novella to be found in the original game's official guide. In this brand-new addition to the game, we follow the story of a young girl stranded on a shipwreck, a wonderfully-written melancholy segment that culminates in a breathtaking, action-packed boss battle.
Always intrigued by Yoko Taro's story-telling prowess, we had the opportunity to ask the creator a few questions about this chapter and his approach to lore in the NieR series…
The Mermaid chapter is very reminiscent of The Little Mermaid novella in Grimoire Nier. Was this story meant for the original game in 2010? Can you tell us a little bit about how the creative process was when the story was originally written?
Yoko Taro: We were planning to include this in the original game. But, due to budget constraints, we were not able to make it happen. As for the novella, I figured, 'I did spend the time to come up with the idea, so maybe I can put it in as a bonus content in the concept book… Besides, unlike games, a novel doesn't require you to think about budget' and so I wrote it without thinking too deeply on it. But, little did I know, it would be turned into a game ten years later.
Whether The Little Mermaid story originally meant as a novella or as a segment of the game, how do you go about converting something originally meant as a novella to gameplay, or vice-versa?
Novels and games are media with different characteristics. For example, in a novel, it is understood that 'anything that is not explicitly written is left up to the imagination,' whereas in a game everything is visible, and so we'd have to depict things like 'When character A is carrying on with this conversation, what is character B doing?,' which requires additional resources.
This time, as this was originally 'a plot for a game that was scrapped' that went from 'novella' to 'being implemented into a game,' it was relatively a smooth transition. But, generally speaking, it tends to be more of a hassle to go from 'novel to game' compared to 'game to novel'…
Or… at least that's the kind of struggle that our young director, Mr. Saki Ito had to go through, while I munched on some snacks and took a nap.
There are a few other novellas in Grimoire Nier, why did you choose to include The Little Mermaid story specifically?
That is due to the other novellas not being intended to be included in the original game to begin with.
Now, the other additional episode, 'The Lost World,' was originally created as a 'backup plan if Square Enix rejected my idea to delete players' save data.' (But, at that time, it did not get rejected, so we didn't include it into the previous version. And in ver.1.22… Producer Yosuke Saito told me 'this is meant to be fan service, so put it in.' I'm a slave of capitalism, so didn't question it and did as I was told.)
From the initial idea to its application throughout the very climatic phases of the boss battle, how did you go about planning the music for this particular segment?
From the early stages of making Nier, I thought, 'I want to make a game in which the music is very important,' and so, I asked my friend Mr. Keiichi Okabe to create the songs. He's a greedy composer, but at the same time he's a wonderful artisan who would do anything if you pay him enough.
As for how I make my requests, I would send him YouTube URLs and tell him 'please make a song like this.' My apologies that it's nothing fantastical.
For 'The Little Mermaid', I asked a young creator on the Nier Scenario Team, Mr. Wada, to select the song from YouTube. I think it came out well. By the way, Mr. Wada has the nickname 'gentle world'.
Aside from Grimoire Nier's novellas, you've also contributed several stage plays, full crossovers with other games, and other forms of lore to be found in different media, most of which you've confirmed are canon. In general, how do you approach and expand upon Nier's lore in other media?
I try not to enforce the lore so strictly. We've made it public that the world of Nier is a multi-dimensional universe, and I believe the story and characters should fit into each medium appropriately. What's important is the player's experience, and not protecting the lore. Oh, I just said something really nice here, so, could you note this in bold letters? What's that? Yes, that's right, where I said: 'What's important is the player's experience.' Thank you kindly.
A lot of your inspiration seems to stem from old fairy tale stories. Is there something specific to them that attracts you to adapting them?
For NieR Replicant, its very initial concept was 'a story of (existing) fairy tale villains.' Perhaps there are remnants of that. SINoALICE came about when the producer said, 'I want Alice to be a theme in this story.'
I'm sorry, for this interview, should I have been more artist-like and provided more stylish answers? If that is the case, then perhaps could the PS Blog writer please tweak the text with more difficult keywords… like, I dunno, 'the tragedy seen through Shakespeare' or 'the dependency on existentialism' – something that would make me sound more like a stylish and smart creator? Thank you kindly.
---
NieR Replicant ver.1.22474487139 is currently part of PlayStation Store's Holiday Sales promotion until January 7. Find out more here.
Editor's note: stylish and smart creator Yoko Taro's interview answers have been kept unedited.