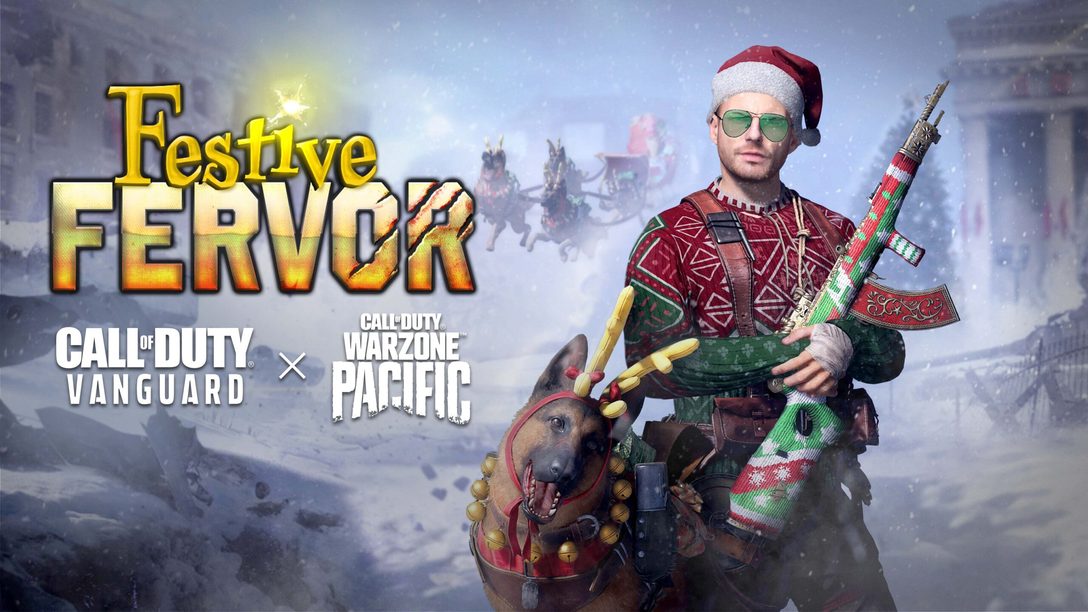 Fight Krampus, hunt down Elf Team Six, and get plenty of holiday gifts and Bundles across Vanguard and Warzone Pacific.
Call of Duty is celebrating the holidays in a big way on PlayStation with the Festive Fervor event taking over Vanguard and Warzone Pacific starting December 17. Get in on the fun with new holiday-themed modes, Bundles, challenges, and more. Here's what's in store throughout the event: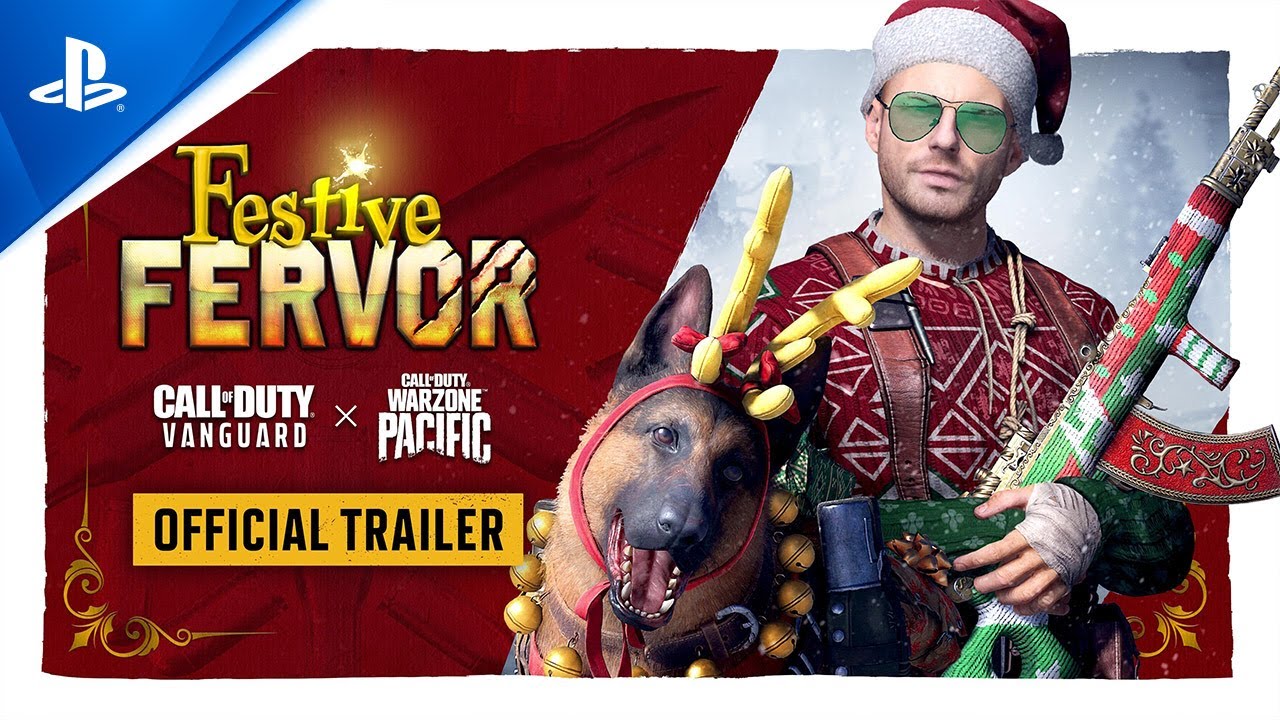 Vanguard brings cheer to Multiplayer and Zombies
In honor of the holidays, Vanguard will roll out several limited-time Multiplayer features, all in the name of good cheer. Let's kick things off with a closer look at some festive foes you'll encounter in the field, and where the development team drew their inspirations.
Elf Team Six: Seek out and destroy the fabled Elf Team Six, hidden around Vanguard's Multiplayer maps, to earn Killstreak progress and extra match score. Find them before they disappear…and stay on your guard when approaching.
Developer Insights: The new tradition of hiding an elf for people to find is something that the team at Raven wanted to poke fun at. The team feels some people who deal with that tradition would rather blow that annoying elf away! SO they decided to let you do that.
Elf and Seek development was fun to put together at the Studio. Having fun on the new map, finding little nooks to place the elves, making people explore and see that pesky elf is a fun experience, and to some, terrifying. I mean, they're creepy! We are very excited to have some fun rewards tied to destroying the elves for players. We placed them all over the Caldera, and we hope you have some fun finding them and taking them out however you want to.
Krampus: Campers beware! The folk-horror figure Krampus will appear in designated Multiplayer matches to hunt down those who ignore the objective. No time on the Hardpoint? Haven't taken a single Domination flag? Then you can bet he's coming for you.
Developer Insights: Ever since the devs at Raven learned about the Krampus after getting caught eating chocolates, they've been fans of this mythical and downright terrifying Anti-Santa. When the opportunity came up to get Krampus in Warzone, they could NOT wait. Raven's goal was to create gameplay that would show players what it's like to be on the receiving end of a Bounty Contract carried out by a demon!
As the team developed Krampus, they dug deep into how it would stalk, attack, and choose its victims. They tested those decisions with playtests and got to see firsthand what was the most exhilarating for players. Raven created a robust NPC system for Krampus, and they hope you enjoy taking him down…or you know the latter. For those Krampus hunters out there, there is a hidden gift for you.
Armageddon: Stuff your stockings with Care Packages in this twist on Team Deathmatch. Appearing as Drop Zone in previous titles, this mode sees teams fighting for control of a designated area, where Care Packages will continuously drop for the taking. Open your Killstreaks and help spread the cheer.
The mischievous Elf Team Six and vengeful Krampus aren't contained just within Multiplayer, either. Keep reading to learn about the roles these wintery warriors play in Warzone Pacific.
Plus, Shipment becomes Shipmas, a winter wonderland of chaos and cheer, and other seasonal visuals are coming to game modes like Domination and Hardpoint, and even to the wintery home base of Stalingrad in "Der Anfang" in Zombies.
Extra gifts for Vanguard owners
In the spirit of giving, all those who purchase or have already purchased Vanguard by December 31 will receive the following rewards: 10 Season One Battle Pass Tier Skips; a 10% boost to all earned Player, Weapon, and Battle Pass XP; a free Warzone Vehicle Skin; and all 24 Vanguard Tiers that were featured in the prelaunch Season Six Battle Pass.
Get your Festive bundles
Get into the Festive Fervor spirit with new holiday-themed Bundles for use in Vanguard and Warzone Pacific. From naughty to nice, we've got you covered with these four Bundles:
Santa's Slay Bundle: Deck the halls with new Legendary Weapons featuring red-and-green Tracers and a Finishing Move that uses a helpful Elf companion. Plus, humiliate your foes as you win with Lucas in his ugly-sweater "Yarn Burner" Skin.
Krampus Unleashed: Drape Roland in Krampus's unholy threads in this Bundle featuring the "Vinderblood" Operator Skin. You'll also get the Legendary "Krampusnacht" Marksman Rifle Blueprint, as well as the "Reindog Rampage" Finishing Move to bring your enemies to a festive end.
Secret Santa: Surprise your opponents with this Bundle featuring two Legendary Weapon Blueprints: one for a pump-action Shotgun and another that turns a Marksman Rifle into a full-auto beast.
Broken Resolutions: This nine-item Bundle will soon have you forgetting any broken resolutions for the year. Get two Battle Pass Tier Skips on top of Legendary and Epic Operator, Armory, and Player Profile pieces. Of note is the "Pop Bottles" Finishing Move, the sleek "Midnighter" Operator Skin for Beatrice, and the "Cover Charge" Assault Rifle.
Complete Challenges, get rewards
Throughout the Festive Fervor event, all players will have the chance to complete Vanguard Multiplayer challenges in exchange for free rewards, including the Epic LMG Blueprint if you complete all six challenges in Vanguard Multiplayer or Warzone Pacific.
In Vanguard, the challenges include eliminating holiday nuisances across all Multiplayer modes, playing Shipmas, and opening Care Packages like presents under the tree. Rewards include a Battle Pass Tier Skip, a Double XP Token, and cosmetic rewards for your weapons and Player Profile.
Spreading cheer in Warzone Pacific, too
Outside of Vanguard, Caldera and Rebirth Island will host their own limited-time celebrations.
Festive Fir Trees: In Caldera, see the specially marked Festive Fir Trees spread throughout the island. Squads that remain within the Fir Tree's proximity for the allotted time will be rewarded with several Supply Boxes, including Holiday Crates that may contain Legendary items, limited-time rewards, or even coal for Operators on the naughty list.
Developer Insights: Deck the Halls
Like many families during the holiday season, incredible battles happen under the tree. Raven just took it to the next level in Warzone. Players will battle for resources under the trees, and the devs want to reward that tenacity by leveling it up. Also, snowballs are in those chests, and who doesn't love throwing snowballs?
Raven hopes that gathering under the tree to capture these points of interest will spark some fun player stories, similar to holding Domination points. Their advice is don't be too greedy, though. If you get hit by coal in a crate because you're naughty, you're next for Krampus. The team wanted to have Krampus connected with this and make a player pause to think…"do I want to open that chest?"
Beware Krampus: Spending his holidays across Caldera and Rebirth Island, Krampus hunts Operators for sport in both maps. He especially prefers hunting those who receive coal from Holiday Crates. The creature will spend a limited time hunting each target before moving to the next, until he's taken out, offering a special permanent match reward for the squad that eliminates him.
Elf and Seek: Krampus isn't the only one at home on Caldera and Rebirth Island. Find and destroy these holiday gnomes to receive rewards like a Double XP Token or Calling Card.
Those seeking extra rewards can also complete six unique challenges in Warzone Pacific, each with a reward like a Battle Pass Tier Skip, Double XP Token, and more.
12 Days of Deals in Call of Duty: Black Ops Cold War
Over six seasons of content, Black Ops Cold War brought a variety of Bundles for players to use in Black Ops and Warzone. For those who missed out, now's your chance to make amends with 12 Days of Deals. Starting on December 14, a selection of Bundles from Black Ops Cold War and Warzone are returning with holiday discounts.
Each day leading up to December 25, five Black Ops Cold War Bundles will become available in that game and in Warzone Pacific. Most are returning classics with special discounts, though expect one new Bundle: the "Battle Pass Vault Pack Greatest Hits," a collection of late-Tier content from the first three Black Ops Cold War Battle Passes.
Support Veterans this Holiday season
The holidays are finally here, and the Call of Duty Endowment is honored to be one of the 14 beneficiaries of this year's Jingle Jam. Back for its 10th Anniversary, Jingle Jam is one of the biggest charity events in the gaming industry, having raised over $20M since 2011. This is the third year that the Endowment will be featured. Tis the season of giving, and you can show your support for veterans by tuning-in and donating here.If you're feeling in the holiday spirit, you can also support the Endowment by purchasing the Call of Duty Endowment Timeless Pack in #Warzone and #Vanguard with this pack featuring 9 new items, including 2 weapon blueprints.
Now get out there and enjoy the Festive Fervor, starting December 17 across Vanguard and Warzone Pacific.
See you online.