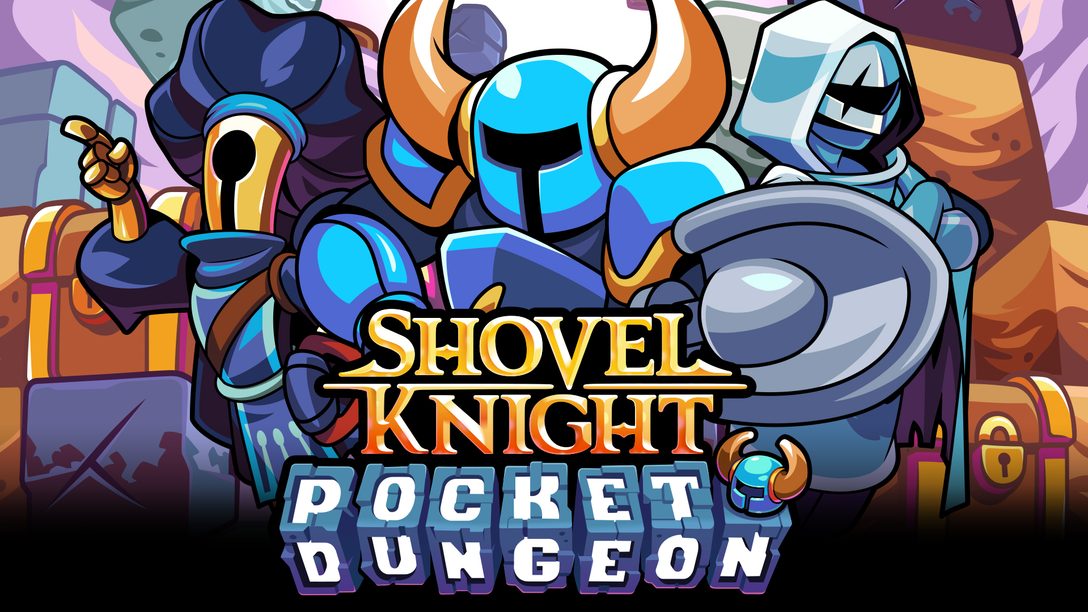 What to look forward to in the puzzle-action adventure, out December 13.
Our take on the beloved 90s-era falling block puzzle genre, Shovel Knight Pocket Dungeon, comes to PlayStation 4 in only three days! It's a hot mashup of old and new: roguelike dungeon crawler meets puzzle adventure.
We can't wait for everyone to get a taste of what a unique, engaging, challenging experience there is to be found in Pocket Dungeon. But before then, let's dive into some exciting things to look forward to when you all get your hands on it:
Building out a Team
Shovel Knight and the strongest warriors have been vanishing lately, trapped inside a confounding cube contraption. Puzzle Knight, a renowned puzzle prodigy, has created a camp for Shovel Knight and his fellow adventurers to team up and solve their way out of this riddle.
It's up to you to recruit this team and bring them back to the camp. Everyone has a completely unique playstyle- check out Shield Knight who is great on defense:
Or Specter Knight who flips the game on its head, gaining health from enemies but losing health to potions:
Or Mole Knight who makes the game feel even more like a puzzler, with his ability to trade places:
To escape, your team at camp must work together through the dungeon and defeat its ultimate ruler – the Pocket Dungeon Master.
Crafting a build
Shovel Knight crafting? Oh no no… We mean equipping items and relics to create a character build to your liking. In Pocket Dungeon, when you suffer defeat, you lose everything you acquired on your run. It's imperative you grab gems and find Chester to buy the relics that suit you best. Check out a few of the options below:
Mixing and matching what relics you purchase is the difference between life and death in each dungeon. Choose carefully… and have fun experimenting.
Bury your friends in split screen duels
It wouldn't be a great 90s falling block puzzle game without a split screen versus mode. The goal here is to not let your opponent bury you.
Move fast, stay on top, and dig your way out.
A puzzle game with an heartfelt story
As with all the Shovel Knight games, you can expect a light touch to the story that gives a big emotional impact, pulling on all of your heartstrings.
We went to great lengths to create a story that fits while exploring new characters and themes.
Endless fun
Similar to many classic puzzle games and roguelites, this is the kind of adventure that thrives when playing it over and over and over. Losing is no big deal: the fun is in the journey. There are tons of new characters to play as, new secrets to uncover, new feats to accomplish, new tricks to learn, new items to unlock, new costumes to reveal, new techniques to master, DLC on the way… the fun never stops.
There's a lot more to discover. We hope you all have a total blast with the game on PS4 when it launches December 13.