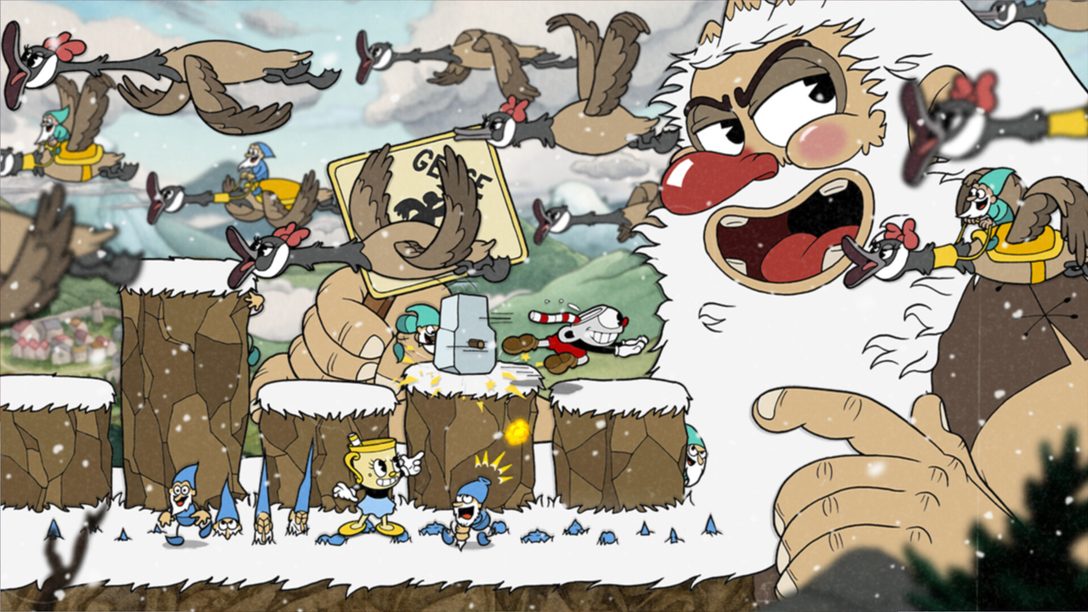 Studio MDHR shares new details on the long-awaited expansion and debuts a wacky new hand-crafted trailer.
Hey again, this is Chad from Studio MDHR! The last time I had a chance to write something for the PlayStation Blog, we were announcing Cuphead's surprise launch on PlayStation 4. Since that time, we have been heads down on the continued development of our game's upcoming expansion, The Delicious Last Course, and I'm thrilled to be able to announce a bonafide release date: this next adventure will be coming to PlayStation 4 on June 30, 2022!! 
I'm so proud of our amazing team and I can't wait for PlayStation players to get their hands on The Delicious Last Course. When we originally announced this expansion, we cheekily chose to name the game with a title that shortened to "DLC", and while this isn't a sequel, I can confidently say The Delicious Last Course has taken on a life of its own during development, and that it isn't just your bog standard game expansion. On that note, let's talk a little bit about what the game is, and what you can expect.

The Delicious Last Course sees Cuphead and Mugman setting sail for "D.L.C. Isle", an untamed and previously undiscovered island off the coast of the main Inkwell Isles. In true Cuphead fashion, however, they find that the island is host to a new cast of fearsome, larger than life bosses, all of whom are tied to a quest they must undertake on behalf of the jubilant and jolly Chef Saltbaker. What this quest is and where it will take our intrepid heroes is something we want to keep secret for just a little longer, but it's fair to say that it might be our brave little cups' most challenging adventure yet.
Luckily, Ms. Chalice is there for more than just moral support. Fans of the original Cuphead will recognize her as The Legendary Chalice, but in this new form, Ms. Chalice packs a wallop of her own, including unique abilities that will help you overcome some of the biggest bosses we've ever designed! Be sure to keep an eye out for grumpy shopkeep Porkrind as well, who's never one to pass up an opportunity for commerce and might just have all new weapons and magical charms for you to experiment with. In fact, if you take a closer look at the trailer we debuted at this year's Game Awards, you might just spot a few.
Major announcements like this are always a chance to reflect on a game's development, and something I'm really excited for Cuphead fans to see with The Delicious Last Course is the way our team has really honed their craft during development. From our designers to concept artists to animators and engineers, everyone spent the development of this game challenging themselves to innovate, and we have pushed to make The Delicious Last Course a true high watermark of everything we do at Studio MDHR. There are individual phases of single bosses in this game that contain more attacks and frames of animation than entire bosses from the original Cuphead. 
It's often said that "any video game that releases is a feat," and that's something I think our whole industry has felt doubly so making games amidst these unique times. In our case, we have been especially challenged by things like safely and securely assembling a live orchestra to perform our game's soundtrack. However, our guiding principle through the whole experience has been the game's quality, and we are so excited to see what everyone thinks of The Delicious Last Course when it releases next year. I hope you've saved up an appetite… for adventure!