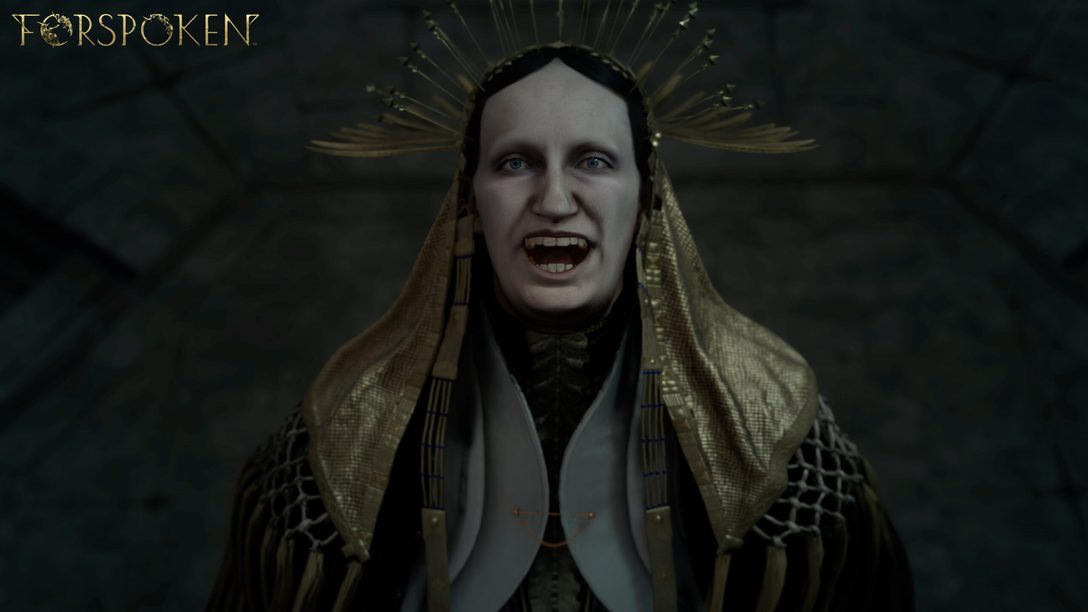 More details on the newly revealed Tanta Prav, who Frey will confront on PS5 May 24, 2022.
In Forspoken, Frey—a modern young woman from New York City—is magically transported to Athia, a once beautiful and peaceful land that has been beset by a corrupting force known as the Break. No one, aside from Frey, strangely enough, is safe from the corruption, which transforms whatever it touches into a twisted, and often bloodthirsty, facsimile of itself.
We've shown how the Break affects the animals and creatures of Athia in our previous trailers, and there's no doubt that Frey has her work cut out for her when it comes to taking them on. Today, however, I wanted to dive deeper into the true big bads that stand in Frey's way: the Tantas.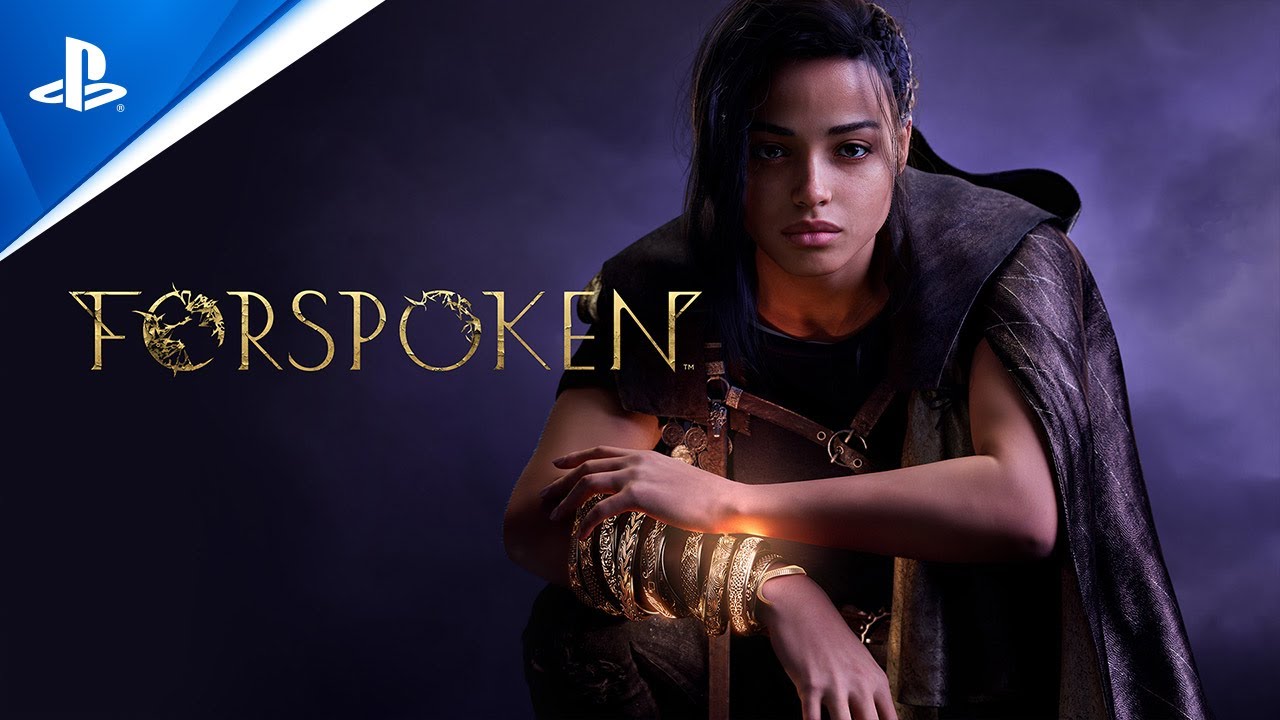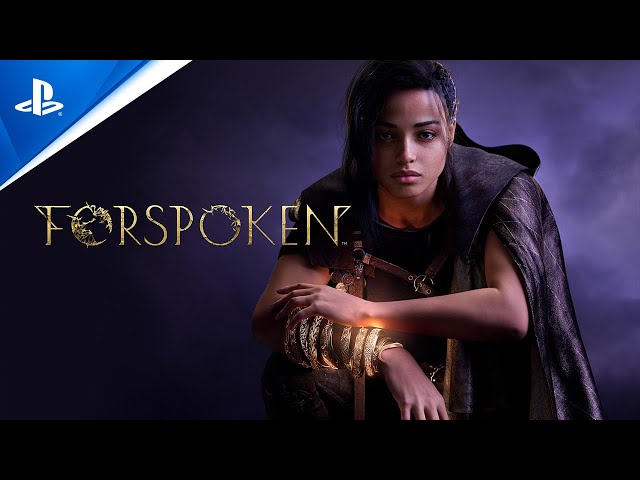 The Tantas are the former rulers of Athia. Each embodies a different virtue and possesses a unique strength. They were once beloved by the people of Athia, who enjoyed lives of plenty under their guidance. However, without warning, the former protectors mysteriously became oppressors, becoming aggressive and hateful. As the most powerful sorceresses in Athia, they pose a dangerous threat to Frey.
Being who she is, when Frey first arrives in Athia, she has very little interest in the Tantas. But after being accused of trespassing on her territory by Tanta Sila, Frey becomes an enemy in their eyes. Unfortunately for Frey, there's no going back home to New York without defeating them first.
We're excited to unveil the second and very wicked Tanta who stands in Frey's way: Tanta Prav. Played by The Walking Dead's Pollyanna McIntosh, you can see Tanta Prav in action in the latest trailer for Forspoken, which premiered at The Game Awards earlier tonight.
Nailing the design concept of the Tantas was key to establishing Forspoken's entire look, feel, and tone. The art director on Forspoken, Yuuki Matsuzawa, played a critical role in conceiving the concept of the Tantas at the beginning of the project, which has remained consistent throughout development. The Tantas were a central theme of the game, so it's not a stretch to say that all the art in Forspoken was designed around them—their virtues and their corruption, their beautiful, yet terrifying, appearances.
Concept art for Tanta Sila
Tanta Sila is the "Tanta of Strength" who once commanded Athian troops to protect the land from outside threats. She fought on the front line, displaying unparalleled prowess in battle, and was revered by the people for it. But, unfortunately, she has now become a cruel despot who trusts nothing but her own skill in battle, mercilessly eliminating any and all who offend her.
We have an amazing team of designers at Luminous Productions who worked on each of the Tantas. The color choice for each Tanta was important, too, as we wanted this to signify the corruption of the virtue that each Tanta represents. For example, for Tanta Sila, who represents the virtue of strength, Matsuzawa envisioned her dress flailing as she loses herself in battle, so we went with a flamenco dancer-esque dress and an aggressive red color thematically.
While Tanta Sila faces her enemies (Frey included) with brute force, our newly unveiled Tanta Prav takes a decidedly different approach. Being the "Tanta of Justice" who administered Athia's judicial system before the Break, she judged right from wrong with her uncanny ability to perceive untruths and brought order and peace to Athian society. Now she is a callous executioner with a warped sense of justice, trusting only in her own judgment.
Matsuzawa also added, the team envisioned her as being unyielding in her own suppression, so she was given a restraint-like outfit that is a resolute blue. Despite Tanta Sila and Tanta Prav's different looks, it was important to the art team that both Tantas sport dresses with unique lines and elegant decorations that are more modern than traditional medieval European attire, bringing in that mix of modern and fantasy elements that run throughout the entire game. Gold ornamentation is present in both Tantas' costumes, which represents their magical properties. Because they're two major boss characters, their very essences and virtues are also woven deep in their actions and the types of magic they use.
Early concept art for Tanta Prav
Bringing the Tantas to life, from concept art to full 3D models, was no small task, and the art team shepherded each design through three major evolutions. The first when the scan models for each character had been selected, as this informed what each Tanta would look like, and the team adjusted the designs to match the models accordingly. The following stage was the completion of the physical production of each Tanta's outfit. This might seem a bit extreme, but Matsuzawa and the art team wanted the distinct construction of their dresses to feel as real as possible, so they made them in real life, and 3D scanned them.
The final evolution took place when the performance actors brought the characters to life—Janina Gavankar portraying Tanta Sila and Pollyanna McIntosh portraying Tanta Prav. Both actors articulately portrayed the Tantas' virtues and corruption envisioned by the team, solidifying them not just as characters but as individuals.
Although both Tantas are powerful sorceresses with a certain amount of gravitas, our Cinematic Director, Toshiyuki Momose, was careful to present them as ordinary people with semi-ordinary concerns (such as Frey's alleged trespassing) and not make them out to be godlike beings. On the animation side of things, Animator Kiyoka Hatakeyama kept in mind that as the battles in Forspoken are all about magic and don't rely on weaponry whatsoever, it was important to keep the movements of the Tantas' hands and arms graceful to clearly convey their strength, beauty, and corruption. For Tanta Prav, she found figure skating to be a huge source of inspiration for creating her animations.
The progression of Tanta Prav's visual development, from early CG concept art to the final product
The Tantas were a true labor of love for us at Luminous Productions. Believe me when I say that the team here is just as excited to see them fully voiced and animated as we hope viewers at home are, who are seeing them for the first time. We're all also incredibly excited that the time for folks around the world to face off against the Tantas themselves is quickly drawing near.
With only a few months to go until the launch, Forspoken will release on PlayStation 5 on May 24, 2022, and you can pre-order the Digital Standard Edition today. By pre-ordering the Digital Deluxe Edition, players can get several exciting bonuses, including the Rare Resource Kit, Mini Artbook, Mini Soundtrack, and Forspoken: In Tanta We Trust prequel DLC*. In addition, pre-ordering the Digital Deluxe Edition will allow players to receive unique gear and items to aid them in their journey through Athia including the No Limits Cloak, Symbol Combo Necklace, Trigger Happy Nails and Crafting Starter Kit.
* Forspoken: In Tanta We Trust DLC coming Winter 2022, following the game's launch. Players who pre-order the Digital Deluxe Edition will receive early access to this prequel story DLC when released.