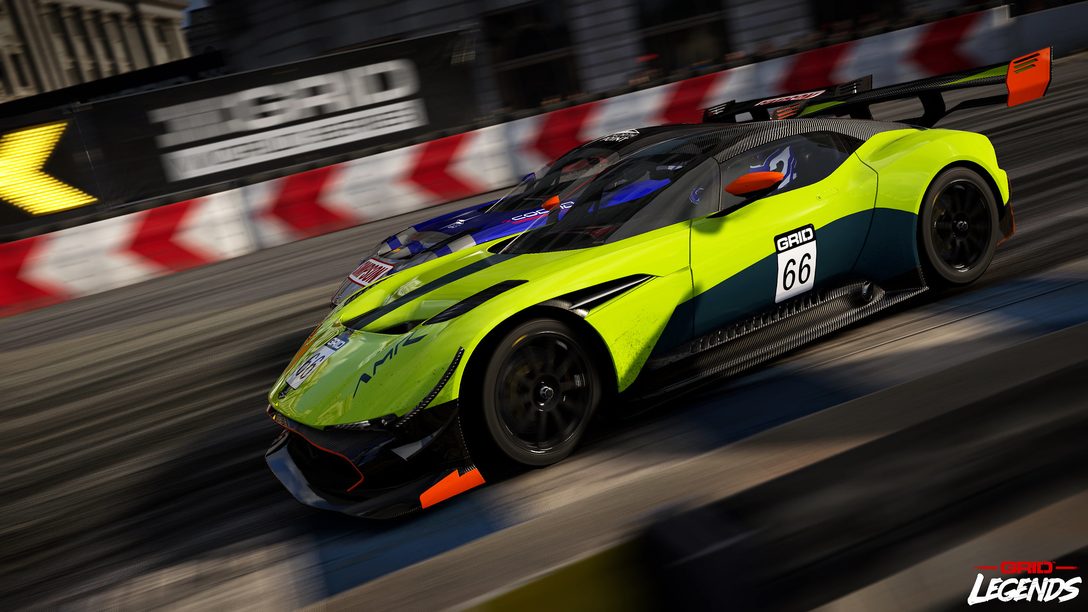 Find out how EA and Codemasters will deliver constant unforgettable racing moments next year.
What does it feel like to race the greatest cars in the world, on iconic streets and circuits, whilst dodging crashes and jaw-dropping moments around every corner? Well, in just a couple of months' time, you'll be able to find out…
The entire team here at EA and Codemasters are so excited to announce today that Grid Legends comes to PlayStation 5 and PlayStation 4 on February 25, 2022 – and you can pre-order it right now from the PlayStation Store. Head there to get full details on everything coming your way, including bonus content for pre-ordering, and a Deluxe Edition option for more add-ons both on launch day and beyond.
Oh, and make sure to Follow Grid Legends on PlayStation as well, to make sure you get all the latest news, gameplay and more content straight to your console, as we share more in the coming weeks.
Race in the moment
But hey, that's for the future. We're ready to give you more details right now on what makes Grid Legends a truly unique racing experience – starting with a simple question. When you play an exciting and enjoyable game, what do you remember most from it? Usually, it's those unforgettable moments ­– those magical instances where the drama kicks in, the jeopardy amps up, and the element of surprise creates something you want to tell the world about.
The beauty of Grid Legends is that it's designed to deliver those amazing moments race after race, time after time. Of course, you will play your part in those moments – getting behind the wheel of well over 100 of the world's greatest machines and battling for glory against 21 other drivers, on over 130 stunning routes. Intense pack racing is what the Grid franchise is all about, and Grid Legends takes that up yet another notch. That, though, is just the beginning of how this racer consistently delivers those epic moments.
Thanks to hundreds of AI personalities, each with their nuances and differences, and a race choreographer working behind the scenes to conjure up some shocks, you'll never know what's coming around the corner in Grid Legends. Be ready to squint through the smoke of an engine blowout right in front of you. Keep an eye on the sky for a car launching into the air after shredding a tire. Look out for aggressive AI personalities intent on getting back ahead of your after you traded paint with them earlier. Everywhere you look in a Grid Legends race, there is unpredictability and drama unfolding. That means more surprises, and more of those unforgettable racing moments.
Spectacular racing variety
What also helps create those consistent instances of delight is the sheer variety of experiences on offer in Grid Legends. The Codemasters team have used their decades of racing game know-how to pack in more cars, locations, and ways to play than we've ever seen from this franchise.
Prepare to hit the loud pedal in anything from hypercars to big rigs, single-seaters, drift legends, iconic prototypes, and stadium trucks. Enjoy a wide selection of event types, including the tense Eliminator, electrifying Boost races, and the return of stylish, sideways Drift runs. Hosting those vehicles and events is a massive slate of global locations, ranging from revered real-world raceways like Indianapolis, Suzuka, and Red Bull Ring, unique street circuits like the new London and Moscow routes, or even the new sprawling, high-speed Strada Alpina. Hundreds of curated events across multiple modes will be waiting for you, using eye-catching combinations all of this content – but we didn't want to stop there.
Using Grid Legends' Race Creator, you can take all this variety and mould it into your very own unique and amazing events. Rip up the rulebook of racing and design something you couldn't play anywhere else, controlling all the key aspects of an event. Want to put together a true motorsport challenge, putting our fastest GTs in a 50-lap race around Indy? Go for it. Fancy something a little more… out there? How about electric hypercars against big rigs, through the streets of London, in the snow? You got it! Just think of the chaotic and exhilarating moments you'll be a part of via the Race Creator.
We have plenty more to share soon on what's coming in Grid Legends, including fresh info on the ground-breaking Driven to Glory virtual production story, the massively expanded Career, and new online features that make multiplayer races more thrilling than ever. However, all those features flourish thanks to that action-packed, edge-of-your-seat racing gameplay that you'll feel every time you lay down rubber on the track. We can't wait to see you creating and experiencing those racing moments, come February 25.