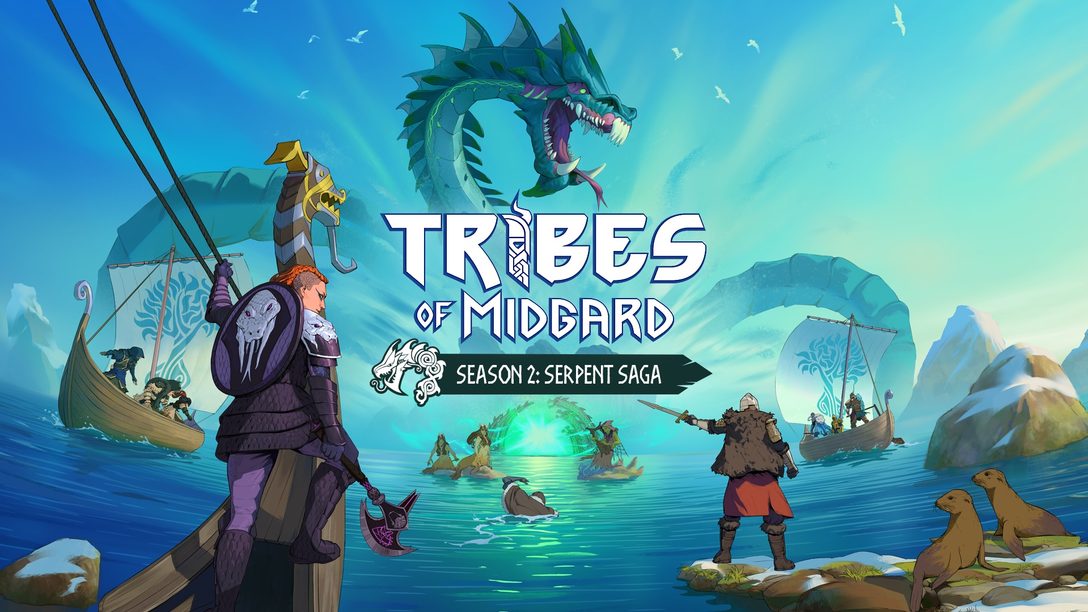 Boating, swimming, and the Saga 2 boss arrive December 14.
Hello Vikings! Tribes of Midgard Community Manager Sydnee here once again to welcome you to Tribes of Midgard Season 2: the Serpent Saga. The Serpent Saga is the next chapter in our adventure in Midgard, and adds another level of exploration and excitement for players to sink their fangs into.
Oceans and boating and swimming – Oh my!
At launch, many people found out the uncomfortable truth about Vikings in Tribes of Midgard – they weren't exactly strong swimmers. Whether it was a misaimed dodge roll or a jump off a ledge…Tribes of Midgard's Vikings couldn't swim… until now! We heard your drowning cries loud and clear, and have worked hard to implement aquatic exploration for Season 2.
At the launch of Season 2, we're introducing swimming, boating, and an ocean biome full of danger and opportunity. How's it work? Good question! Let's get into the details:
Swimming: You can now explore our ocean biomes, but I wouldn't get overconfident with your swimming ability, as it is limited by your Viking's stamina bar. Make sure you're back on a boat or on the shore (or do like we all do and use a last-ditch teleport to your Village) when your stamina runs out or it's a trip straight to Rán's watery halls. So now your fate is in your hands.
Shipyard: First, you'll have to rebuild your Shipyard, just like you would for the Quarry, Farm, Lumberyard, etc. From there, you'll gain access to boat kits, and be faced with a decision. As you upgrade the Shipyard, you'll gain access to new and sturdier boat kits, all of which will allow you to use your construction screen to build your boat.
Boating: Do you go with Drakkars that will require more materials, but hold more players, have a higher HP, and move faster when every moment is a race against Ragnarök? Or smaller, more nimble Færings… that are flimsier and carry fewer Tribe-mates? The choice is yours!.
Streams are for Streamers, Not For Boating: Not all water is equal in Tribes of Midgard – so take note so that you can only build boats in the ocean, not rivers or ponds (not sure where you'd really go anyway).
However, being on a boat doesn't mean you are invincible either (don't let your Viking pride fool you)!
Beachside Enemies & Combat: The shores of Midgard are full of hazards and creatures that can churn your sturdy ship to splinters before you even make landfall! You can explore the oceans free of fear, but be wary of which shore you wash up on, because not all inhabitants will be waiting with a warm welcome.
Seafarers: If sea exploration doesn't seem like your thing, then you better have someone in your Tribe who can, as the world of Midgard will now be split into the Main Continent and a swath of smaller islands in the Midgardian sea. Vikings and their Village will still spawn on the main continent, with merchants, points of interest, and Saga Boss unlock requirements scattered across these islands.
Don't rune It
To aid in your exploration and impending battles, we've added in five Runes – each of which will randomly drop in-game. We want to have some surprises left after this post, so we'll reveal these Runes closer to launch. I will say this: as with the Runes added for Mid-Saga 1, these will be available during future Sagas. Along with the Runes from launch and Season 1, you'll now have 40 of Runes at your disposal to adapt the game to whatever playstyle best suits you.
SSSSSay my name…
As many of you experienced with Fenrir, the vibrant and luscious world of Midgard is also home to some rather formidable foes that make even the Jötnar look tame. Although we're not ready to reveal all the details surrounding our Serpent Saga boss just yet, you'll find this mythical creature of legend on a desolate island out at sea. For all the Fenrir fans out there, fear not. Fenrir will remain in the game alongside the Saga 2 boss, and you can even attempt to defeat both in one world!
Before you can even set foot in their den (or cave, or, tree house? Who knows), you'll need to unlock the Lair. I won't just tell you how to do it, but I would advise you to get comfortable with your boat!
Yule of Yggdrasil
We're not done piling on the content just yet! Along with the launch of Season 2, we're giving you the gift that keeps on giving – our seasonal Yulidays. For three weeks straight, we'll be dropping festive seasonal content, including a pet, cosmetics, and festive changes to your main menu and village – so make sure you're jumping in each week to collect those Yulidays rewards!
Phew, that was a lot. Along with the content we shared above, Season 2 will also implement a boatload of additional balancing and quality of life updates I'm sure you're bound to appreciate. I don't want to spoil it all for you yet, so keep your eyes peeled for more updates over the coming weeks leading up to Season 2.
A saga for the road
And this is just the beginning for Tribes of Midgard. We've shared our updated roadmap outlining our future content plans – with lots more coming in 2022 as you can see above. So, yes, you're stuck with us for quite some time. :)
Tribes of Midgard Season 2: The Serpent Saga, along with Yulidays, will launch December 14 on PlayStation, and is free to all players. You can purchase Tribes of Midgard from PlayStation Store for $19.99 USD / £15.99, or the Digital Deluxe edition, which includes platform-exclusive cosmetics and pets, for $29.99 USD / £24.99 – both versions come with free seasonal content and seasonal updates.