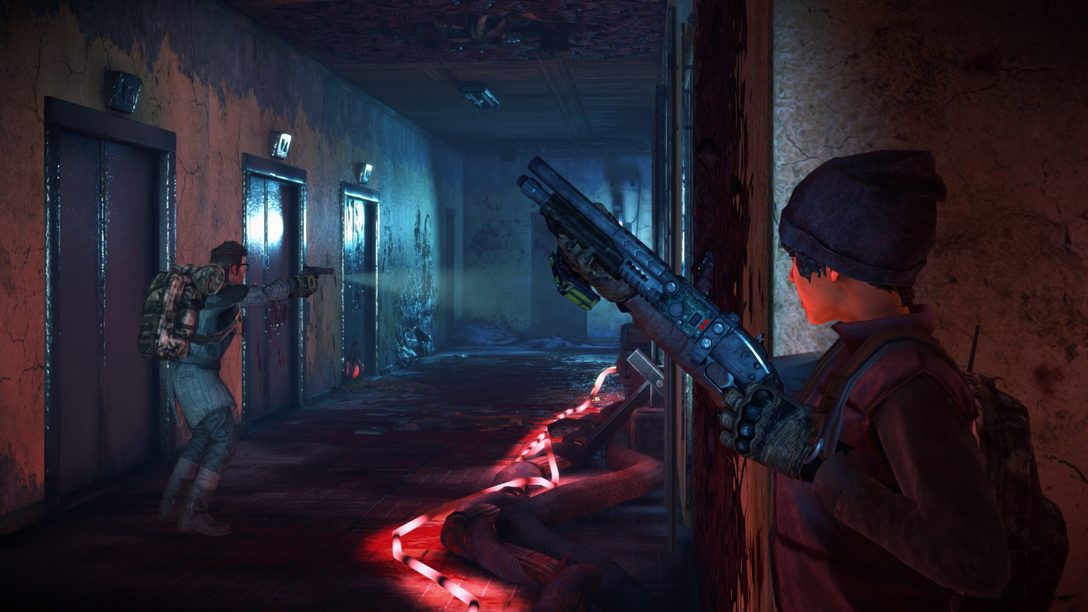 Plus a rundown of the different control methods you can enjoy when the game launches next week.
Hi everyone! TamTu from the Community team at Vertigo Games here! For After the Fall, we're so close to launch, SO CLOSE! Being able to tell you more about the game is very exciting and we can't wait to see you in the game when it comes out next week on December 9, so let's jump into what this means for PlayStation VR players.
PvP deep dive
Besides the 4-player co-op PvE content that is at the core of After the Fall, we recently unveiled the "Tundradome" arena as an extra activity where players can duke it out in 4v4 Team Deathmatch PVP! We know from experience that playing with friends isn't always peachy (I'm a pretty try-hard casual raider), so having the option to vent out any lingering frustrations is exactly what the Tundradome offers.
Welcome to the Tundradome
Previously part of combat training, the discovery of humans being able to get revived via boosters and prolong their lives has led to a darker form of entertainment.
Whether it's to take out frustration or relieve tensions between Harvest Runners, they are invited to keep their skills sharp against opponents that aren't as predictable as the Snowbreed. If they dare, Runners can settle debates with live ammo in the Tundradome. Harvest Runners from all over Los Angeles gather here to test their skill and for the survivors, combatants and non-combatants alike, these neo-gladiatorial battles are the contact sport of this era.
Broadcast to the different hubs, it is flavored with spectacle, and it is a chance for Harvest Runners to become legends of the arena.
How it works
At launch, After the Fall will launch with 2 Tundradome arenas for fast-paced player-vs-player combat in Team Deathmatch. You can jump into a lobby via the social hub's enlisting machines either solo, where you'll be matchmade with other players, or go in with a pre-made squad of 4 to slay against another team.
Players have full agency on how they want to fill up an 8-player lobby, be it friends-only or random players running around in our 32-player social hub. You will also be able to matchmake against Harvest Runners on other supported platforms via crossplay!
Combat
Players are stripped from their equipment and spawn each match with the basic Service Pistol. It's then up to you to find other weapons around the map before your opponent does, to gain the advantage. Whichever team reaches the elimination target (or has the most eliminations before time runs out) wins the match!
Harvest Runners won't be the only thing you'll run into; Snowbreed will occasionally spawn into the maps as well, so keep your head on a swivel.
The Tundradome will be expanded upon with more modes and maps post-launch, and we hope you'll enjoy jumping into this mode for a change of pace in After the Fall. Your feedback will be incredibly valuable to us to shape up the future of PVP in this game.
So enough about taking out other players, let's check out how After the Fall controls on PlayStation VR to take out your enemies of both the alive and undead kind!
On PlayStation we support the PS VR Aim controller, DualShock 4 controller, and dual PlayStation Move controllers! We wanted to make sure the game is accessible as possible and support anyone's preferred playstyle. Have a look at the control schemes:
Post-launch, we will be tweaking the controls further based on your feedback
Looking to the future
Future updates of After the Fall will certainly involve PlayStation 5 in some form but it's too early for us to share anything about that at this time. As we're preparing for the December 9 launch, we are still all hands on deck to get the current release to go as smoothly as possible. We see your excitement for the title and we're eager to face the frozen apocalypse with you next week.
Until then… stay frosty!