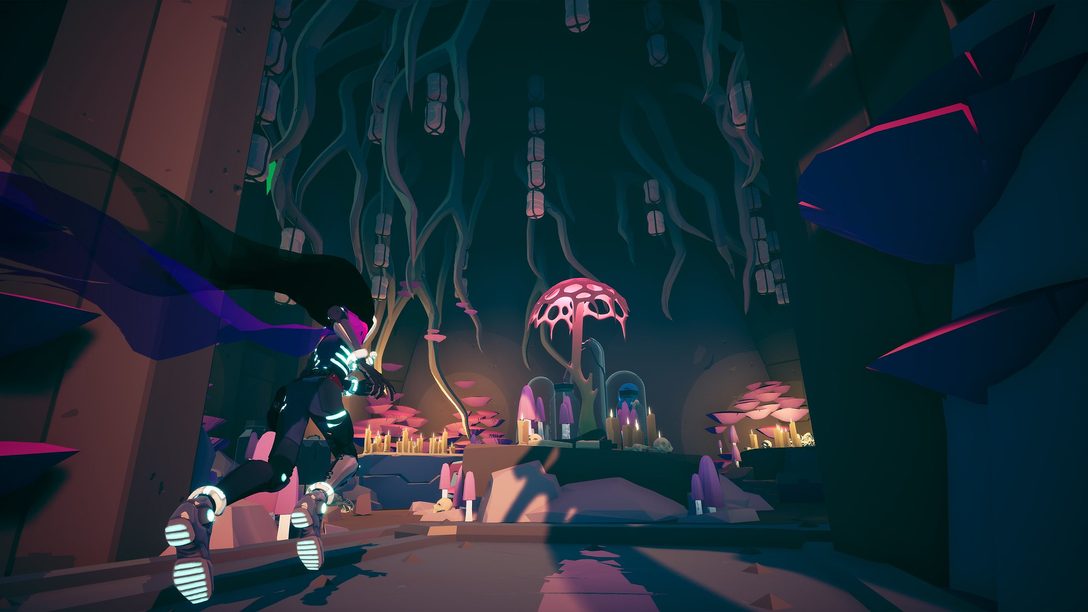 Take down a giant-lava-bird monster, rail grind through an ancient ship graveyard, unlock new suits for bonus powers, and more.
Solar Ash is a game that is, at its heart, about traversing with great speed through a massive world to discover its secrets. The protagonist Rei skates over wild cloudscapes, eerie landscapes, and great ruins. She's a stranger in a strange and dangerous land – out of her depth, but pushing forward with incredible will and commitment.
Here are five amazing things you can do in Solar Ash…
1. Take down a giant lava-bird-monster
Rei encounters a wide variety of aggressively large creatures in all manner of forms, such as an enormous bird-like monster that resides in the lava biome in the north. Why does it live in the burning heat of such a volatile environment? Perhaps you'll find out. Victory will require great speed, careful balance, and precise timing all while soaring through the air high above the dangerous flow of lava.
The oozing heat tempts the foolish to leap. Only the skilled survive.
2. Build out your suit collection
As she glides, jumps, and flies across the world of Solar Ash, Rei can grab multiple pieces of gear from hidden or hard-to-reach spots strewn about the world. These will net you rewards in the form of suit parts that can be assembled to unlock new bonus powers. These may be well worth your time to find and build out and succeed on your journey through the Ultravoid.
Patience, vigilance, and exploration will be rewarded.
3. Rail-grind up an ancient ship graveyard
The universe of Solar Ash contains a great host of desolate, abandoned structures that Rei can glide over and through. Find the derelict fleet floating above the clouds, highlighted by the uncanny glow of the sky. Grind, slash, and platform up this ominous scrapyard. Perhaps there's something, or someone, at the end of this once-great heap to greet you?
Sometimes decrepit ruins belie great rewards.
4. Collect lots of space blood (and other trinkets)
Traveling mostly alone through a harsh, foreign landscape can be a dicey proposition. Fortunately, the game is full of collectables, including Plasma, which Rei can use to upgrade her shields.
Players will also find a wide array of investigatable objects, easter eggs, and side-quest-related items that unlock backstory elements of each of the worlds consumed by the Ultravoid. Guide Rei through uncovering what happened to each, the awful fates that have befallen their peoples, and the intricate mysteries surrounding the places themselves.
Savor the small moments of storytelling and lore.
5. Take a moment to recite a poem
It can't all be spooky architecture and destructive behemoths. Throughout her journey, Rei encounters some eccentric characters. Talk to Ahrric, who shares an ancient poem used for speaking with the "Elders". Sure, buddy. Whatever you say. Do you commit the poem to memory? Or dismiss it as the strange gibberings of an even stranger, melodramatic creature?
The little things that most neglect may be more important than you think.
---
There's so much more to Solar Ash. Find out for yourself when it hits PlayStation 5 and PlayStation 4 on December 2!