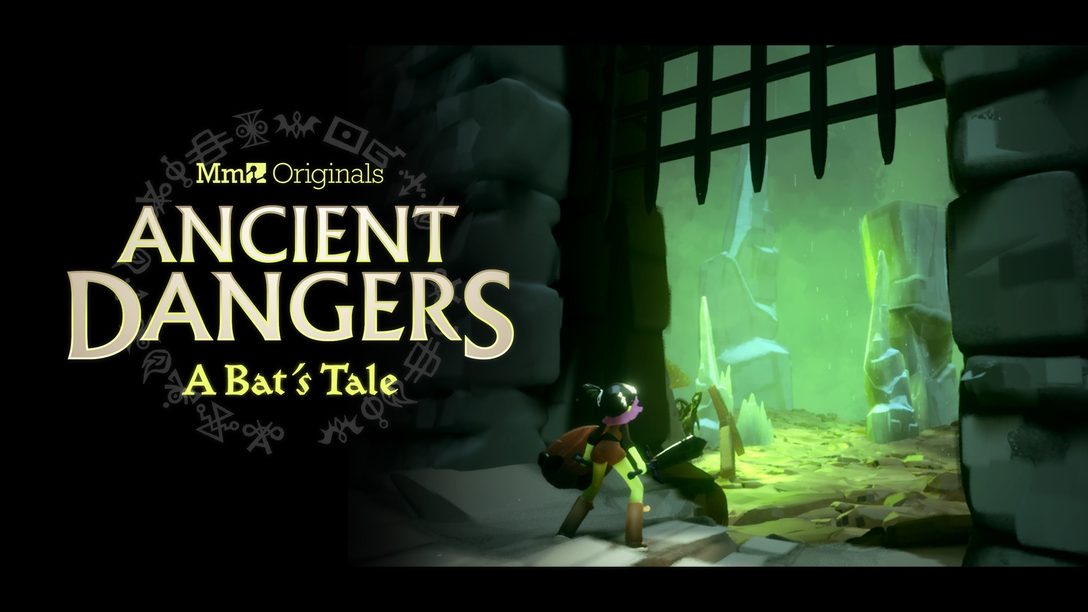 Test your skills in a new third-person dungeon crawler created by Media Molecule, and enjoy a revamped creation UI — out today.
Hold onto your buttresses – the dungeon-crawling, monster-slaying, castle-crashing Ancient Dangers: A Bat's Tale is out now!
Exclusively available to play in Dreams, Ancient Dangers: A Bat's Tale is a third-person dungeon crawler made by Media Molecule and designed to test the skills of only the bravest adventurers. Whether you're after frantic combat against strange and silly foes, puzzles to tickle your brain cells, or a showdown against a dragon with huge teeth (and an even bigger ego), Ancient Dangers: A Bat's Tale has you covered.
A screenshot from Ancient Dangers: A Bat's Tale, featuring orc twins Scoria and Gabbro running up the stairs in a dungeon towards a group of ravenous plant enemies.
Fight solo as heroic orc Scoria in single-player mode – or bring along a friend to play as Scoria's twin, Gabbro, in local co-op mode (local co-op play still requires an internet connection). Challenge yourself to top the scoreboards by clashing with enemies and activating your Berserk chain to maximize those sweet, sweet points.
A screenshot from Ancient Dangers: A Bat's Tale, featuring orc twins Scoria and Gabbro raising their swords to the sky to enter Berserk mode. Lightning is shooting out of the swords.
Will Scoria and Gabbro find the herb they need to cure their grandmother's terrible snoring? Can their wise-cracking bat pal find his way home? And is there a reasonable explanation as to how a dragon learned the noble art of floristry? All these questions and more possibly answered within.
A screenshot from Ancient Dangers: A Bat's Tale, featuring orc twins Scoria and Gabbro looking towards the camera with puzzled expressions.
To celebrate the launch of Ancient Dangers: A Bat's Tale, we're treating you to five glorious new imps, based on some of the most memorable characters from Ancient Dangers: A Bat's Tale. Get a load of these.
But that's not all. This latest update also brings a significant overhaul to DreamShaping.
Dreamshaping
Screenshots of some of the new DreamShaping templates in action.
For the uninitiated: DreamShaping is the name of the Dreams create mode. Since launching Dreams, we've found that DreamShaping can be overwhelming for new players. With our new template system, and a reworking of the DreamShaping UI, we hope this huge update will help make getting started making games in Dreams quicker, easier and more fun than ever before.
The new version of DreamShaping includes handy game templates and brand-new elements for making a 2D platformer, a dungeon crawler, a side-scrolling shoot-'em-up, mini golf and more besides – including a dedicated template for Ancient Dangers: A Bat's Tale, which features a huge kit for your creative delectation.
Objectives and pointers throughout templates guide you through and explain the process, helping development feel more like a game in itself! And if you find yourself feeling stuck at any point, then indreams.me is here to help – just head over to our Templates section to find any extra info or support you may need.
We've also made some changes to the DreamShaping UI to help you find exactly what you're looking for – and faster.
A screenshot of the new Start Creating scene.
On the new Start Creating screen, you'll be able to access the overview page for each template. We've indicated the difficulty of each template (and in some cases the parts within each template) for varying experience levels. Beginner templates are all about letting you get comfy with creating by letting you simply stamp in elements, medium-difficulty templates introduce the idea of wiring things together, and more advanced templates cover techniques such as how to optimise your game.
You'll also find new sections to promote quality elements to use in your creations, high-level and award-winning Dreams creators to follow, and community events – plus a raft of new help pages that link to online support via QR codes.
A screenshot of the new help pages linking to online support via QR codes.
What's more, the type of content you'll see on your DreamShaping page in-game will now be tailored to you, based on the time you've spent creating in Dreams! If you're a new player, you'll see stuff that'll help you get acquainted with the basics. If you're a little more experienced, you'll be served our curated recommendations for some of the best building blocks the community has to offer.
That's not to mention the many other things this overhaul brings – you can find much more detail in our update notes here.
Phew! Just a small update, then. Only joking, it's enormous. Enjoy! We can't wait to see you on the Ancient Dangers: A Bat's Tale leaderboards, and dreamers old and new rediscover the joys of creating in Dreams.
Ancient Dangers: A Bat's Tale and the DreamShaping update are available via a downloadable patch (internet required). Internet required to access full Dreams content.