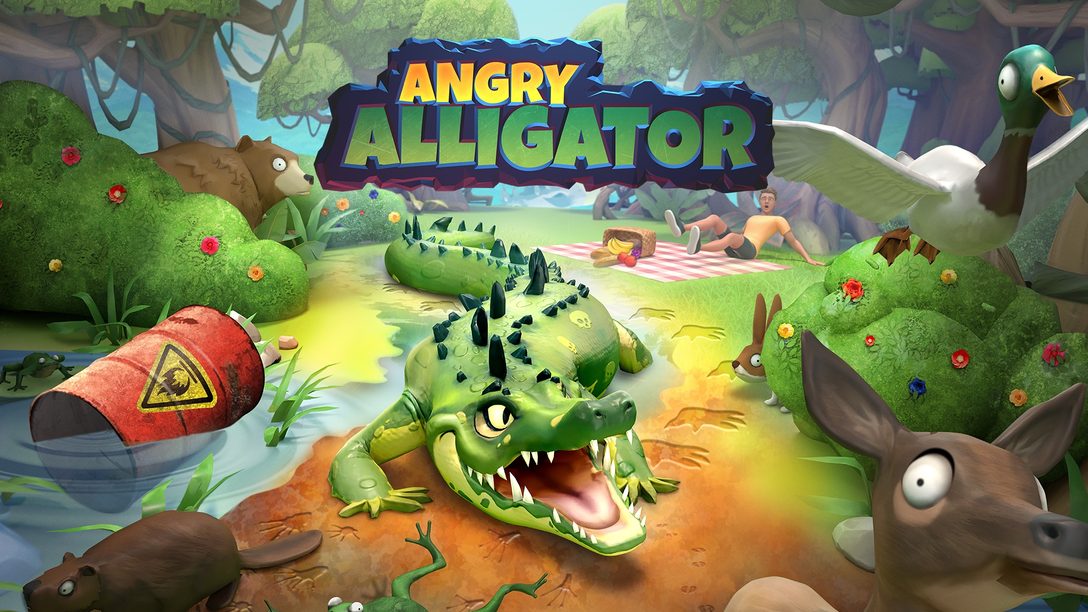 Grow up from a baby gator and seek revenge on the humans who sullied your swamp.
Welcome to the swamp – a beautiful and quiet place. Well.. until the humans arrived and ruined everything. Tomorrow, on November 30, Angry Alligator will finally be launching on PlayStation 4 and be backwards compatible with PlayStation 5. So are you ready to become an alligator – and hungry for some adventure? It's time for gator greatness.
Life as an alligator
In Angry Alligator we wanted players to do something they probably have never done: experience life from the perspective of an alligator. To make the player feel what it's like to be both an adorable – vulnerable – baby gator and a vicious big reptile, we've spent a lot of time making it behave as realistic as possible, within its stylized world. Players will be able to choose one of four different kinds of gators to experience their swamp adventure and go on a path of revenge.
1: Early concept art of the alligator, 2: Renders of the different final alligator versions
Become the biggest, baddest gator
However, it will be too early to go after some humans right off the bat. As a small baby gator, you'll first have to fill your belly with some juicy frogs, tasty squirrels and other small prey to get your grub on. Explore an open world filled with creatures to meet and eat and discover plenty of secrets. As you gain enough XP and nutrients, you'll grow into a bigger and badder version of yourself and be ready to take upon a new mission: scare the living daylights out of some humans.
Mess with humans
Nothing is more fun than taking proper revenge. Especially when it's towards pesky humans taking over your beloved swamp. As an evolved gator, you can: lure them unknowingly with loud music, wear a wig or hat to disguise yourself and blend into their pack, pull them through toilets or surprise them with an explosion. Nobody invades your swamp and gets away with it.
---
That's about all we can share for now. We look forward to seeing all of you explore the swamp and grow out your gator. Of course, as you're the hero the swamp needs, we're also dying to know how you'll exact your revenge upon the humans. The fate of the swamp lies on your scaled shoulders. No pressure.
See you later alligator – on November 30!