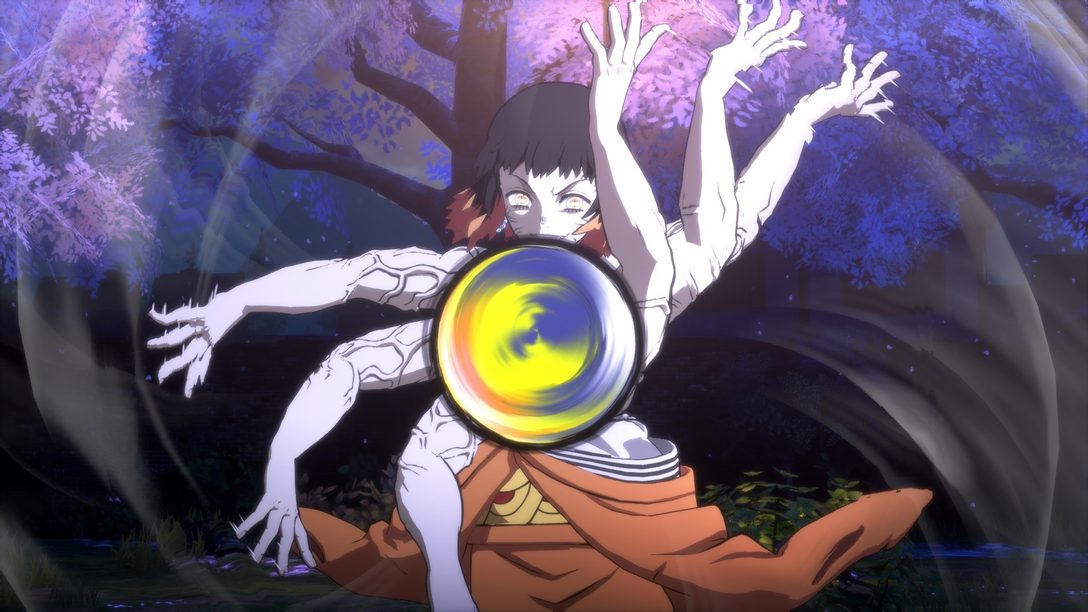 Two new playable demons come to the Versus mode roster, plus a new 60fps mode for PS5 players.
Hello there, everyone! After adding Rui and Akaza to the game back in October, we are excited to announce the second in the series of free post-launch content updates is now available in Demon Slayer -Kimetsu no Yaiba- The Hinokami Chronicles.
This new update adds two more characters to the Versus mode roster: Yahaba and Susamaru. In this article, we would like to introduce these two new playable demons and how they're represented in The Hinokami Chronicles.
Yahaba
First up is Yahaba (voiced by Xander Mobus), a menacing figure who teams up with Susamaru to ambush Tanjiro in Asakusa under Kibutsuji's orders. He has eyes on both of his hands and can generate arrows that manipulate directional forces with his Blood Demon Art, making him dangerous in long-ranged battles.
While these arrows cannot deal damage by themselves, once they pierce an enemy, they can be used to either slam an opponent into the ground (which does deal damage) or they can be used on rocks to hurl at opponents. Players will need to keep these options in mind while playing as Yahaba.
Susamaru
Susamaru (voiced by Sarah Williams) is a demon with the appearance of a young girl who attacks Tanjiro in Asakusa alongside Yahaba. Through the use of her powerful mari (decorative thread balls), she can keep her distance from any opponent. In-game, this makes her particularly strong against Demon Slayer Corps who favor close range combat.
Susamari fights by hurling her mari towards the enemy while actively moving around the field. They are a great way to lure an opponent into letting down their guard and set up effective combos that can deal high amounts of damage.
60fps Mode Added
Also, in this update, a new 60fps mode has been added to the PlayStation 5 version of the game. Within this mode, the controllable sections of exploration and combat in Story mode and certain controllable sections in the offline Versus mode will be playable in 60fps.
Alongside these new playable demons and the 60fps mode, more online missions have been added to the game for players to complete to earn Kimetsu Points and unlock new rewards, such as new quotes and profile photos. Be sure to download and install the latest update (v1.20) today to unlock all this great new content.