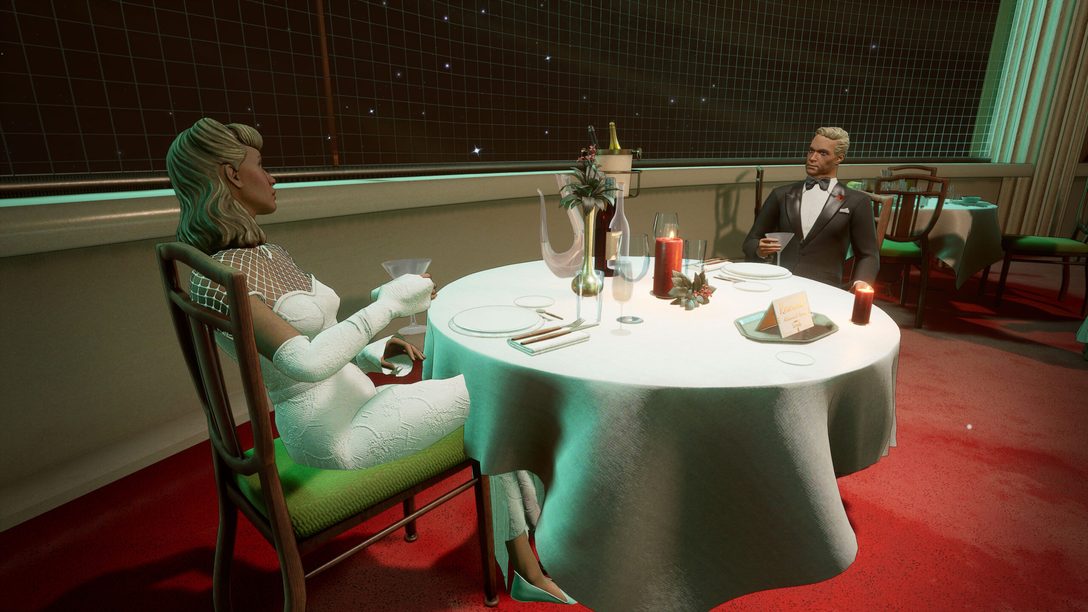 From social deception to marriage: the story of two players who inspired new wedding-themed content.
Today, as you pass through the dining section of First Class Trouble's luxurious restaurant, you may notice that something looks a bit different. One of the tables now has a reservation card, a small, but important and permanent change.
When you think of First Class Trouble, you probably associate it with all the lying and backstabbing required to win. Our tagline is, "Where cocktails last longer than friendships," after all. But truth be told, we'd always envisioned First Class Trouble as a game that would bring players together from around the world and create a cool place for the community to hang out.
Little did we know, however, that a romance was brewing aboard the Alithea.
We first met Adrianna and Henry when they announced their engagement to the First Class Trouble community on Discord. We were so touched by their story, we wasted little time contacting them for more details.
"Our story began when we met in the lobby of First Class Trouble and we instantly hit it off, or at least hit each other with champagne bottles," Adrianna said. "We were lucky enough that we ended up queuing the next three matches. After finding out how great we were at finding Personoids, and how we were such a great team, we decided to exchange details!"
From there, it was a simple matter of pure chemistry.
"While messaging for the first time, I immediately said he had a funny accent, as he is from the U.K., and I'm from the U.S. And he said, 'They messed up at the Personoid factory.' From that moment, I was sold!"
We're pretty sure that Henry isn't really a Personoid, but you never can be completely certain. Fortunately for Adrianna, though, he hasn't demonstrated any real-world allegiance to C.A.I.N. … yet.
"We played First Class Trouble every day for three months, hanging out, talking, and falling in love. It wasn't long before I flew to the U.K., and not even a week after I arrived, we were happily engaged! We will be getting married on November 21, 2021. The happiest we have ever been, all thanks to meeting in First Class Trouble, so we want to thank the team for making such an amazing game that works so well at bringing people together!"
After hearing this, the developers at Invisible Walls immediately started brainstorming ways of honoring Adrianna and Henry's story in-game.
"How can you not just feel happy as humans, developers, and artists, that something you made can bring people together like that? It needs to be celebrated," said Niels Wetteberg, CEO of developer Invisible Walls. "We wanted something that was available to the entire community, as well as something that would stand as a tribute 'forever'. We had a few ideas, but it all seemed to lack the level of romance needed to complement something like that. So, the table in the Restaurant level is now forever reserved for Adriana and Henry, and the wedding attire we've made is now available in a DLC pack for anyone else who wants to celebrate love."
The responsibility of blending wedding fashion with First Class Trouble's established time period and theme fell on Andreas Bech, Art & Design at Invisible Walls.
"A lot of thought goes into every piece of content we do. Even though we have a lot of quirky outfits in the game, every piece always must stay within the time period," Andreas said. "For example, we tried to design most of our dresses and suits with a high waistline, which was quite characteristic for clothing in that time period."
And where do you turn for such specific inspiration?
"For the wedding dress and tuxedo in particular, we were inspired by a couple of particular vintage designs, but wanted to add our own personal touch," Andreas said. "Therefore, we added a red flower to the tuxedo, and embroidered the dress to give it a more formal wedding look. And of course, no wedding is complete without the rings!"
Adrianna and Henry's story reminds us that video games are pretty awesome. They provide us with countless hours of captivating stories and satisfying gameplay mechanics to immerse ourselves in, but they also have the power to bring people together in ways unlike any other form of media.
They can create meaningful real-life friendships, and in some cases, even help us find our soulmates. And for everyone else… well, that's what the mute and block functions are for.
We're so happy to have met Adrianna and Henry, and so thrilled to honor their story in First Class Trouble. The Wedding Pack DLC is available now on PS4 & PS5, and contains:
Black Suit (Jacket, Pants and Shoes)
White Dress
Golden Ring
So, put on your classiest attire and celebrate the union of two wonderful Residents.
As a reminder to PlayStation Plus members, First Class Trouble will be available to add to your game library until Monday, December 6.
*PlayStation Plus is an ongoing subscription with recurring fees until cancelled. Age restrictions apply. See here for full terms & conditions. PlayStation Plus monthly games are available to play for the duration of your subscription only.