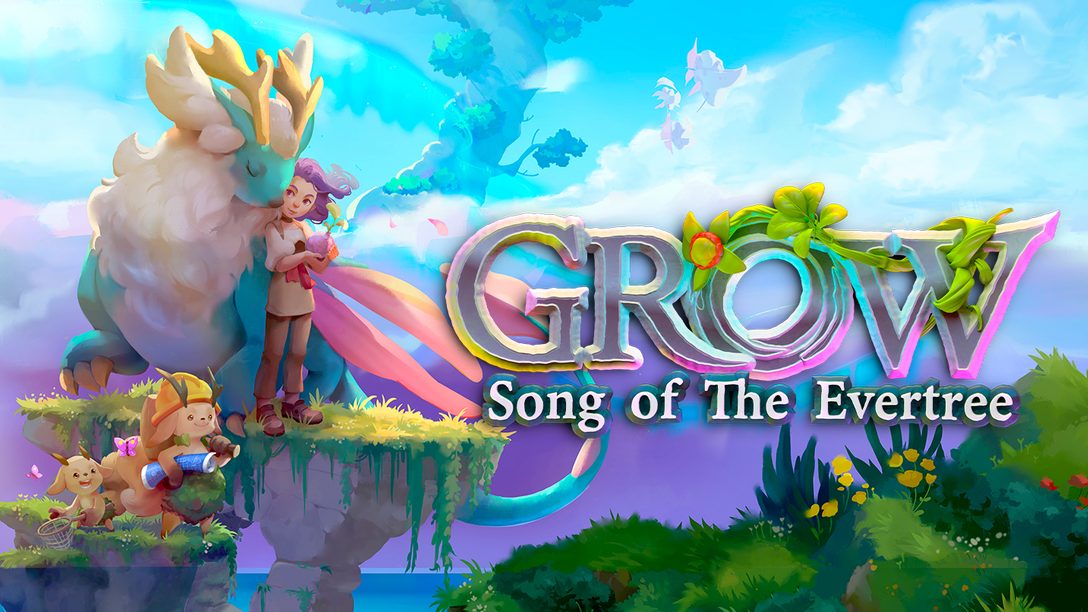 Discover a vibrant unique world at your own pace, build the town of your dreams, and prepare for a wonderful sandbox adventure.
Greetings gamers! My name is Stephen Takowsky, and I am the community manager for Grow: Song of the Evertree. Discover a vibrant unique world at your own pace, build the town of your dreams, and prepare for a wonderful sandbox adventure with Grow, launching November 16 on PlayStation 4. Australian-based Prideful Sloth is the developer of Grow and they wanted to share some important tips and strategies to help you on your journey to restore the Evertree.
Explore the worlds of Alaria
Who knows what strange and interesting things you might find when you explore? Oh! There's a chest over there. What's that? A recipe for a World Seed! I wonder what's in this cave… WELL! We will just let you discover that one for yourself <3
Shop til you drop
Buildings aren't just a great place for your residents to live and work in. They also sell items. Need some new clothes? Plonk a tailor down. In need of a new do? Well, the Hair Salon is the place for you. In need of adventure supplies, the General Store has everything you are looking for (and some things you didn't even know you needed).
Visit the Everkin often
The Everkin are helpful companions you will meet on your adventure, and they have their own mini city known as Where-Ever. It is a fantastic place to visit and a great place to trade items – you see, the Everkin don't have much care for worldly possessions. But you just might!
Sort/Organise your tools to save time
There is so much to accomplish each day and you might not want to waste time. You can access your tools in more than one way so make sure you play Grow in a manner that is best for you! You have the option to sort your tools for the best efficiency for the way you want to play.
Interact with the world
Pick flowers, shake trees, cut grass, play with critters, solve puzzles, engage with townsfolk, design an incredible layout for your town, and so much more. One of our goals was to create an interactive sandbox game with life management and adventure elements. You will not only get to build your town, but you will also take your experience to the next level by creating a unique community.
Make the Worlds you want to explore
Does a warm and tranquil world sound nice to you? Then make it. Want to try out a world that's a bit squishy and smells? If you really want that, well we got you covered. What about a cute and dreamy world with heaps of sparkly goodness? We've got you.
You are in control of the world seeds you create. Have fun, mix things up, and don't be afraid to experiment. Sometimes even the strangest combinations lead to interesting things.
You can also take it easy and not rush things
Even the most dedicated of Everheart Alchemists' needs to take some time off for themselves. Why not find a nice fishing spot, pull out your fishing rod, and enjoy the scenery? Or spend some time cuddling up with some of the adorable critters and maybe even snap a selfie with them?
Stop and smell (and customise) the flowers
After you have raised your town harmony high enough, you'll be able to customise the grass, trees, flowers, and shrubs so that each area really has its own personality.
Don't be afraid to experiment
Grow provides a variety of ways to obtain items and essences. So don't be afraid to use items, place buildings where you want, and dress villagers as you want. There's no wrong way if it feels right to you! So don't hold back, enjoy, and discover.
Kazumi loves a good snuggle
As your ever faithful steed, and long-term companion, Kazumi deserves lots of pats and snuggles. Don't forget to capture the lovely moments you share with Kazumi. And who knows… if you take extra good care of Kazumi, exciting things might happen.
Thank you for taking the time to read our tips guide. Please join our community, share your favourite images from Grow, and let us know what you think by visiting us on our official social channels. If you are interested in playing Grow: Song of the Evertree launches on PS4 tomorrow.