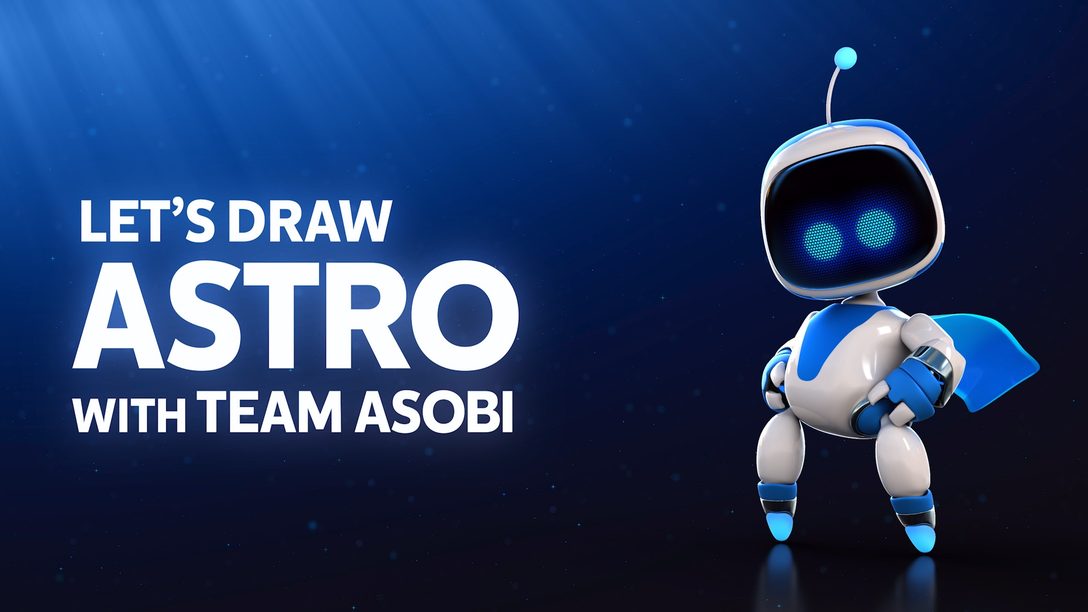 Find out about Astro's origins and learn how to draw your favorite bot from the playful hands of team Asobi artists.
Hi everybody, how have you all been doing? Over the past few months, we have been delighted to receive messages from fans around the world telling us how much you have been enjoying Astro's Playroom. What particularly stuck out were comments regarding Astro's look, so we figured it would be nice to get arty and share with you a couple of drawing tips from three artists who worked on the game. We hope you find this fun, and it inspires you 😊
But first, let's quickly explain where Astro came from. To find his roots, we need to time-travel back to 2013 when Team Asobi was just formed and started working on The Playroom, a collection of augmented reality experiences that came preloaded on PlayStation 4. One of those experiences saw a dozen of small, funny robots living inside the DualShock 4 controller that would come out to play with you on your living room floor. These tiny guys nicknamed "AR Bots" would go on to become the origin of all the bot-like characters appearing in subsequent games. To be truthful, while designing the original bots, we had constraints and focused on getting an impactful look while keeping the shape and design as simple as possible. We aimed to strike a balance between cuteness and coolness, something that would reflect the Sony legacy of product design. And after a few tests, voila! The AR Bots were a thing. It was love at first sight.
"The AR Bots as originally found in The Playroom for PS4"
The bots then returned in The PlayroomVR (2016); a collection of multiplayer party games available as an introduction to PS VR. One of those games was Robot Rescue, a single-stage 3D platformer featuring a heroic bot going on an adventure looking for his lost comrades. Our robotic hero (he had no name yet) came complete with a jetpack, hover boots, a holographic scarf and that iconic blue livery pattern that would later define the Astro look.
"Original artwork from Robot Rescue"
Astro then took centre-stage in 2018 in his very own PS VR game Astro Bot: Rescue Mission to great acclaim and later returned to become your guide into the amazing world of PS5 and DualSense wireless controller in Astro's Playroom (2020).
Today, we'd like to pick your creative curiosity and share with you a few tips on how to draw Astro, directly from the hand of three members from Team Asobi: Toshihiko Nakai (concept artist), Miho Kinebuchi and Mayu Kawaguchi (3D artists). Each member had a go at drawing Astro using their very own style and have shared some of their thoughts on what makes Astro a special character. Enjoy watching and reading!
Toshihiko Nakai (Team Asobi – Concept Artist)

What Makes Astro's character design unique?

Toshihiko: Astro is only a robot but thanks to his cute, rounded shapes, it is easy to connect with him emotionally.
Why did you choose to draw Astro in this way?
Toshihiko: I have been working as a concept artist in Team Asobi since Astro Bot: Rescue Mission. And as you can imagine, I have had to draw Astro soooo many times, every day in fact! (laughter). So, in searching for a way to draw him fast, this style came naturally to me. Very handy!
What tips can you give us to draw Astro?
Toshihiko: Try to simplify Astro's details to make him easier to draw. Also, remember that his face should neither be square nor round, but something in between (that's the tricky part!).
Miho Kinebuchi (Team Asobi – 3D Artist)
What Makes Astro's character design unique?
Miho: The richness of his expressions and the fact he is a robot with a round and friendly design.
Why did you choose to draw Astro in this way?
Miho: I wanted to emphasize the "pop-art" side of Astro and make him cuter, so I tried to reflect this by drawing his outer shape using thicker lines.
What tips can you give us to draw Astro?
Miho: I think you can make Astro look cuter if you make the size of his head and hands a little bit bigger.
Mayu Kawaguchi (Team Asobi – 3D Artist)
What Makes Astro's character design unique?
Mayu: The fact his design combines stylish mechanic details with a laid-back and lovable silhouette.
Why did you choose to draw Astro in this way?
Mayu: In the game, Astro is often dancing so, I tried to express his joy and draw him in a 2D, pop-art style.
What tips can you give us to draw Astro?
Mayu: He has a big head, like a baby! Make sure his head looks big enough when drawing him.
---
That's it from us. We hope you've enjoyed watching this and learned a few useful tips if you ever felt like creating your own version of Astro. As you could see, there isn't only one way to draw our robotic friend. So, feel free to let your creativity wild and don't forget to share your creations with us on social media, we'll be sure to repost.
As always, thank you for the words of love and care, please keep them coming as they mean the world to us. Above all, keep healthy, keep on your passion for gaming and we wish you a great rest of your day.
See you around. Team Asobi out.