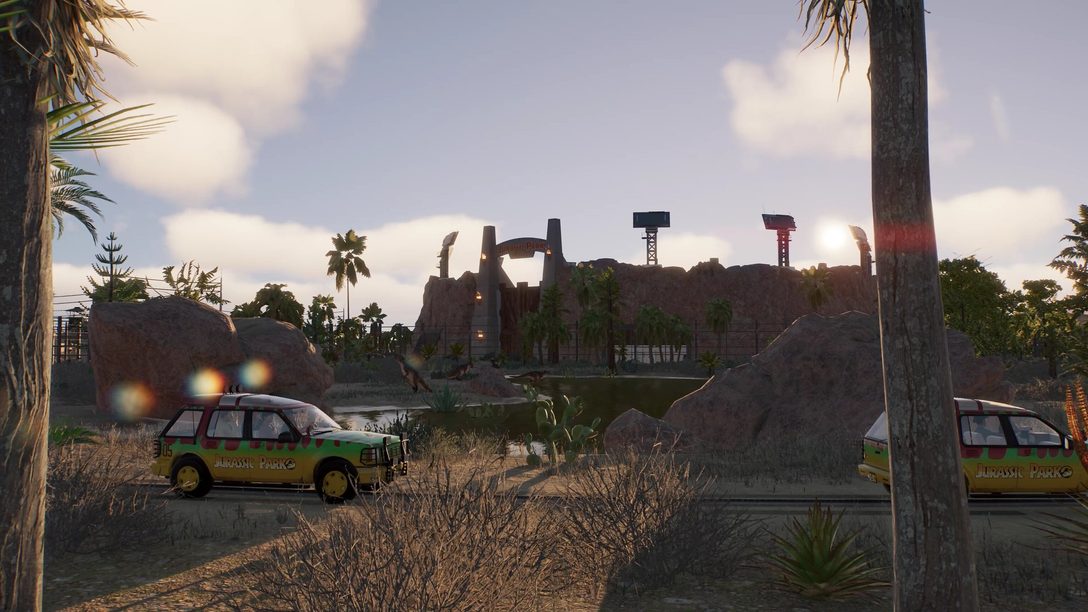 Alter iconic events from the films when the management sim launches November 9.
Jurassic World Evolution 2 releases on PlayStation 5 and PlayStation 4 November 9, bringing a bold new era of management simulation. Whether you've played Frontier Development's much-loved 2018 original, or you're coming in fresh to this even deeper and more dynamic sequel, Jurassic World Evolution 2 welcomes you to experience a world evolved.
One aspect I'm particularly proud of is the all-new Chaos Theory mode. Here you'll take charge as you revisit pivotal moments from the Jurassic World film franchise in a series of 'what if' scenarios. The rich lore of the Jurassic World Universe provided such amazing inspiration for Chaos Theory mode. We wanted a way for players to rediscover and reimagine their favourite movie moments. By focusing on each of the five films, and one particular, cornerstone moment within those films, we're able to include iconic characters, stories, and locations that we then work into different challenges.
Whether realising John Hammond's dream of an operational Jurassic Park, showcasing a T. rex in the San Diego Amphitheatre, or building and running a new Jurassic World park, control events like never before in the Jurassic World franchise.
There are five levels in total. The first takes place where it all began: Jurassic Park. Here you'll bring John Hammond's original vision to life. Taking place on Isla Nublar, you'll endeavour to avoid the disasters we see in the film and welcome in the park's first guests. Authenticity is key, so we've made sure to include all the era-specific Jurassic Park Buildings, such as the iconic visitor centre, as well as that famous entrance gate, alongside all of the familiar dinosaurs you remember.
In the Jurassic Park 3 level, you'll work with Simon Masrani to rescue the dinosaurs that will birth Jurassic World. This one takes place on Isla Sorna and involves you locating, monitoring, and releasing dinosaurs. One of those dinosaurs is the ferocious Spinosaurus, a towering carnivore that gave a T-rex trouble in the film. From this scenario's beautiful tropical environment, you may even spot the iconic aviary nestled in the distant valley, it captures the feel and excitement of Jurassic Park 3.
The last Chaos Theory mission I want to expand on is our homage to Jurassic World. This level see's you picking up where you left off with Simon Masrani, to create the Jurassic World, working alongside another iconic character Dr. Wu (voiced by BD Wong) to see if you can avoid the mistakes of the past. You'll be responsible for creating iconic landmarks and moments such as the Innovation Centre, Mosasaur's lagoon, Gyrosphere Tour, and even create a one-of-a-kind hybrid dinosaur: the Indominus Rex.
Research for Chaos Theory was a lot of fun since it mainly involved us watching every movie in the series many, many times in order to dig out details we thought were fun or interesting. For example, when we were recreating the San Diego Amphitheater in game, we had to look at how it would fit, look, and feel and how our guests and dinosaurs would interact with it, all while keeping true to how this iconic building was showcased in the film. As you can imagine with five films, it was pretty time-consuming, but in the best way possible. We also introduced one or two members of the design team to the original Jurassic Park movies, as they're so young that they weren't even alive when they came out!
I hope you have enjoyed this deeper look into Chaos theory mode and we can't wait to see you take control and create your own Jurassic World when the game launches on November 9. Pre-order now on PS5 and PS4 receive three vehicle skins inspired by The Lost World: Jurassic Park.