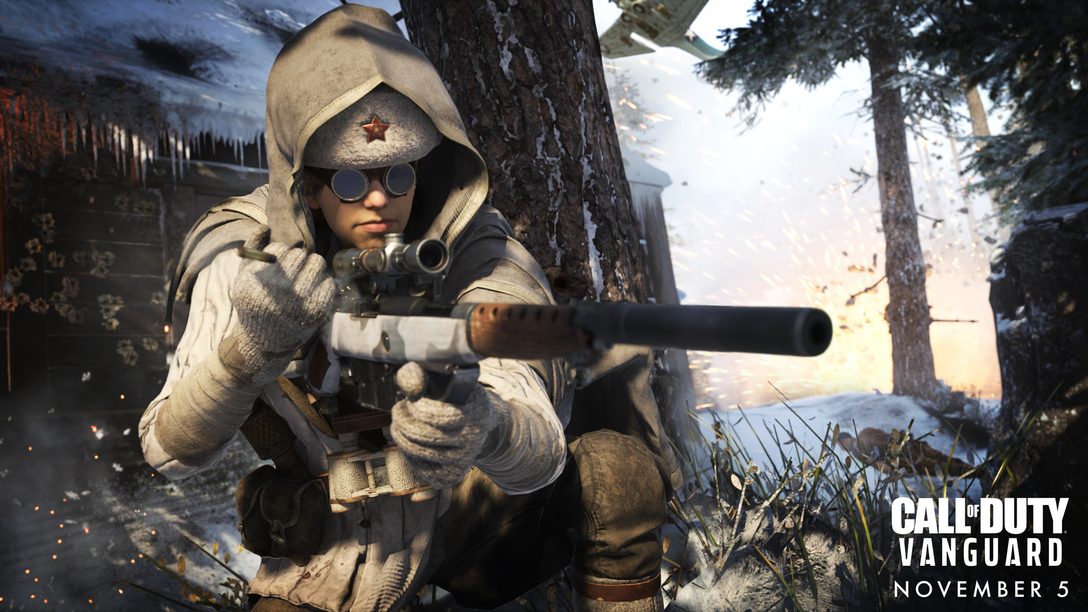 Activision offers a rundown of upcoming content, including Warzone updates, Multiplayer maps, and more.
Attention all PlayStation players, it's time to rise on every front, as Call of Duty: Vanguard is nearly here! Starting November 5 on PlayStation 4 and PlayStation 5 experience an epic, international Campaign, signature Call of Duty Multiplayer combat, and a franchise-first Zombies crossover marking the continuation of the Dark Aether saga.
Call of Duty: Vanguard is packed to the brim with content at launch: live through the heroic moments of Task Force One in the awe-inspiring single-player campaign, experience 20 maps in Multiplayer (including 16 built for core gameplay) and the all-new Champion Hill mode, and battle the undead hordes in a franchise first crossover Zombies experience, as the Dark Aether storyline continues in Der Anfang.
Yet, November 5 is only the beginning for Vanguard. Players can expect the content to keep rolling.
Read on for details on the content arriving on the road to Season One, and find out about the brand-new map coming with Call of Duty: Warzone Pacific — Caldera. Also, just announced, Vanguard owners will get the opportunity to have 24 hours of exclusive first play access to Caldera starting on December 2.
With that, let's take a look at what's arriving shortly after launch.
Shipment launches free in November
Vanguard's content drop continues after launch in the days leading up to Season One.
Headlining that batch of free content is Shipment, the classic frenetic Multiplayer experience re-fitted for Vanguard, scheduled for a November 17 arrival. Newcomers and veterans alike can ready up for a fresh take on the map that's entertained Call of Duty fans for over a decade.
Deploy to Caldera in Warzone Pacific
Lush forests and rocky crags. White sand beaches and mysterious ruins. A dormant volcano towering over 200-plus points of interest. The new map Caldera is just the beginning of Vanguard's full integration into Warzone. Roughly the size of Verdansk, Caldera's design is informed by two years of research and community feedback.
Available to all players in Season One, the Vanguard Royale mode – and later, the Vanguard Plunder mode – showcase all new content from the Season One update onwards, including weaponry and vehicles like biplanes and AA trucks.
All your Operators, Calling Cards, and more from Black Ops Cold War and Modern Warfare will remain in Warzone Pacific.
As mentioned above, Caldera launches with 24-hour exclusive first play access for Vanguard owners on December 2 at 9:00 AM PT. Then, it launches for all players on December 3 at 9:00 AM PT.
Uncover Caldera's history in the Secrets of the Pacific event
To get players ready for the new map coming with the launch of Warzone Pacific, starting November 24 in Warzone, discover more about Caldera in the Secrets of the Pacific. This limited-time event grants vital information on Caldera and its various points of interest across Vanguard and Warzone. Each game will feature its own set of tasks and rewards.
Season One brings new Battle Pass, Multiplayer maps, and more
Starting on December 2, Vanguard players can expect three new Multiplayer maps, three unique Operators, new Zombies content, new weapons, fresh challenges, and more.
Season One marks the start of the first Battle Pass system across Vanguard and Warzone, where up to 100 Tiers of items – including a selection of free Weapon Blueprints, cosmetic content, and two functional weapons – are yours to unlock. And PlayStation players can unlock new gear and goodies even faster. PlayStation players who purchase the Battle Pass Bundle will get an additional 5 Tier Skips — that's a total of 25 Tier Skips.
PlayStation Exclusive – Seasonal Combat Packs and More
In addition to the extra tier skips PlayStation players receive by purchasing the Battle Pass bundle, there are additional benefits. Exclusive to PlayStation Plus members, players will get a free in-game bundle to celebrate Season One of Call of Duty: Vanguard and Warzone. This pack will include a new Operator Skin, Weapon Blueprint, and much more. A new free bundle will be available during each Call of Duty: Vanguard season.
Also, in the spirit of teamwork, PlayStation players that play together in parties receive +25% bonus weapon XP. Additionally, PlayStation players can look forward to exclusive Monthly Double XP events, lasting 24 hours in duration each. Finally, to make sure you're ready for whatever your enemies throw at you, PlayStation players get an additional two loadout slots.
That's just a taste of what's coming to Call of Duty after the launch of Vanguard in a few short days and beyond. Stay tuned for more intel through launch and into Season One.
Call of Duty: Vanguard arrives November 5
Pre-order Vanguard on the PlayStation Store and preload today. Rise on every front.