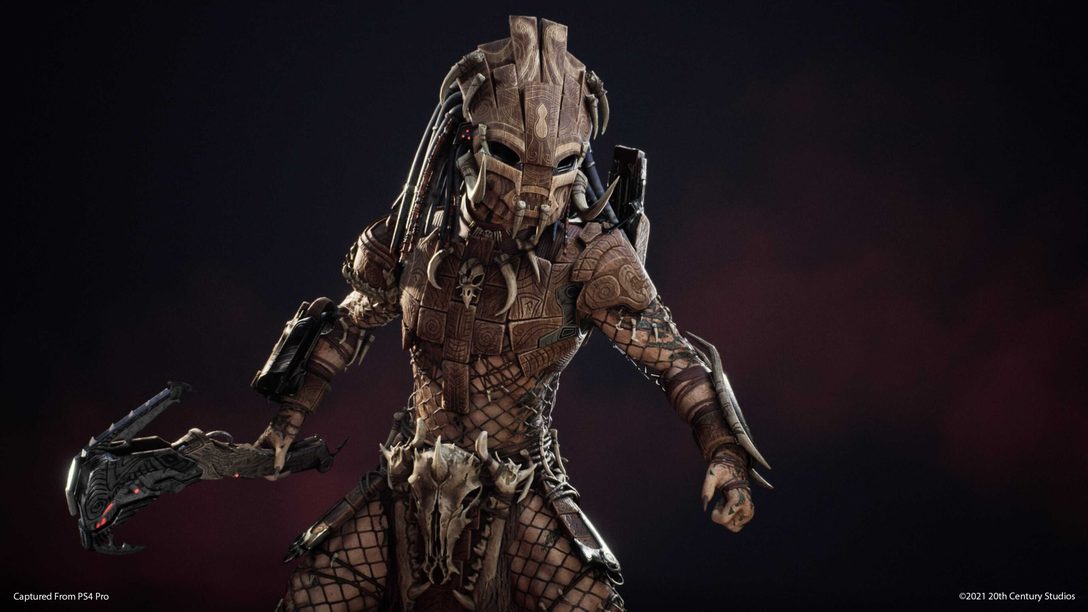 Nighttime descends upon maps for tense hunting in the October update, live today.
The season of haunting and hunting is upon us with October in full swing. This makes it a perfect time to jump into the jungle and deliver some scares to the Fireteam or turn the tables and hunt the hunter. We are excited to introduce our newest Predator to the lineup for October's paid DLC, the Exiled Predator. And for those Predators out there who want to mask up for Halloween we have three new masks making their way into the free update just in time for the night of haunting…or hunting.
This month's paid DLC introduces the Exiled Predator to the universe. It's unknown when or how this Predator was exiled, but it was clearly able to adapt and hunt undetected in the far reaches of Yautja territory. While avoiding common hunting grounds, this Yautja was able to hunt legendary warriors on chains of the Pacific Islands. The Exiled Predator carefully interpreted and crafted armor from local raw materials out of a deep respect for these warriors. In addition, players will gain access to the Hook weapon, which is an early access weapon skin that will be unlockable to all players by December 2021.
October's free update does not disappoint with ways to scare and scare yourself. Night maps have made their way into the game with this update. Get ready for all the jump scares! Night maps present a new way to play the game that has already produced plenty of exciting, very intense hunting experiences during our internal playtests. The Fireteam must now navigate through dark jungles and light-filled camps to complete their missions. To help visibility in the night maps, the Fireteam will be able to toggle Night Vision when needed. The Predator can now use the cover of darkness to stalk their prey, so make sure you don't get your biomask knocked off by the Fireteam. As mentioned earlier, not only will the Predator have the darkness for the hunt, but also three new masks with this update. Newest masks to join the Predator "closet" are Salamander, Mors, and Foxtrot masks. In addition, this update brings the Cleopatra smart disc weapon skin to all players with it unlocking at level 27.
Everyone at IllFonic is excited to see how the community's hunting styles change under the cover of night in the jungle. Keep those videos and screenshots rolling in on all the social platforms, we love to see them! In the meantime, we will see you in the jungle!