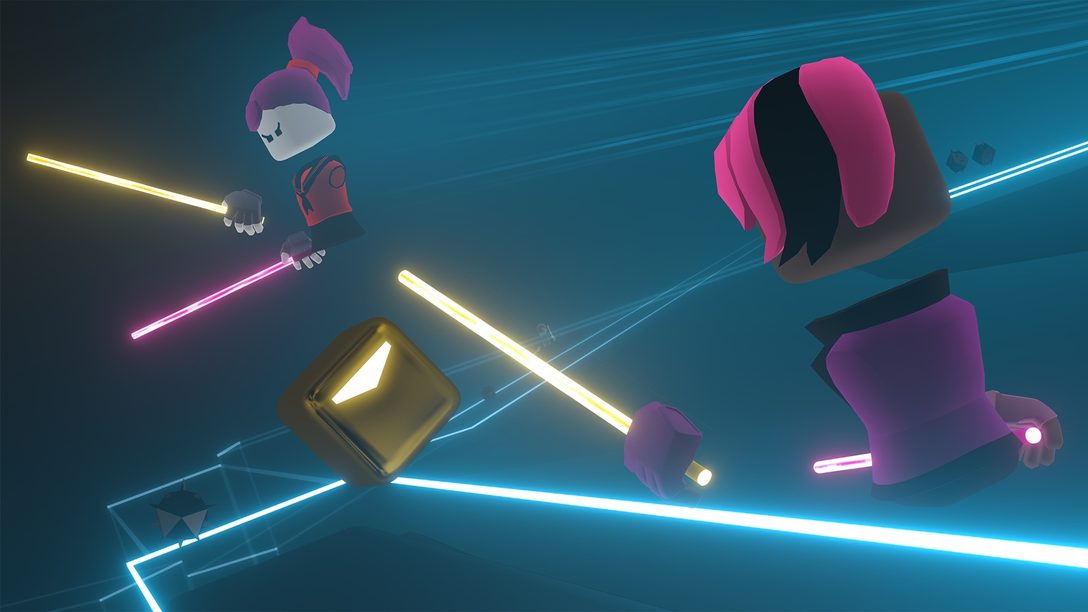 Challenge opponents from around the world and compete together in private or public matches with up to five people.
There's nothing better than a good rhythm match with friends. We're excited to announce that Multiplayer just landed in Beat Saber! Challenge your friends or random opponents from all around the world and compete together playing your favorite songs in private or public matches with up to 5 people together*. Choose songs from any of our OSTs, other free, base-game songs or slash the beats from our music packs brought to you by international chart-topping artists.
Customize your avatar so you can be 100% you… or maybe create your futuristic virtual alter ego? Before you join, go to avatar settings and set up your avatar to express your unique personality and style. We have many customizations to choose from.
But that's not all, with Multiplayer mode, we are also bringing a lobby and arena-like environment which transports you and your challengers into a monumental world of competition. Are you ready for the contest? If not, you can just sit back and watch the competition heat up as an inactive player watching the stadium from above.
Through the development, we kept adding new tweaks and improvements which are launching today as part of this update and will improve your gaming experience, for example:
Multiplayer Badges: How did everyone do in the match? See who was the most precise slicer or the slowest one. Everyone gets the badge they deserve.
Exciting result screen: Enjoy the fireworks while celebrating on the winner's podium next to each other.
Possibility to set custom colors in Multiplayer: Choose your favorite custom colors for cubes and sabers.
As part of this update, we're also launching a Halloween special – a brand new free song, "Spooky Beat" by Jaroslav Beck set in a Halloween environment. You can also select this track in Multiplayer, challenge your friends and have some spooky fun!
We'd like to thank the PS VR community who have been patiently supporting us since we started the Multiplayer development. It was a complex feature to develop and we're so happy we can finally share this with all of you and welcome new players online. See you in Multiplayer!
*PlayStation Plus is required to be able to play Beat Saber Multiplayer.