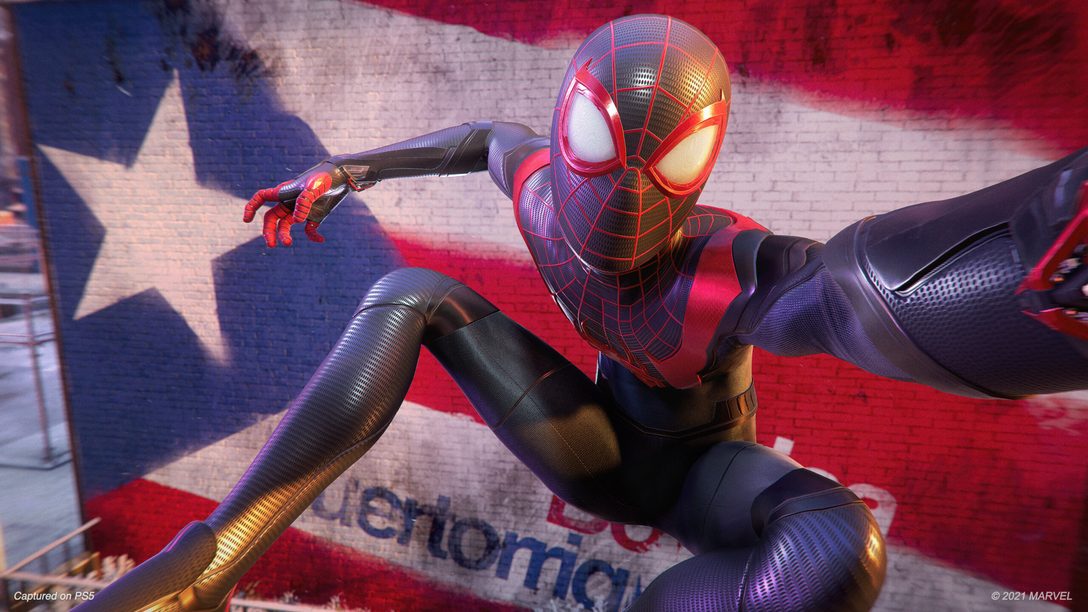 Happy Hispanic Heritage Month! From the music to pasteles, here's how Insomniac Games honors Miles' heritage.
Hey everyone, Hispanic Heritage Month is officially underway and here at Insomniac Games, we're proud of the work that went into the cultural representation of the Morales family and East (sometimes referred to as Spanish) Harlem in Marvel's Spider-Man: Miles Morales. As someone who comes from a Hispanic background, I felt a powerful connection to Miles' story so I'm delighted to share the details that went into establishing the game's representation and giving people like myself meaningful recognition in Marvel's New York. I've had the honor to speak with the writers, artists, animators, and audio designers at Insomniac who collaborated with dialect coaches, consultancy groups, actors from across Latin America, and our own studio talent to ensure the Hispanic representation felt genuine and specific. The team also traveled to East Harlem to study the neighborhood and learn about the people who continually make it a vibrant place to live.
So, let's talk about how the environments were influenced starting with Miles' apartment. Originally his grandmother's, the apartment is an homage to Puerto Rican culture and celebrates Miles' roots. Paintings that depict Puerto Rican dancers and pueblos are hung on the walls alongside flags, straw hats, and family portraits. Meanwhile, Puerto Rican staples like coquí frog statues, inspired by the country's national animal, are found on shelves and as refrigerator magnets. The set also includes wooden Santos figurines that allude to Abuela's religious upbringing. During the sequence La Nochebuena, Rio can be found frying up tostones in the kitchen while pasteles boil in a stock pot. Keen eyes can find other mouthwatering dishes such as flan and fresh empanadas on plates alongside a bowl of arroz con gandules. When we spoke to Puerto Rican consultants, they reminisced about their childhood and Christmas gatherings, offering detailed descriptions of visiting their grandparents' homes. Specifically, we wanted Puerto Rican players to feel a sense of home and comfort, so we included the little details that would take them back to those moments growing up.
Music also plays a crucial role in connecting Miles to his heritage. In La Nochebuena, players are given a choice of music to pick for the party, each embodying key figures in Miles' life: a jazz tune from his father; an R&B track from Uncle Aaron; and from Abuela, a salsa tune some may recognize as Esta Navidad ("This Christmas") by Puerto Rican salsa musicians Willie Colón and Héctor Lavoe. At Rio Morales' campaign rally, you can also hear La Gozadera, a reggaeton dance tune from Cuban music duo Gente de Zona. The selection was inspired by songs you'd hear at Latin-American events: the Willie Colón classic can be heard at family gatherings during the holiday season, meanwhile Gente de Zona hypes up parties and invites Latin Americans to celebrate their diversity through song and dance.
Out on the streets of East Harlem, you'll notice other cultural Hispanic touchstones: beautiful murals depicting the lives of people in the community – friends, family, camaraderie, elders playing games, and children playing sports; ambient sounds of salsa music that attracts neighbors to dance in the streets; and the balconies and alleyways are canopied with Puerto Rican flags. An aspect of Harlem that also caught the team's eyes were the family-owned businesses that line each block. These are shops run by the neighborhood's people, the heart of Spanish Harlem, who inspired us to get the details right. We needed to bring life and authenticity to these locations to help players feel connected to this part of the city. It was important the neighborhood felt like it was more than a mere backdrop, to instead give players a home they'll fight to protect.
For Marvel's Spider-Man: Miles Morales, the team wanted a diverse and memorable cast that accurately reflected the neighborhood and stood out from the rest of the city. People are at the heart of our game's story and world, so we put representation at the forefront through their personalities and physical appearances. This was achieved by scanning in actors who more closely characterized the real people of Harlem, capturing their different skin tones, ages of the community members, and their unique fashion senses. Our writing team also researched backgrounds for each of these characters to tangibly connect them to Harlem. Teo Álvarez and Camila Vázquez, owners of Teo's Bodega and Pana Fuerte, are examples of our teams collaborating to create characters, landmarks, and stories that enrich the neighborhood with a layer of personality, diversity, and connectedness.
It was also important for the writers to represent the nuances of language and relationships through dialogue. During recording sessions, our script writers and actors gained insight on the mixing of Puerto Rican Spanish and New York English with the help of a dialect coach. As a result, the actors who played Miles Morales and Rio Morales captured the subtleties of Spanglish, mirroring conversations we had with our parents growing up – or maybe still do! Parents are often a source of love and worry, and we wanted players to feel that through spoken nuances. During the Rhino chase sequence for instance, when Miles lies to his mom about the coconut milk, the conversation is mostly in English. But Rio catches him in the lie: "Mira, mijo, no seas mentiroso!" ("Don't be a liar!") It was almost like I was being scolded by my own mom!
The team wanted to put players in the shoes of Miles Morales, not just as Spider-Man, but as a teenager finding himself in East Harlem. It was important that Miles and the community were represented wholeheartedly, from something as obvious as genuine dialogue and even small details like fridge magnets. As a second-generation Hispanic-American, the game's focus on representation provided me a moment of recognition that allowed me to establish a deeper connection with Miles and make me feel like a plausible hero in this world. The care that went into the game's details is incredible and I'm happy to have shared some of those examples with you today.
To get a behind-the-scenes look at the creators behind Marvel's Spider-Man: Miles Morales, I encourage you to check out the Creator-to-Creator series in the video below.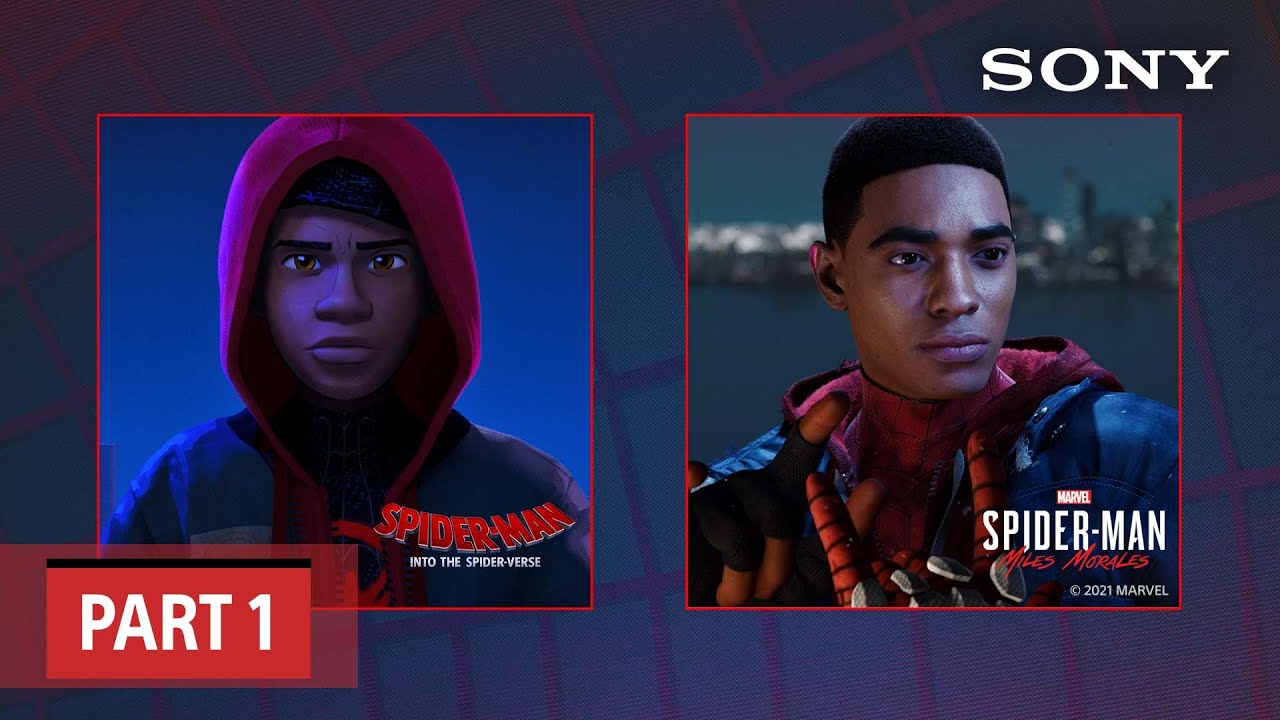 Still haven't web-slinged through Marvel's New York as Miles Morales? Learn more here!