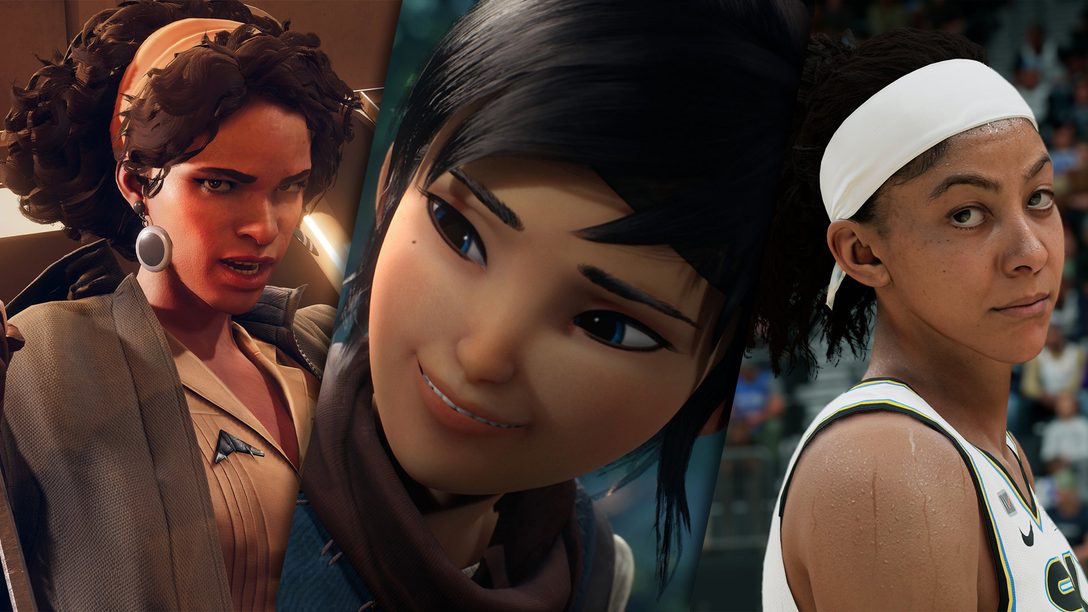 NBA 2K22, Kena: Bridge of Spirits, and Deathloop top September's PS5 charts
Greetings! The numbers are in and we've got some piping-hot charts for ya.
NBA 2K22 was the big winner last month, topping the PS5 US, PS4 US, and PS4 EU lists (and earning the runner-up spot for PS5 EU). Kena: Bridge of Spirits and Deathloop round out the top three for PS5, with big debuts from other newcomers like Diablo II: Resurrected and Death Stranding: Director's Cut.
Peep the full charts below, then mosey over to the comments to let us know which games you think are going to make a splash this month.
PS5 Games
| | US/Canada | EU |
| --- | --- | --- |
| 1 | NBA 2K22 | Kena: Bridge of Spirits |
| 2 | DEATHLOOP | NBA 2K22 |
| 3 | Kena: Bridge of Spirits | Diablo II: Resurrected |
| 4 | Diablo II: Resurrected | DEATHLOOP |
| 5 | Madden NFL 22 | Ghost of Tsushima DIRECTOR'S CUT |
| 6 | Ghost of Tsushima DIRECTOR'S CUT | DEATH STRANDING DIRECTOR'S CUT |
| 7 | Tales of Arise | Tales of Arise |
| 8 | Marvel's Spider-Man: Miles Morales | Marvel's Spider-Man: Miles Morales |
| 9 | DEATH STRANDING DIRECTOR'S CUT | Assassin's Creed Valhalla |
| 10 | Life is Strange: True Colors | F1 2021 |
| 11 | Assassin's Creed Valhalla | Life is Strange: True Colors |
| 12 | TOM CLANCY'S RAINBOW SIX SIEGE | TOM CLANCY'S RAINBOW SIX | SIEGE |
| 13 | Marvel's Avengers | It Takes Two |
| 14 | HOT WHEELS UNLEASHED | HITMAN 3 |
| 15 | Ratchet & Clank: Rift Apart | Call of Duty: Black Ops Cold War |
| 16 | Call of Duty: Black Ops Cold War | Marvel's Avengers |
| 17 | STAR WARS Jedi: Fallen Order | Metro Exodus |
| 18 | HITMAN 3 | No Man's Sky |
| 19 | Demon's Souls | STAR WARS Jedi: Fallen Order |
| 20 | Aliens: Fireteam Elite | Watch Dogs: Legion |
*Naming of products may differ between regions
*Upgrades not included
PS4 Games
| | US/Canada | EU |
| --- | --- | --- |
| 1 | NBA 2K22 | NBA 2K22 |
| 2 | Madden NFL 22 | Grand Theft Auto V |
| 3 | Diablo II: Resurrected | Minecraft |
| 4 | Grand Theft Auto V | Red Dead Redemption 2 |
| 5 | Minecraft | Diablo II: Resurrected |
| 6 | Red Dead Redemption 2 | Need for Speed Heat |
| 7 | Need for Speed Heat | Fall Guys: Ultimate Knockout |
| 8 | Call of Duty: Black Ops Cold War | The Forest |
| 9 | Marvel's Spider-Man: Miles Morales | Gran Turismo Sport |
| 10 | Insurgency: Sandstorm | eFootball PES 2021 SEASON UPDATE |
| 11 | Batman: Arkham Knight | TOM CLANCY'S RAINBOW SIX | SIEGE |
| 12 | God of War | The Crew 2 |
| 13 | Tales of Arise | F1 2021 |
| 14 | THE FOREST | Call of Duty: Black Ops Cold War |
| 15 | TOM CLANCY'S RAINBOW SIX SIEGE | Assassin's Creed The Ezio Collection |
| 16 | Marvel's Spider-Man: Game of the Year Edition | Kena: Bridge of Spirits |
| 17 | Dead by Daylight | Assassin's Creed Valhalla |
| 18 | Assassin's Creed Valhalla | Assassin's Creed Origins |
| 19 | Horizon Zero Dawn: Complete Edition | Horizon Zero Dawn Complete Edition |
| 20 | Sonic Colors: Ultimate | Insurgency: Sandstorm |
*Naming of products may differ between regions
PS VR Games
| | US/Canada | EU |
| --- | --- | --- |
| 1 | Beat Saber | Beat Saber |
| 2 | Job Simulator | Job Simulator |
| 3 | Swordsman VR | Rick and Morty: Virtual Rick-ality |
| 4 | Vader Immortal: A Star Wars VR Series | Swordsman VR |
| 5 | Rick and Morty: Virtual Rick-ality | Vader Immortal: A Star Wars VR Series |
| 6 | Creed Rise to Glory | Creed: Rise to Glory |
| 7 | SUPERHOT VR | The Walking Dead: Saints & Sinners |
| 8 | GORN | SUPERHOT VR |
| 9 | The Walking Dead: Saints & Sinners | Cave Digger |
| 10 | Surgeon Simulator: Experience Reality | GORN |
Free-to-Play (PS5 + PS4)
| | US/Canada | EU |
| --- | --- | --- |
| 1 | Fortnite | eFootball 2022 |
| 2 | Splitgate | Fortnite |
| 3 | Genshin Impact | Genshin Impact |
| 4 | Call of Duty: Warzone | Rocket League |
| 5 | Apex Legends | Call of Duty: Warzone |
| 6 | Rocket League | Mega Zombie |
| 7 | Destiny 2 | eFootball PES 2021 LITE |
| 8 | Super Animal Royale | Splitgate |
| 9 | eFootball 2022 | Super Animal Royale |
| 10 | Rec Room | Apex Legends |