Join AiAi and your favorite monkey gang in the ultimate Super Monkey Ball adventure.
Welcome, everyone, to Jungle Island – home to AiAi and his monkey gang! I'm Masao Shirosaki, citizen of the island and producer of the Super Monkey Ball series.
Please grab a banana and join me while I share the story behind the latest title in the series, Super Monkey Ball Banana Mania, out today on PS4 and PS5.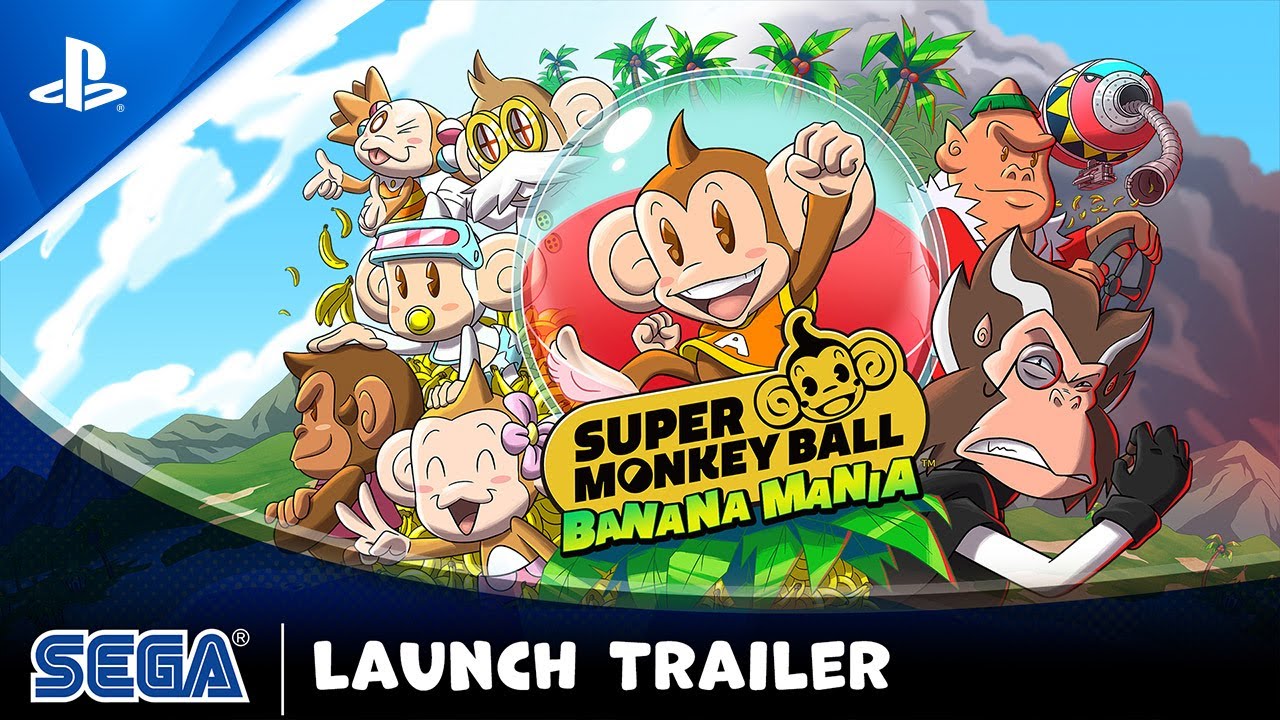 A new beautiful monkey world
What led to the creation of this title? When we released the last Super Monkey Ball game, we received a ton of requests from fans around the world wishing for a remake of the original Super Monkey Ball and Super Monkey Ball 2. This project started as a direct answer to those fan voices.
Starting with the original stage data from a game that is now 20 years old (happy anniversary AiAi!), our first step was making the monkey gang's world more colorful and vibrant, upping the texture resolution and remaking the environments and decorations in detail. We also fully remade the UI to give the new game a modern look. Plus: adding more bananas so it feels even better to roll through the stages.
Another important focus was play tempo. We shortened the time between "Fall out" and "Retry" as much as possible so you can get right back to playing without loading time.
Stage adjustments won't ruin your memories
In terms of the stage difficulty, we made sure to keep it as close to the original as possible to honor the memories fans have of the original games. However, there were some stages in the original that were so hard it made you want to stare blankly at the sky. I'm sure there are some of you who know what I'm talking about…
For instance, "EXAM-C" from the original Super Monkey Ball. This stage has a beautiful nighttime landscape but the stage was so difficult you had no time to enjoy the view. There were elevations and incredibly narrow, curved paths that required your entire focus at all times. We made some slight tweaks to the stage, extending the completion time and widening the curved path in the second half of the stage so you can play a bit more relaxed. I'm sure now you can at least somewhat enjoy the beautiful view while you play!
Another classic stage is "ARTHROPOD" from Super Monkey Ball 2. This stage involves navigating a large arthropod turning in circles (naturally).
There were originally gaps in the stage that made it extremely difficult. I can't remember how many times I had a fall out on this stage because I got stuck on the gap and then got kicked by the arthropod…
So, we got rid of the gap. The stage is still quite challenging but it's now at least a bit easier to avoid the arthropod's legs!
Other than a few slight stage adjustments we also added new support features like the "Helper Function" that make the game more accessible. With a little help, even I was able to beat the game! *laugh*
Of course those features are entirely optional, and for those who want to play the original difficulty, there's a mode that lets you do that too…so no worries.
Not just a remake of the main game
Apart from the main game, we also made sure to remake all 12 of the Party Games from Super Monkey Ball Deluxe. They're 1-4 multiplayer so you can play with friends & family, and some of the Party Games have network rankings so you can compete for the world's best score.
We also added a TON of new features like Golden Banana Mode where you try to collect all the bananas within a certain time, Dark Banana Mode where you try to reach the goal without touching any rotten bananas, and Reverse Mode that swaps the start and goal for a different type of Super Monkey Ball challenge. You can also customize AiAi and the gang's outfits and monkey balls from over 100 different items.
Plus, there's a new Photo Mode in the main game so you can take photos of your favorite SMB fashion moments for each character!
On top of all the new modes, there's over 700 missions you can complete and a host of new playable characters: Sonic & Tails, Kazuma Kiryu, and Beat from Jet Set Radio are all joining the gang on their adventure!
Add it all up and Super Monkey Ball Banana Mania is far more than just a remake of the original game – we tried to make it as fun as possible with all the various new features!
Finally, we wanted to cement the 20th Anniversary with a special limited-edition physical release that celebrates this monumental milestone! The Anniversary Edition comes with a 40-page art book featuring art from every game in the series straight from the Sega archives. It also includes a collectible sleeve, reversible cover, and 10 exclusive cosmetic items. This was our way of celebrating one of the most beloved series in Sega history with the Banana Maniacs.
There's still a lot more I want to talk about but AiAi is calling me back to Jungle Island – my deepest gratitude to everyone who has supported Super Monkey Ball over the past 20 years! Let's play Party Games together if we have the chance!

Until we meet again, go bananas!