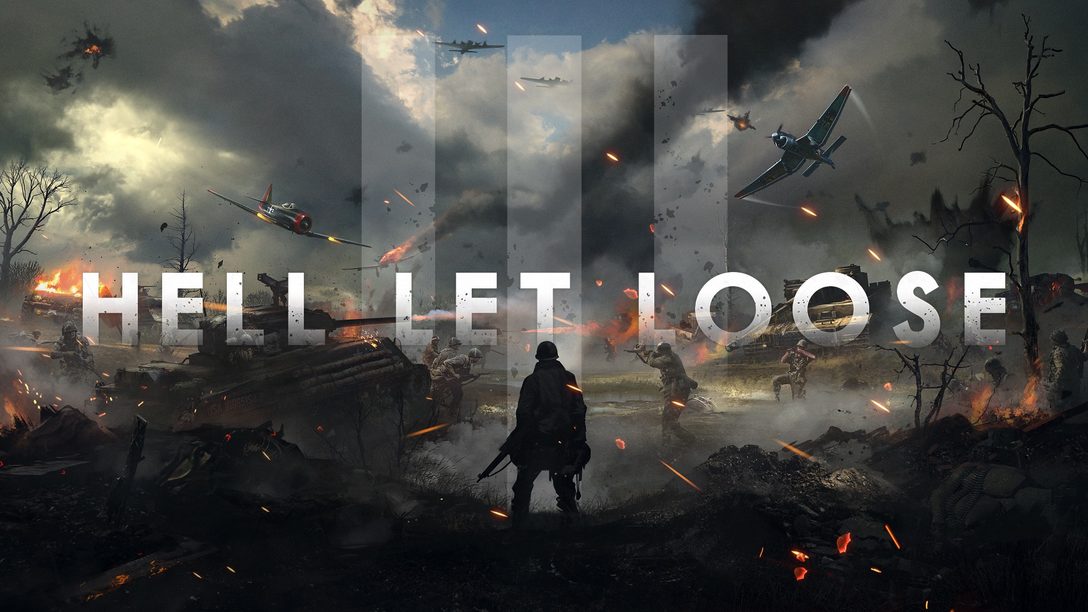 Learn the strategy of survival and winning the war.
Hi everyone! I'm Max Rea, founder of Black Matter and game director of Hell Let Loose.
We're extremely excited to celebrate the arrival of Hell Let Loose on PlayStation 5 on October 5 through November 1 as part of the October 2021 PlayStation Plus lineup.
Hell Let Loose is a large-scale, online strategic first-person shooter featuring teams of 50 vs 50 with combined arms of infantry, tanks, and artillery; a dynamically shifting front line; and a unique resource based real-time strategy inspired metagame.
We know this style of hardcore FPS may be new to some PlayStation players, so before venturing into the game's authentic and brutal battlefields of World War II, we wanted to put together some top tips to guide you during your first hours!
Fight in some of the most iconic battles of the Western Front, including Purple Heart Lane, Omaha Beach, Foy, and many more. This is combat at a whole new scale, with lumbering tanks dominating the battlefield and crucial supply chains fuelling the frontlines, and individual players are key cogs in the machine of colossal combined arms warfare.
Hell Let Loose puts players into the chaos of war, complete with deep player-controlled vehicles, a dynamically evolving front line, and crucial unit-focused gameplay that commands the tide of battle.
Featuring nine sweeping maps modelled on real reconnaissance images and modern satellite data, each battlefield is divided up into large capture sectors. These allow for emergent and unique gameplay that pits the two forces into a fight to the death across fields, bridges, forests, and towns on an ever-evolving front line. When a sector is captured, resources are generated for your team, creating a complex metagame that will influence a team's march to victory.
An epic theatre of war
Take to the battlefield in 50 vs. 50 multiplayer* gameplay across huge maps. Choose one of 14 playable roles within infantry, recon and armour unit types, each equipped with different weapons, vehicles and equipment. Play as an Officer, Spotter, Machine Gunner, Medic, Engineer, Tank Commander, and more to experience every aspect of World War II combat.
Vehicle Driver Controls – This and more to be added in the Complete Community Console Guide coming soon.
Fight together – win together
Hell Let Loose is not about any single soldier's performance — teamwork is central to gameplay. Communication is essential. Players work together beneath the leadership of officers and their Commander to take strategic targets on the battlefield and dominate the opposition. Hell Let Loose is a game that demands teamwork and communication not only to win, but to survive.
Unique meta game
Fight for victory by breaking through the enemy lines on a large, evolving battlefield. The unique sector capture metagame requires teams to make continual large scale tactical decisions as to how to attack or defend through managing resources and supplies to call in support, bombing runs, new vehicles, strafing runs, and to reinforce strong-points or flank enemies. Strategy is key to success.
PS5 specific features
Haptics: Experience haptic feedback on DualSense wireless controller with the following:
Unique haptic feedback per weapon for shooting and reloading
Getting headshots
Environmental explosions based on distance and direction
Feedback when inside a vehicle for engine starting/stopping, driving, taking hits, shooting, turret movement, and reloading
Feedback when near a moving or firing vehicle based on external proximity and direction
Melee attacks
Crawling and jumping
Receiving damage as infantry
Listen for DualSense controller audio feedback from the in-built controller:
Reloading weapons
Vehicle/Artillery/Anti-Tank turret movement
Vehicle/Artillery/Anti-Tank reloading
Melee attacks
Using items including crates, medical equipment, tools, grenades, and building
When receiving damage as infantry
When bleeding out
The DualSense controller's adaptive triggers immerse you during the following actions:
Shooting weapons
Driving vehicles
Shooting vehicle weapons
Note: Adaptive triggers can be disabled in-game based on preference
Hell Let Loose hits PS5 on October 5 as part of the PlayStation Plus lineup. See you soon on the frontline!
*Online multiplayer requires PlayStation Plus subscription; fees recur until cancelled. Age restrictions apply. Full terms: play.st/PSPlusTerms.