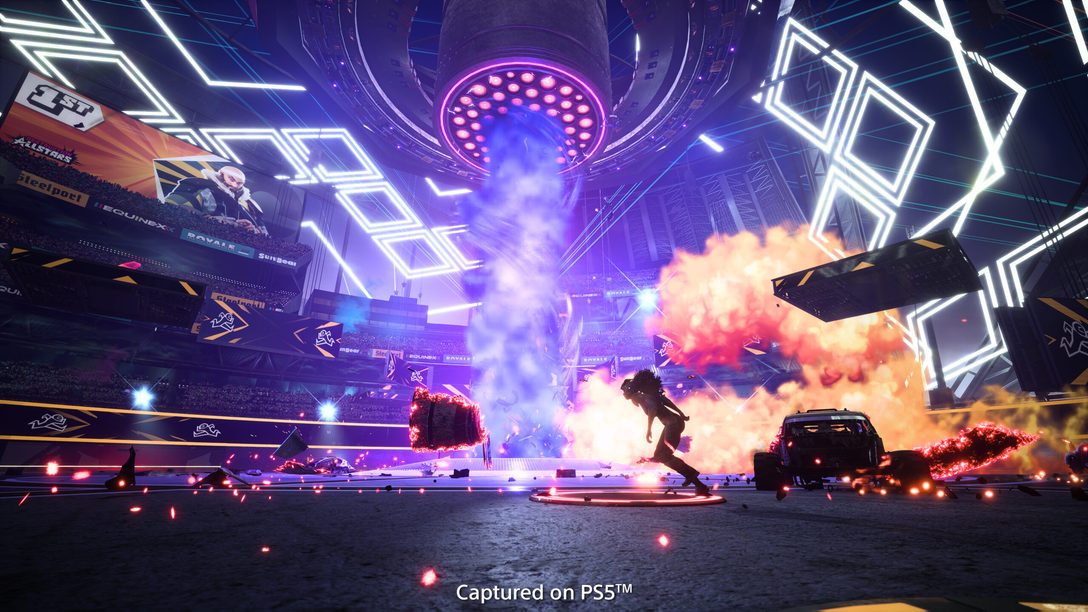 Mayhem Falls and Carnado Falls offer new ways to play on familiar maps.
Hey everyone, we've been rolling out some new maps and modes in Destruction AllStars over the past few months and it's been fantastic to see the community's reaction to the new content along with all the carnage and destruction in the arena*! If you haven't been keeping up, we've added two new smaller arenas to Mayhem in the QuickPlay playlist, along with a brand new game mode, Mayhem Falls.
This weekend, we'll be hosting a special event previewing our next game mode, Carnado Falls! Be sure to jump into the game to check it out before we add it into the Quickplay rotation later this month. Lets give you the lowdown on all of these updates and what you can expect from these new modes.
Mayhem Falls
At first glance, Mayhem Falls looks like a standard game of Mayhem taking place on a Gridfall map. Whilst that's certainly what got the idea rolling, the final result has a bit more nuance to get to grips with. Players start off with a flat arena where the objective is to smash, wreck and KO your opponents to rise to the top of the leaderboard. As the game progresses, sections of the arena begin to fall away, creating precarious ledges for players to fall into due to poor driving or get knocked off by your opponents.

If you happen to fall into the pit below, you'll lose 30% of your score. We wanted to find a balance between punishing players who ultimately fell off the map, but still give ample room to climb back up the ranks if you suffer an early plunge. The higher up the board you climb, the more you'll want to watch your step and make sure you keep knocking players off the map. This really raises the stakes and makes games feel more intense and action packed! Each decision you make, every slam, evade or wreck has more impact on the game than ever before. A single mistake could send you tumbling down the scoreboard, it's all to play for until the end of the game!
Mayhem Falls is available for all players in the Quickplay Playlist in online multiplayer*.
Carnado Falls
Carnado Falls takes things to the next level and challenges you to balance offensive and defensive play whilst the arena falls away around you. Whilst there are many similarities to our other Falls game mode, the scoring system for Carnado Falls is still based on classic Carnado: Smash, wreck, and KO your opponents to build gears inside your car. Drive your car into the Carnado to score and get onto the scoreboard. The only difference here is with the map falling away from beneath your wheels as the game goes on, you need to take care not to fall off the map and lose all your gears whilst causing even more wrecks and KOs in the shrinking arena.
Keeping your vehicle alive long enough to build up plenty of gears is always a challenge in Carnado, but these changes really ramp up the pressure as you're dodging between gaps in the arena, along with your opponents, in this fast-paced game mode. You've really got to strategise and pick your wrecks a little more carefully if you want to score highly in Carnado Falls, you can just as easily follow your opponents off the side with a poorly timed slam.
Carnado Falls will be arriving for a special preview this weekend in Destruction AllStars. Available from Friday, October 1 at 8am PT / 4pm BST until Monday, October 4 at 3am PT / 11am BST. It will then be available in the Quick Play multiplayer playlist on Wednesday, October 6 at 8am PT/ 4pm BST. Carnado Falls requires PlayStation Plus*.
We designed these modes to challenge players to think a little differently than they would when playing Mayhem or Carnado normally. With the new hazard of the ever-disappearing arena floor, the game modes certainly feel more intense and action packed as you're trying to carve out some space on the remaining arena floor whilst also trying to find that perfect angle to knock your opponents into the pit below!
If we were to pass on a few tips to help you get started in Carnado Falls this weekend, it would be to look for heavier or larger vehicles to give yourself a better chance at surviving any attempt to push you over the edge of the map. The same goes for Hero Vehicles, picking an AllStar with a weighty Hero Vehicle to call in can give you some real staying power in the arena. If all else fails, remember to eject from your vehicle before it falls off the map to try and save yourself from losing any points, or at least mitigating the losses somewhat.
Bring an Umbrella
Over the last few months, we've delivered some fantastic content updates to Destruction AllStars, along with bug fixes and gameplay improvements in direct response to community feedback. We're really looking forward to hearing what players think of Carnado Falls. Based on the reception to Mayhem Falls, we're hoping it's going to be another hit with the community.

*PlayStation Plus membership required for online multiplayer. PS Plus is subject to a recurring subscription fee taken automatically until cancellation. Full terms: play.st/PSPlusTerms