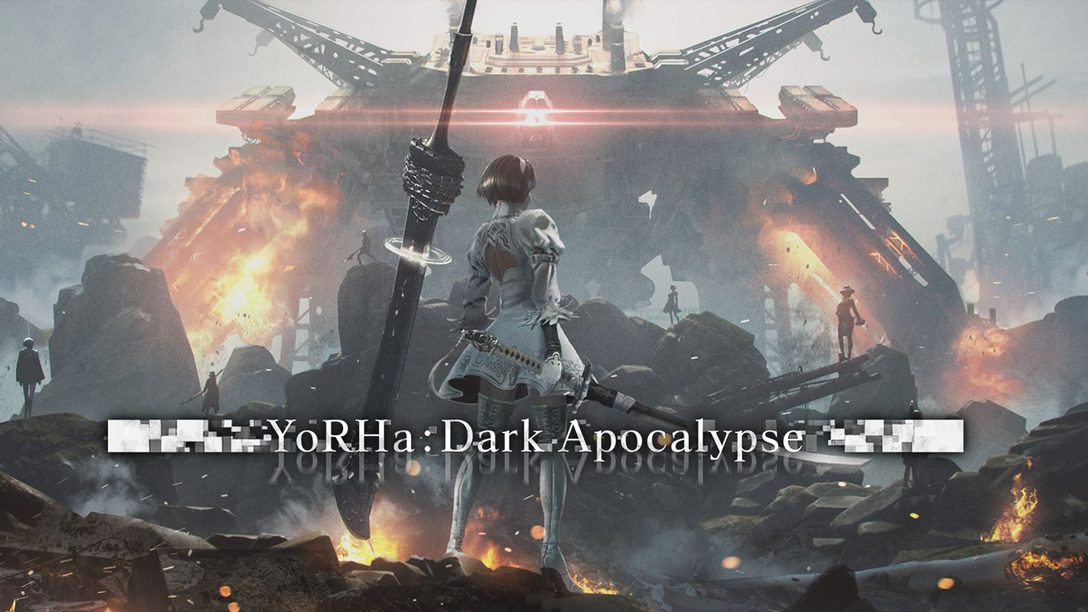 The full story behind the unique Nier crossover, as told by Yosuke Saito, Yoko Taro, and Naoki Yoshida.
Final Fantasy XIV Online is full of excitement, and the hype level for our next expansion, Endwalker, is continuing to rise ahead of its release on November 23 (early access from November 19 if you pre-order). Often called a Final Fantasy theme park, FFXIV has something for everybody — from an engaging story and intense battles, to gathering and crafting, and even numerous minigames in the Gold Saucer for those so inclined.
One very special piece of content that came with the current Shadowbringers expansion is one you may have heard about before (or perhaps seen some familiar-looking androids): Yorha: Dark Apocalypse.
The FFXIV development team welcomed NieR series Producer Yosuke Saito and Director Yoko Taro as guest creators to bring the Yorha: Dark Apocalypse crossover to FFXIV. Both teams, over the course of three years, poured their hearts and souls into creating an exciting and unforgettable story and alliance raid series.
The three chapters that comprise Yorha: Dark Apocalypse were released in October 2019, August 2020, and April 2021. This alliance raid faithfully recreated the backdrop of the NieR series within FFXIV, and introduced characters, enemies, and a story that were wholly reminiscent of NieR games — the white-garbed android 2P, a flawlessly recreated bunker (with 2B's room!), and the stunning NieR soundtrack by Keiichi Okabe (including some new, original tracks), just to name a few.
The story begins when you encounter 2P — an android in white
The story of Yorha: Dark Apocalypse begins when the player encounters a mysterious, white-garbed android, 2P, in the ruins of an excavation tunnel.
The player follows 2P to fight a new threat referred to as "machine lifeforms," but along the way, black-shrouded androids 2B and 9S get in their way.
If you have played NieR: Automata before, your reunion with these familiar faces in FFXIV is definitely an element we would love for you to experience on your own. Not only are the characters a big part of it, but the lore and story progression are also a great focal point, which both fall right into the atmosphere of the NieR series.
"The time of revelation may be at hand, but is this tale one of hope…or despair?
Faced with a difficult decision, how will you respond…?"
Hopefully this quick intro piqued your interest, but now that this alliance raid series is fully released, we decided to bring together NieR Series Producer Yosuke Saito, Director Yoko Taro, and FFXIV Producer and Director Naoki Yoshida to discuss their work.
How did such a unique crossover between the NieR series and FFXIV come about?
Naoki Yoshida: FFXIV is a long-standing live service title, and in order for us to prevent content from becoming too cookie-cutter and thus wearing out our players with a repetitive experience, we sometimes invite guest creators to work with us and spice things up. The alliance raid series, "Return to Ivalice" that we released during Stormblood was very well received, and between the popularity of NieR:Automata and my personal wish to work with Mr. Yoko on something, I decided to reach out and see what we could do.
Yoko Taro: When I first received word about potentially working together, I wondered "Is FFXIV okay…?" I wasn't intimately familiar with FFXIV at the time, so, I was also a bit worried if that team would be okay with mixing in something so foreign into their game world.
Naoki Yoshida: I remember the first thing Mr. Yoko said when I reached out was, "Are you out of your mind?" (laughs)
The NieR series has collaborated with other titles before, but this is the first time it would be crossing over into an MMORPG. Was there anything you were mindful about in that regard?
Yoko Taro: Once we began development, I was very surprised by the various limitations we had to work with from a production perspective. For example, having an external server control when a piece of background music would start playing was something that is unthinkable with a console title.
Boss Battles are Accompanied by the Stunning Music of Keiichi Okabe
In preparation for creating this crossover, I asked what the FFXIV team was expecting, and they told me about "Return to Ivalice." I referenced that at first to get an idea of the volume of the quest content.
Yosuke Saito: We were fortunate enough that NieR: Automata was approached by various titles to collaborate, and we followed through with a lot of them. In many of those cases, they only involved using NieR characters as an avatar, or including an appearance of 2B or 9S — more were a one-off without any substantial story behind them. This was the very first time we worked together with another title on such a large scale, and to be honest, the load it placed on the team was much larger than I thought (laughs). 
What would you like players who have yet to play the content to keep their eyes out for?
Yosuke Saito: The motivation can be as simple as "I want Yorha equipment!", but it would be great if people can touch upon the world of NieR through Yorha: Dark Apocalypse. If this alliance raid captivates you, it might be worth checking out other titles in the series, such as NieR:Automata and NieR Replicant ver.1.22474487139…, the updated version of NieR Replicant released this past April. I would love for players to try these games out as well.
Each of the Yorha: Dark Apocalypse Raids Rewards You with NieR-inspired Equipment Sets
Yoko Taro: This raid series mixes the worlds of NieR and FFXIV, but from the beginning I was thinking, "I'm okay even if people don't play this." I wanted it to be meaningful even if it wasn't played. I say this because in MMOs, there are some players who just log in and, for example, play Doman Mahjong in the Gold Saucer all day. You don't have to play every single piece of content, but you always know that there is content off in the distance waiting for you. Having the option to choose what you do is what makes an MMO interesting, and it makes MMOs that much more robust than a console game.
In order to unlock Yorha: Dark Apocalypse, your character will have to be high level, so not all players will play through this content. What I'm trying to say is, ultimately, nobody has to do this alliance raid. (laughs)
That's what makes MMOs great.
(Really, though, you should definitely experience Yorha: Dark Apocalypse—it's amazing)
Naoki Yoshida: I think what Mr. Yokois saying here really hits the nail on the head, and that is exactly the nature of MMOs. Since A Realm Reborn, we've vastly expanded on the variety of content players can choose from, so that players would have plenty of "dishes" to enjoy — this is exactly the reason why we added this crossover content. 
Nobody has to play everything; we look to provide a wide variety of content, and there are numerous players who enjoy many of them in their own way. Getting a sense of belonging in our game world yourself makes it all worthwhile.
It makes me happy even if our players see the content in game and think, "that seems really cool, I think I'll want to do that someday." I will continue to place importance on creating an abundance of content that allows players to feel this way.
All three chapters of the Yorha: Dark Apocalypse crossover are available, and FFXIV players who are level 80 and have completed the Shadowbringers main scenario can experience it right now! If you aren't quite there yet, worry not — as Yoshida mentioned, new content is always on the horizon, and it is something to look forward to as you continue your journey.
We'll soon have another alliance raid series following the release of Endwalker in November — this time around we won't be having a crossover with another title, but Myths of the Realm will be an original creation by the team focusing on the Twelve, who have until now been shrouded in mystery… 
Definitely something to look forward to! Until then, we hope you enjoy everything else FFXIV has to offer.