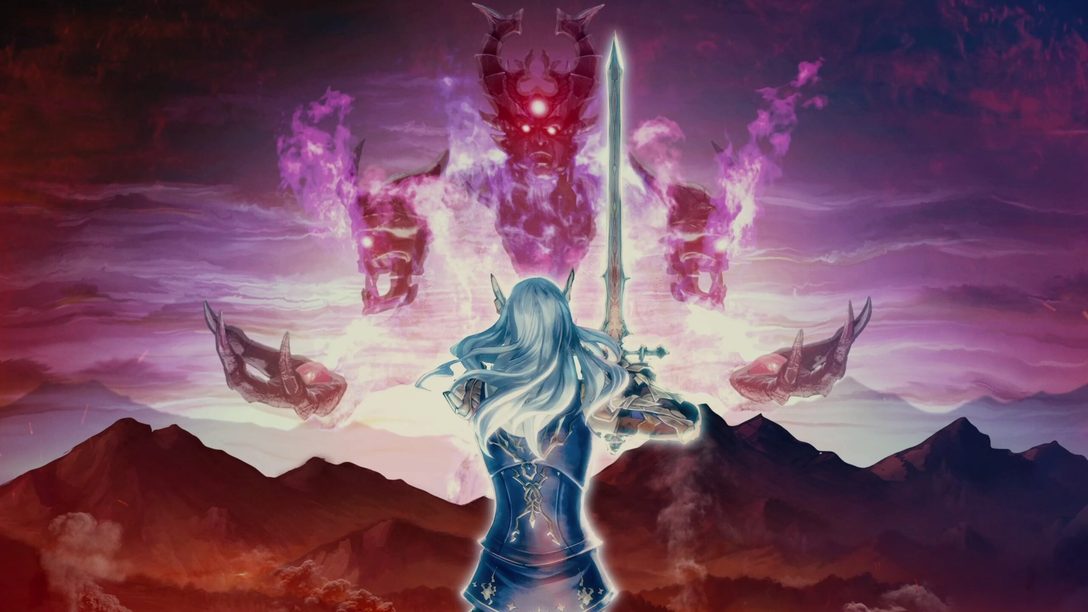 Familiarize or reacquaint yourself with the classic platformer and city-builder sim, featuring new stages, remixed soundtrack, new mode and more.
With today's release of Actraiser Renaissance on PlayStation Store, players around the world* can experience frantic-yet-methodical platforming action as well as the ability to build and simulate their own cities in this dual-genre adventure on PS4 and PS5. More than 30 years after its original release, this remaster of a retro classic comes with an HD graphical overhaul, a re-arranged soundtrack by composer Yuzo Koshiro, and additional content, including the new real-time strategy "Settlement Siege" mode, more stages, and a new boss to cut down to size.
Not sure what Actraiser Renaissance is, or why people are so excited to see this beloved classic make its return? Never fear, we're here to tell you everything you need to know.
What WAS Actraiser?
First released over 30 years ago, Actraiser was a platformer and city-builder sim where players took on the role of the Lord of Light, a benevolent god who has awakened from a long slumber, only to find the world beset with evil and chaos. With a trusty angel companion and the faith of his believers, the Lord of Light must lead the people of the world to salvation by destroying monstrous creatures, building safe havens, and ultimately defeating the ringleader of it all: The Evil One.
During the city building segments, players assumed the role of the Lord of Light's trusted angel, and would guide a new civilization to prosperity and salvation by controlling the elements and performing miracles. Were monsters to attack, your angel could shoot them with arrows and signal to the Lord of Light where to send miracles, such as bolts of lightning and earthquakes to keep the hordes at bay.
Alongside these city-building segments were action-platforming sequences, where players took on the form of a human-like statue brought to life by the Lord of Light. In these tense side-scrolling sections, players would need to strike down the creatures and boss monsters that laid in wait while navigating perilous traps.
By mastering both disciplines, players would be able to vanquish The Evil One once and for all, bringing peace to the world of Actraiser.
What IS Actraiser Renaissance?
Simply put, Actraiser Renaissance is a bigger, bolder, and lovingly remastered version of the game that became a cult classic all those years ago. Actraiser Renaissance brings back many of the features that made the original so beloved, plus brand-new content and enhancements to make it easier to pick up and play.
Actraiser Renaissance comes with beautiful HD graphics, allowing the monsters you fight and the cities you grow to look even bigger and better than before. It also has a new auto-save feature, meaning that whether you're holding off the forces of evil in city-building or trying to slay them in the action sequences, there's plenty of opportunity to attempt new tricks and tactics without the fear of losing too much progress.
Become humanity's salvation
The city-building has been given even more love with brand-new features, such as an enhanced development phase that allows for more customisation of cities and your budding civilisations. These allow you to place new structures for the settlement siege, as well as new types of homes being built depending on how advanced your city has become.
City defence strategies have opened up even more as well, thanks to an overhauled miracle system which allows Lord of Light to cast larger, more powerful miracles in order to bestow more divine interference on enemies below and to better protect your followers.
Even more content comes in the form of a new area known as Alcaleone, which comes with its own extensive map, allowing players to expand their civilisations even further.
There's also the new "Settlement Siege" feature, which brings an additional genre to the fold in the form of real-time strategy battles, where you'll be charged with protecting your cities from incoming hordes of enemies. By laying down different forts and defences such as magehouses and blockhouses, you can hold the minions of evil back from attacking your place of worship, and through commanding the heroes of the realm, you can instruct them to lay waste to the monsters in their path. How will you build your civilisations to maximise both their prosperity and their defences when the monsters invade?
Become evil's devastation
The side-scrolling action sequences also have some new features for players to sink their teeth into. Not only are there new levels to take on, but there's also a new boss to bring justice upon. When building your realms, there'll now be opportunities to take down monster lairs with your sword and your wits, with success seeing the lair destroyed and your followers that little bit safer.
Players who manage to defeat the final area, an already formidable task as they'll need to take down multiple bosses in a row as well as Tanzra, The Evil One, will also come across one more challenge to conquer…
The soundtrack has also received a boost in the form of new songs and arrangements from the game's original composer, Yuzo Koshiro (whose other credits include Ys, Shenmue, and Etrian Odyssey). Returning to the project after 30 years, he's breathed new life into his original compositions and also composed 15 brand-new tracks to enjoy while cutting down foes and building new civilisations. Fans of the original songs, or those who want to discover them for the first time, will be able to do so easily, as Actraiser Renaissance also provides the ability to select between the classic tracks and their rearrangements at will.
That's not all…
To celebrate the 30th anniversary of the original's release outside of Japan, players who purchase Actraiser Renaissance before November 1st** will receive two sets of rewards in the form of a themed wallpaper and five remastered songs composed by Yuzo Koshiro.
* The release time of Actraiser Renaissance may vary across regions. Please check the current status at your respective PlayStation Store.
** Incentives will no longer become available after Nov 1st 8:59am PST/3:59pm UTC/ Nov 2nd 0:59am JST. The early purchase incentive distribution period is subject to change without notice.