Shoot, jump, dodge, and reload to the beat of an epic rock soundtrack.
Hey PlayStation fans! We're excited to reveal that BPM: Bullets Per Minute is coming to PlayStation 4 on October 5, as well as being playable on the PS5 at 4k 60fps.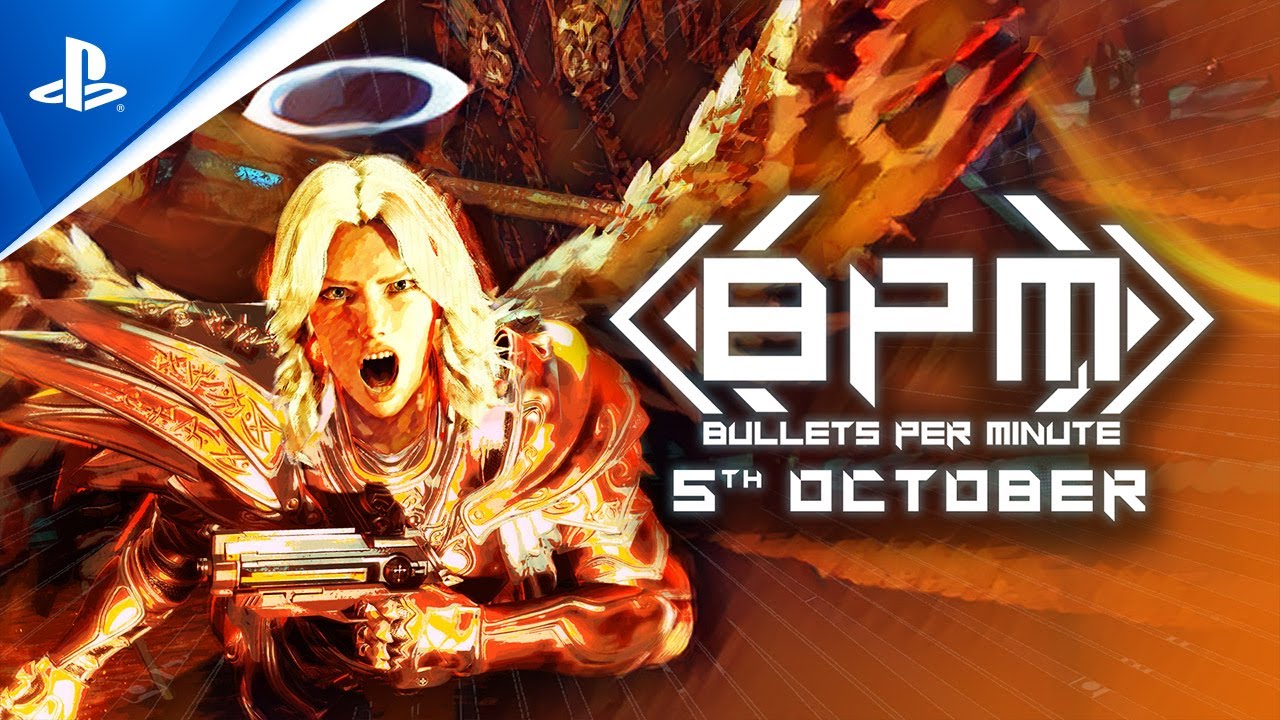 What is BPM: Bullets Per Minute all about?
BPM is a rhythm-action FPS rogue-like where you must shoot, jump, dodge, and reload to the beat of an epic rock soundtrack that'll knock your socks off! Delve into randomly generated dungeons where a string of missed notes can lead to your demise.
Your goal is to reach the end of these dungeons, collecting different weapons, abilities, and items each time you play. Start by choosing your mighty Valkyrie to repel the hordes. Each Valkyrie starts off with a unique weapon and stats, but as you progress through the stages you gain game-changing abilities to help defeat enemies and powerful bosses.
But remember, every action, whether you prefer weapons or abilities, is in time with the music. Every bullet, dodge, and reload must be performed in sync with the soundtrack. Only by mastering the rhythm of an action can you clear every randomly generated dungeon and reach a climactic crescendo.
Shrines, shops and libraries oh my!
No rogue-like would be the same without a merchant to purchase health, armour, weapons and upgrades. Like with any good shop, every purchase adds points to your loyalty card so don't forget to use them for upgrades!
Wield a powerful arsenal of weapons and abilities that have different behaviours for firing and reloading to the beat. All of these can radically alter the way you play, making each playthrough unique.
As you journey through the different rooms, you'll discover a variety of shrines. Make sure to check them out and part ways with some coin… you might be blessed with an ability upgrade or item depending on the shrine.
Did you get a key? Keys unlock chests and doors, including the library. We won't say much about it, aside from the books it keeps are well worth the read!
Enemies
Battle a diverse array of enemies with unique rhythmic behaviours throughout these randomly generated dungeons and face a boss battle after every stage. Defeating seven bosses leads you to your ancient foe, Nidhogg. Much like each enemy, every boss moves and attacks in a unique way that you must learn to exploit if you want to succeed.
Difficulty modes
BPM offers several difficulty modes making it largely accessible for newcomers and pros alike. From 'practice mode' where everything is slowed down allowing newcomers to get the hang of the shooting and reloading to the beat, all the way to the most challenging mode: hellish. Are you brave enough to take on the challenge?
If that wasn't enough, challenge rooms pop up during every stage where you can test your metal.
(Additional aid can be found in the options menu: auto rhythm is helpful for those who struggle with rhythm-based games.)
Even the Score
Described as Metal as Hell by NME, the pulsating synths and crushing guitars accompany you as you battle through your adventure. The soundtrack is composed by Sam Houghton and Joe Collinson, who fully flex their most demonic muscles. Think Doom, but with more pounding beats. We hope you've enjoyed this dive into BPM, and you're ready to conquer the lords of Helheim when BPM: Bullets Per Minute is released on PS4 worldwide on October 5. Also playable on PS5 at 4k 60fps.

Happy rockin'!