How Sucker Punch Productions worked with a global team of musicians to create the locale's breathtaking soundtrack.
Chad Cannon (left) Bill Hemstapat (right) photo by Justin Fields
It was a tremendous pleasure to reunite with Chad Cannon to compose new music for Iki Island, the new territory included in Ghost of Tsushima: Director's Cut. Chad and I worked very closely while arranging and orchestrating Shigeru Umebayashi's "Tsushima Suites" for the game's original release and really enjoyed that collaboration. As was the case with the original score, we were incredibly fortunate to have some of the best musicians in Japan, China, Nashville, and Los Angeles contribute to these new pieces. Many of these talented individuals are featured in this blog, speaking about their performance and the instruments used on the recordings. We hope you enjoy this behind-the-scenes look at the music.  
A deeper dive on Jin Sakai
The story of Iki Island is personal, focusing on a traumatic chapter from Jin Sakai's past. With this in mind, we wanted to make sure that the music was reflective of the heart and soul of the character, Jin himself.
Ilan Eshkeri wrote an incredibly emotional and iconic theme for Jin. The piece served as a "call to adventure" for the players of the original game to immerse themselves in the world and for Jin to begin his journey towards becoming The Ghost. With the Iki Island story, both Chad and I sensed an opportunity to add a greater dimension to Jin Sakai by exploring different ways of adapting and expanding Ilan's brilliant theme.
The result of our exploration is the piece "The Tale of Clan Sakai," which represents Jin, his father, and other Samurai with the Sakai name. It explores the very heart and soul of the emotional baggage Jin has to carry; not only is he the last samurai on Tsushima, but the last of the entire Sakai clan.
The piece features the Biwa, an instrument used by Ilan in "Heart of the Jito" in the original game. Although, in this new version of Jin's theme, we are using the Chikuzen-style Biwa instead of the better-known Satsuma-style Biwa. Chikuzen-Biwa was traditionally performed by Buddhist monks instead of the Samurai. The monks used it for storytelling and ceremony rather than for practicing discipline.
From Chad:
"Bill and I were super excited to involve a Chikuzen-style Biwa player from Fukuoka named Cyouka Ogata. Ogata Sensei was really happy to be involved in the Tsushima score, having grown up around the Mongol invasion sites. She introduced Bill and me to her instruments over Zoom and then worked with us over a couple of months, sending us samples of her playing different ideas, trying things out, etc. Check out her video! She went and played the Jin Sakai theme on the Hakata beaches, where some of the Mongol fights took place!"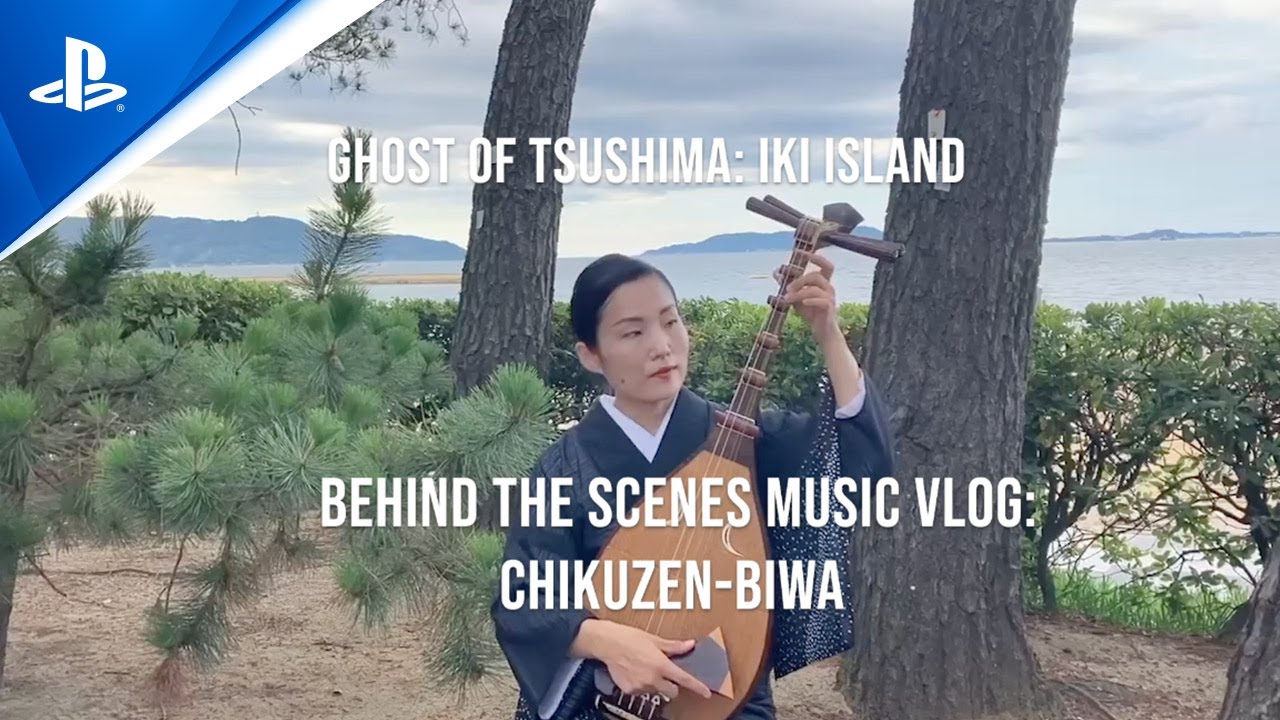 A rustic take on the music
The fictional version of feudal Iki Island in Ghost of Tsushima is a wild, lawless land of raiders and criminals, and the people on this island are a unique menagerie of fishermen, pirates, and travelers that govern themselves. The disorder was inspiring for Chad and me, and we wanted the music to reflect this rustic land. Thus, we leaned into more folk-inspired writing that focuses on traditional Japanese music idioms. Essentially, we just wanted to do something more – for lack of a better word – "wild" than the original version of Ghost of Tsushima.
Lightning in the Storm and Eternal Blue Sky, two pieces that play systematically throughout Iki Island, illustrate this rustic approach. In these pieces, you can hear the folk-inspired Japanese instruments played by Kinya Sogawa, Yutaka Oyama, and Akemi Yamada on the Shakuhachi, Tsugaru-Shamisen, and Koto, respectively.
The Shakuhachi, as you may know from the original game, is one of the most iconic sounds in Japanese traditional music.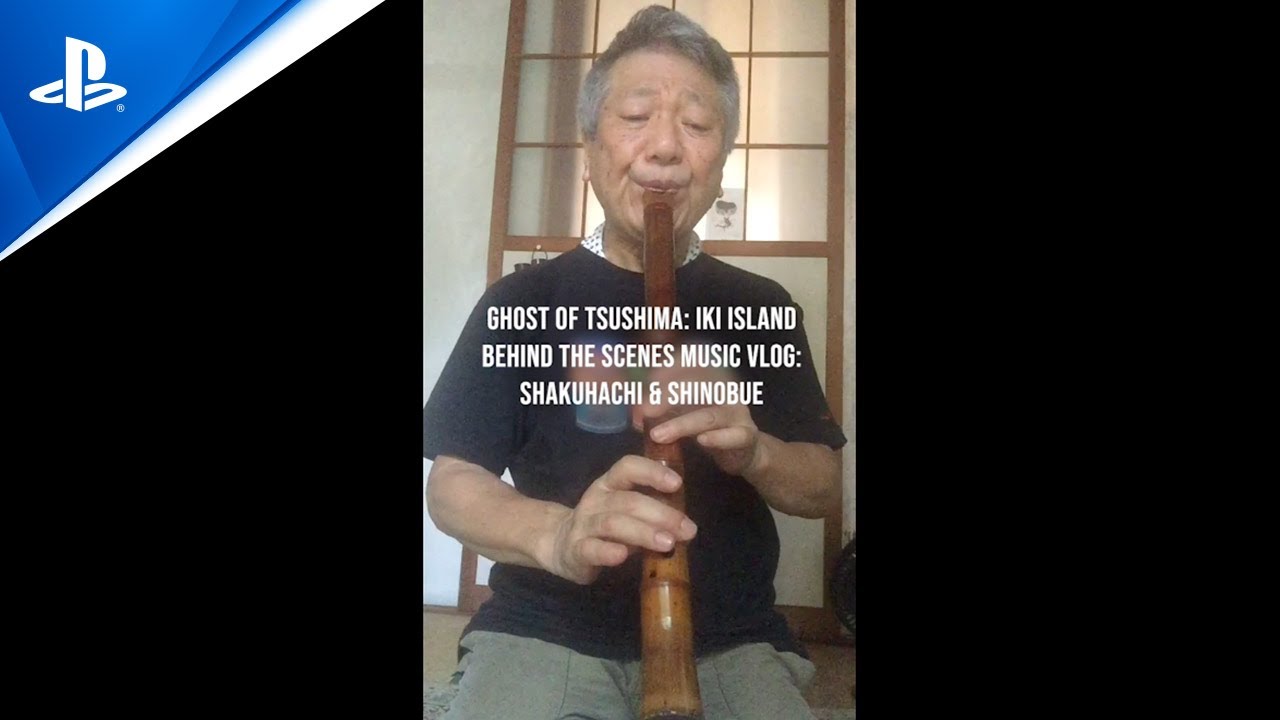 Oyama-san's Tsugaru-Shamisen performances are featured in the Fune's Refuge area, where you will spend a lot of time connecting with the Iki-islanders.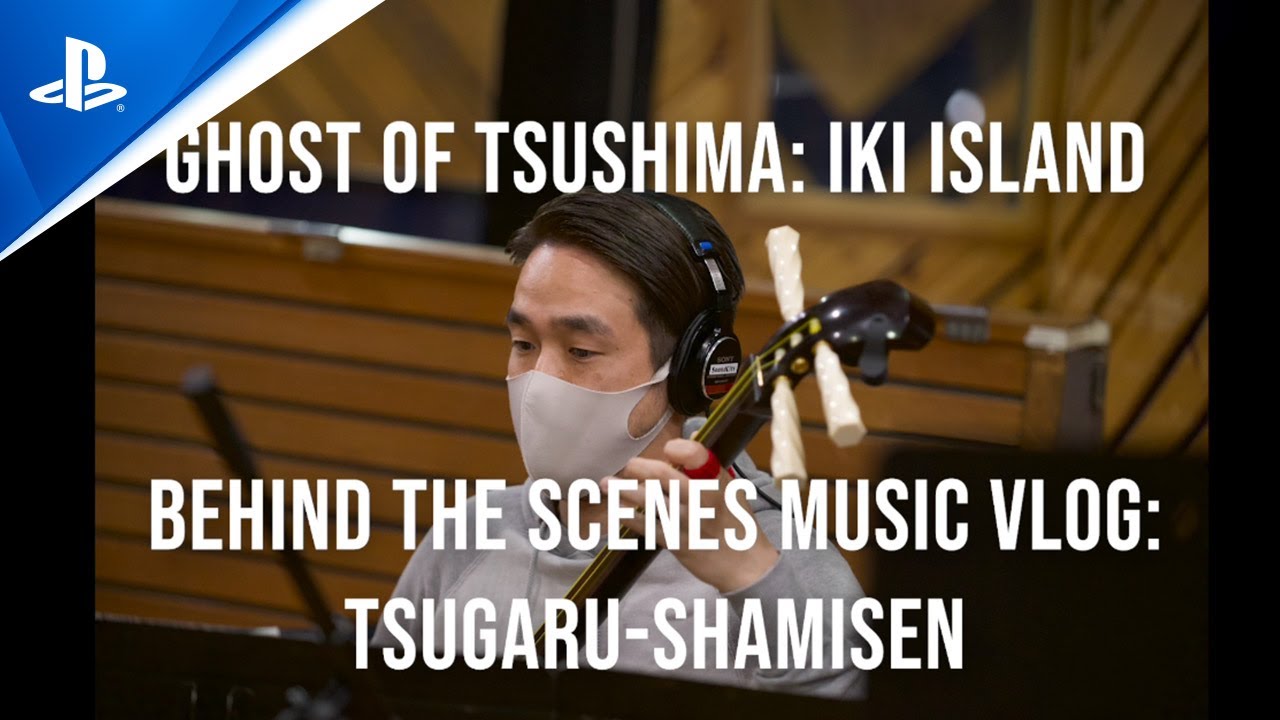 And lastly, the opening statement from "Lightning in the Storm" features a Koto solo that serves as the theme of Iki Island.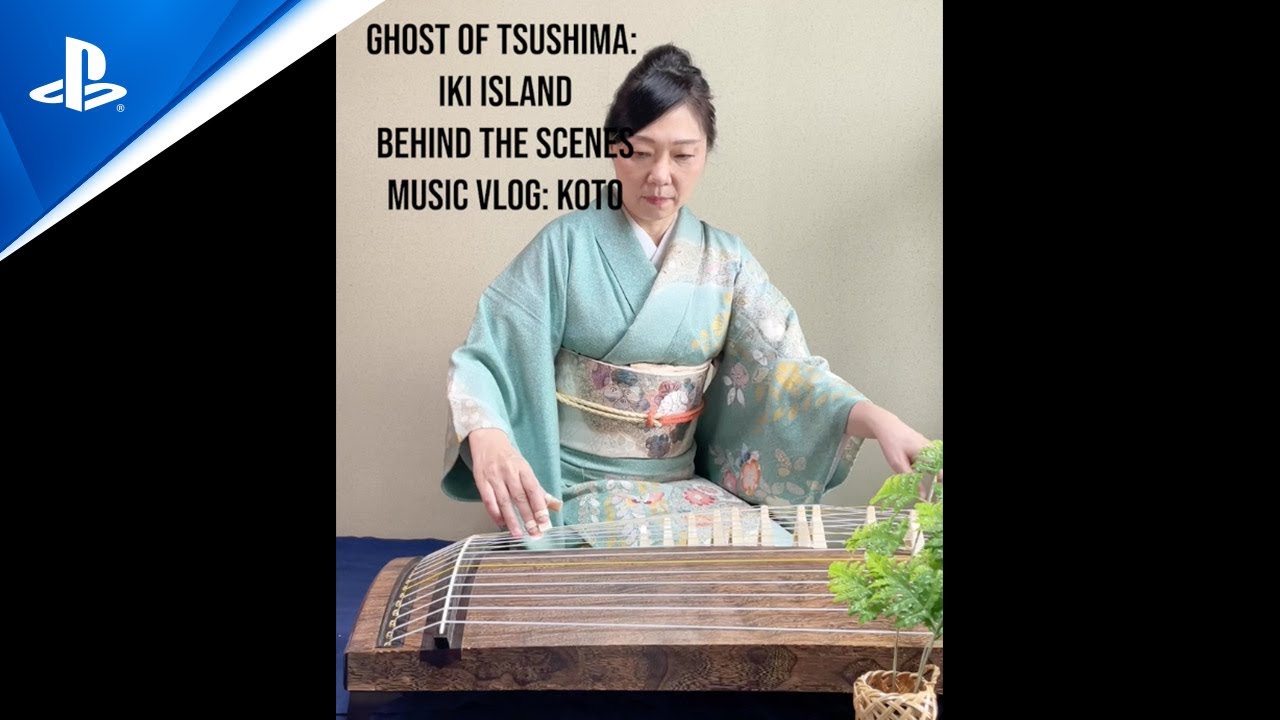 It was an honor to work with these incredible musicians on Shigeru Umebayashi's "Tsushima Suites," and we were thrilled to have them back for the Iki Island expansion. Unfortunately, however, the global pandemic presented us with the challenge of recording musicians remotely across the Pacific Ocean with a 16-hour time difference. As a result, our recording process became a collaborative effort between Tokyo-based recording engineers Mary Shinohara and Yuhi Kawamura (both also worked on the original game), Rio Sato from Plugnote (providing translation and video conferencing services), and our PlayStation Studios music engineers Kellogg Boynton and James Probel. Thanks to them, we were able to collaborate safely and effectively.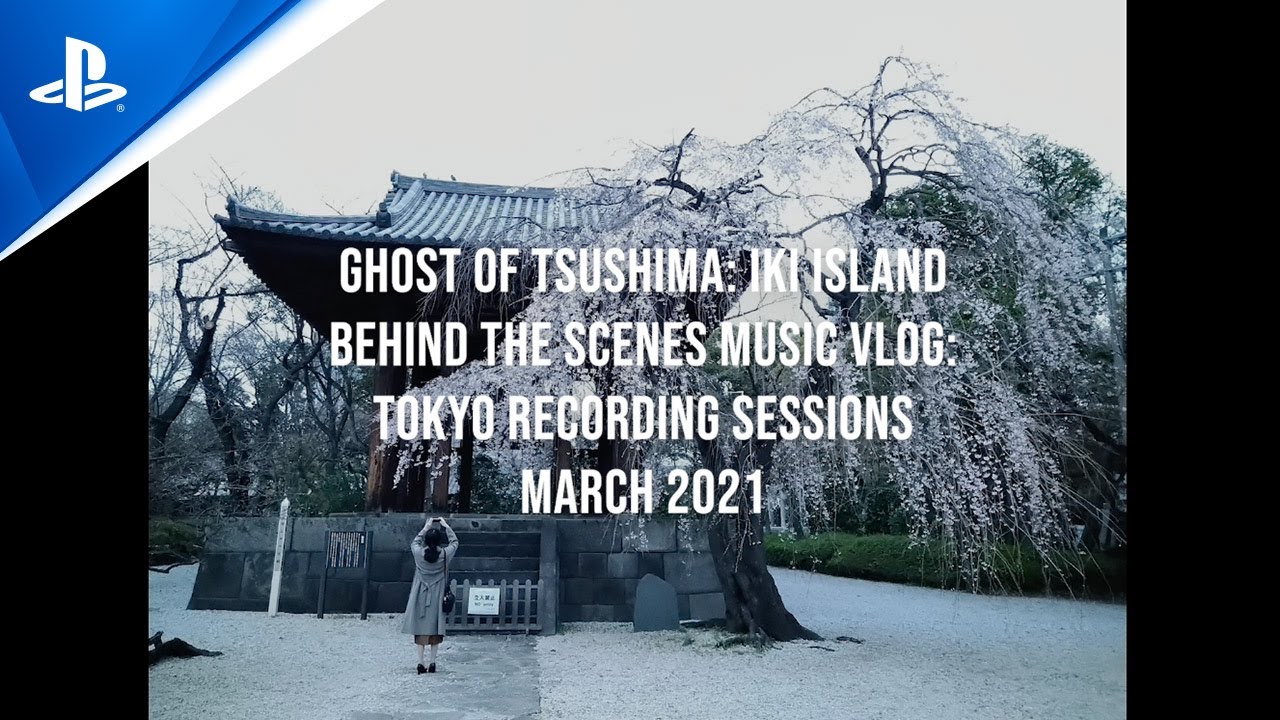 The new mysterious villain
With the new story comes a new villain: Ankhsar Khatun, or "the Eagle." Chad came up with a musical identity for her which can be heard in "Ankhsar Khatun, The Eagle," "Face the Judgment of Your Ancestors," and "Sacred Medicine."
From Chad:
"The Eagle is very mysterious and dark, exercising her mystical powers over the minds of her followers. On the original Ghost of Tsushima score, we had this awesome Tuvan throat singer named Radik Tyulyush, whose voice you can hear all over Tsushima island when you're near invader camps, etc. When Radik was visiting LA for that recording, I remember him saying how female throat singers are definitely in the minority and how, even though there were exceptions, historically it was considered very taboo for women to throat sing. Apparently, there was even a belief that a woman performing throat singing could cause harm to come to male relatives. He also mentioned that shaman music is very off-limits for regular throat singers. So, while it may seem culturally insensitive in some ways to combine these two worlds of female throat singing and shamanism, we felt it might enhance the Eagle's theme, giving her a kind of "heresy."

Through my manager Lei Zhang in Beijing, we were able to find a performer from Mongolia named Talin Tuya. In addition to her throat singing, she plays the khomus (jaw harp), which you can hear during some of the trippy sequences when the Eagle is around. I just love her voice and hope you will too! It's otherworldly and powerful.
We also recorded a horsehead fiddle player named Zhang Duo, who gets highlighted on some of the Eagle tracks. My favorite part comes during some horse riding combat sequences, where Bill and I wrote this "horse whinny/neigh" effect that imitates something Mongolian players sometimes do, mimicking horses on the Asian steppe.
I find it satisfying that we recorded this material in Beijing because the city first gained real prominence when Kublai Khan made it his winter capital, then called Dadu, in 1271. The orders to invade Japan were issued from Dadu and then carried out by armies of Mongolian, Korean, and Chinese conscripts departing from Korea and Ningbo on the central China coast. So, with artists coming together from Beijing, Fukuoka, Tokyo, etc., the musical journey we take in the score hopefully feels rooted in the actual history, geography, and cultures involved."
The clash and infusion of two cultures
In the climactic story moment of Iki Island, we brought together Japanese and Mongolian instruments, with soloists from Japan and China sharing the spotlight while chaotic orchestral textures and rhythms provide the musical anchor. We can hear this musical battle in "The Battle for Iki Island" and "The Eagle's Curse."
And, of course, no battle sequence in Ghost of Tsushima would be complete without the thunderous sound of the Taiko ensemble. Unfortunately, with pandemic-related restrictions still in effect, the number of players permitted in a studio was limited. However, Isaku Kageyama, a Los Angeles Taiko ensemble leader who also performed on the Ghost of Tsushima Legends expansion, was up to the challenge. We put together a three-person ensemble along with Kaz Mogi and Blaine O'Brien at Capitol Studios in Hollywood, with a massive array of Taiko drums. And through the magic of overdubbing combined with the mixing skills of scoring mixer Kellogg Boynton, we were able to magnify the performance of these three incredible musicians, creating an epic backdrop to the Iki Island battle sequences.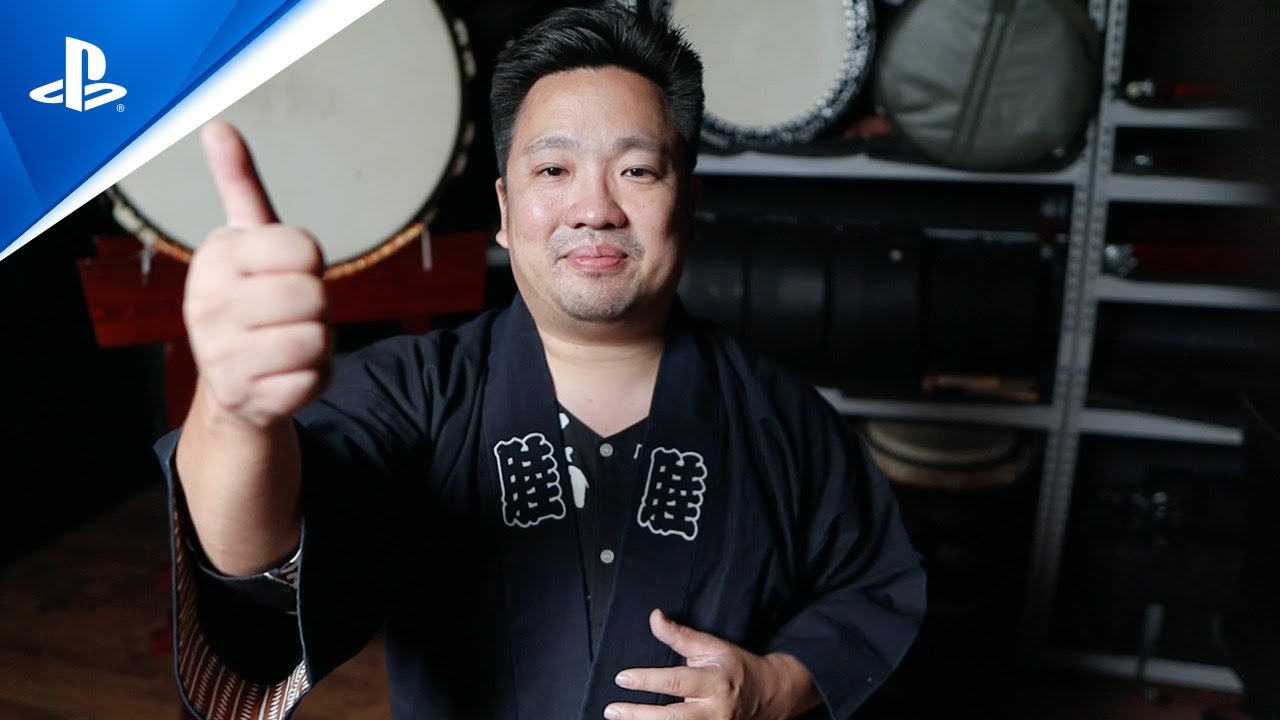 Left to right – Chad Cannon, Bill Hemstapat, Isaku Kageyama, Kazunori Mogi, Blaine O'Brien
Final statements
From Chad:
"I find it SUPER cool that the game has had real-world, positive impact for Tsushima Island, with a Shinto shrine restoration project crowdfunded by the fans, for example, and I love that Jason Connell and Nate Fox were named official Tourism Ambassadors for Tsushima Island. It's hard to overstate the sense of relevance this kind of thing provides for small, rural, remote locations like Tsushima in Japan. These tiny communities are rapidly aging, with many young people moving to the big cities and never coming back. Cultures, local dialects, and even musical performing styles are dying off. But a phenomenon like the Ghost of Tsushima game can help breathe life back into these areas. So really, kudos to the fans and to the creators of the game for pulling this off!"
Ghost of Tsushima: Director's Cut would not have been possible without an incredible team effort. So, I would like to thank a few people who have made this possible:
Our score producer and my workplace mentor Peter Scaturro for encouraging us to dig further into traditional Japanese music and expand the musical landscape of Ghost of Tsushima.
Our PlayStation Studios music lead for Ghost of Tsushima Andrew Buresh, my music editor colleagues Sonia Coronado and Adam Kallibjian, and our engineers Kellogg Boynton and James Probel for their selfless dedication to the project. Without them, the vision that we had as composers would never have come to fruition in the game for the players.
And lastly, Nate Fox, Jason Connell, Brad Meyer, and everybody at Sucker Punch for your continued support to have music play such an important part in your story.
I hope all the players out there enjoy this game and its music as much as we enjoyed making it. Thank you for reading, and please stay safe out there!