Pre-order Jurassic World Evolution 2 now on PlayStation 5 and PlayStation 4.
We're excited to welcome you to a world evolved when Jurassic World Evolution 2 launches on PlayStation 5 and PlayStation 4 on November 9.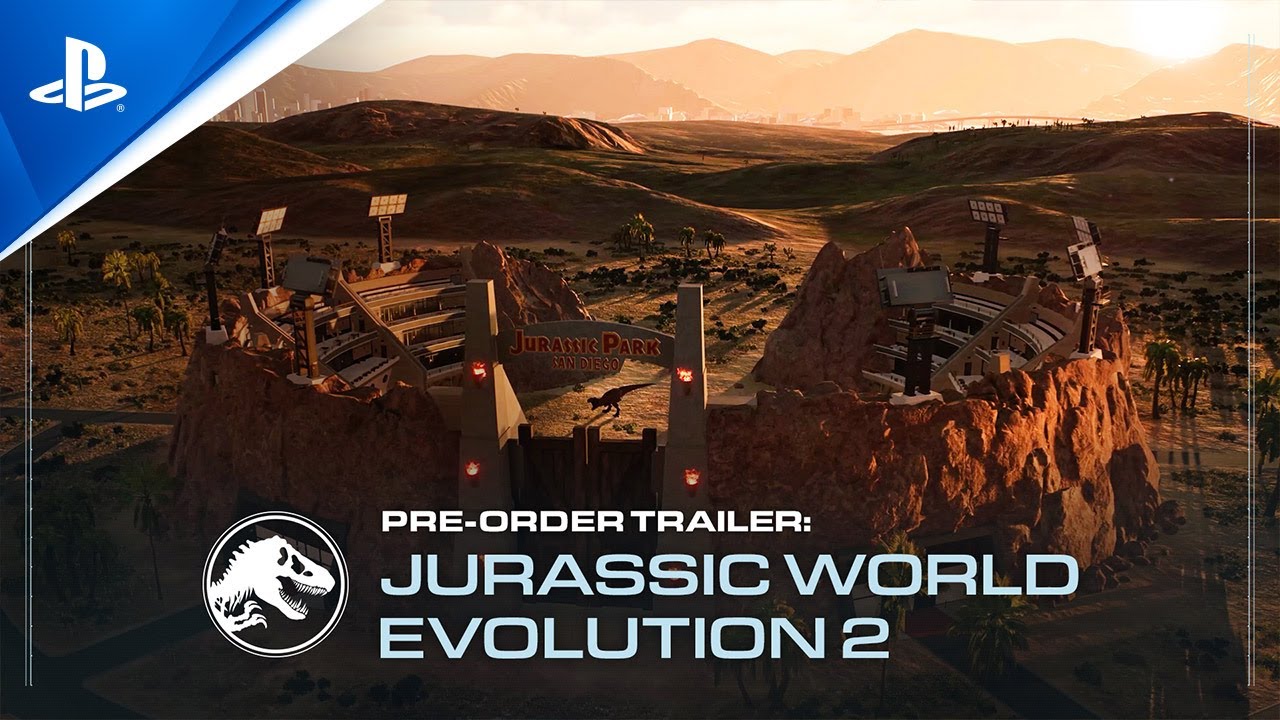 Jurassic World Evolution 2 builds upon the ground-breaking and immersive 2018 original, introducing a compelling new narrative campaign, incredible new features including expanded construction and more customisation options, and awe-inspiring new prehistoric species brought to life with captivating authenticity. Here's what's in store.
Jurassic World Evolution 2 offers four game modes, including Campaign mode following on from the events of Jurassic World Fallen Kingdom where you work alongside the DFW (Department of Fish and Wildlife), the Government agency tasked with establishing facilities to control, conserve, and contain dinosaurs now in the wild. For those of you looking to unleash your creativity, Sandbox mode offers players all the tools they need to create their ultimate Jurassic Park or Jurassic World dinosaur park. For those of you on PS5 you will also be able to build multi-era parks utilising both Jurassic Park and Jurassic World buildings and decorations in Sandbox mode. While Challenge mode allows you to truly test their management skills in a range of different missions with escalating difficulty, attempting to achieve the best park rating in the shortest amount of time.
A new mode for Jurassic World Evolution 2 is Chaos Theory mode, where you can revisit pivotal moments from the Jurassic World film franchise and add your own mark in a range of "what if" scenarios. Whether realising John Hammond's dream of an operational Jurassic Park, showcasing a T-Rex in the San Diego Amphitheatre, or building and running your own Jurassic World with the support of iconic characters such as Dr. Henry Wu (voiced by BD Wong). We can't wait for you to experience this new mode.
Along with these modes and features, we have more than 75 awe-inspiring prehistoric species come to life in Jurassic World Evolution 2. These include highly requested flying and marine reptiles, such as the Mosasaurus, and returning community-favourites like the T-Rex and Velociraptor. These majestic creatures feel more alive than ever as they interact with each other, fight for dominance, preside over territory, and display brand new behaviours while reacting intelligently to the world around them. Our latest trailer showed off some impressive additions, such as the double horned Carnotaurus, the Dimorphodon, elaborately crested Parasaurolophus, and the Majungasaurus. I can't wait for you to see the rest of our roster!
Alongside the Standard Edition, we also have a digitally exclusive Deluxe Edition available for pre-order for those of you looking to expand your experience. Alongside the base game, you will receive three exclusive vehicle skins inspired by the Dinosaur Protection Group, six guest building amenity signs, and five additional thrilling prehistoric species to add to their Challenge and Sandbox mode parks, including land dinosaurs as well as marine and flying reptiles.
Finally, if you pre-order the game you will get access to three vehicle skins for your Capture Team, Ranger Team and MVU team inspired by the thrilling 1997 Jurassic Park sequel, The Lost World: Jurassic Park. There is also a free upgrade from your PS4 version of the game to your PS5 version.
We can't wait for you all to start creating your own dinosaur parks from November 9.