Free for all PS5 and PS4 owners, play a preview of the new Champion Hill Multiplayer mode in the limited-time Alpha.
Calling all PlayStation 4 or PlayStation 5 owners! Coming off of the reveal of Call of Duty: Vanguard just a few short days ago, we're excited to bring more good news: from August 27 at 10 AM PT to August 29 at 10 AM PT, you will be able to participate in the Call of Duty: Vanguard PlayStation Alpha which will feature Sledgehammer Games' innovative new game mode, Champion Hill.
This PlayStation-exclusive Alpha isn't only the first chance at playing the newest Multiplayer mode in the Call of Duty franchise, but also the first opportunity to play Call of Duty: Vanguard before its November 5 release. This will be just a small slice of the overall Multiplayer offering coming to Call of Duty: Vanguard when it launches, but is a great chance for PlayStation players to get their hands on the game and provide valuable feedback to Sledgehammer Games.
For most PlayStation players, a PlayStation Plus Subscription is not required*. Only a console and an internet connection are needed to participate, and no preorder is required.
Before diving into details about how you can access the Alpha, we wanted to give you some background on what Champion Hill is all about as well as some tips for making sure you end up on top.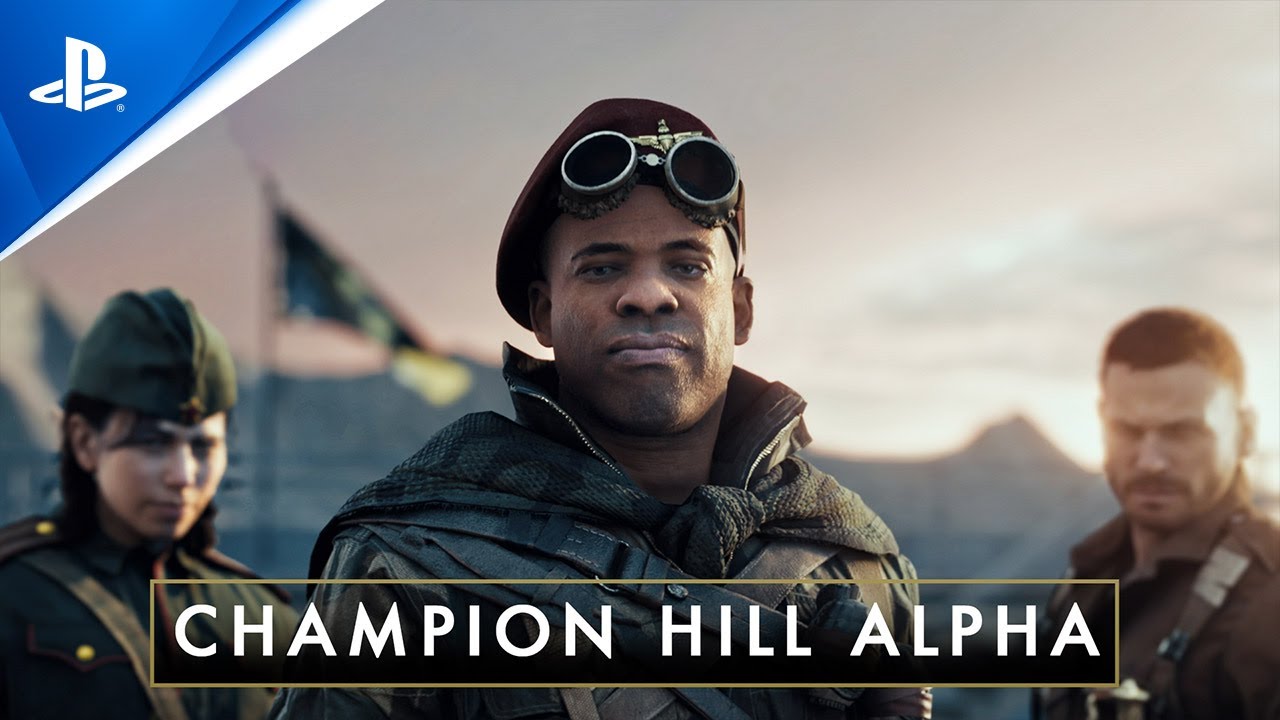 Champion Hill Primer
Sledgehammer Games is proud to introduce Champion Hill, a multi-arena survival tournament where tactics and strategy combine with quick-action, close-quarter gunplay. The mode is all about impactful gameplay, from the intense periods of combat to the decisions made in-between.
In Champion Hill, your squad — which during the Alpha will be either a Duo (2v2) or Trio (3v3)— will compete in a round-robin tournament against seven other squads, with each squad having a set number of lives to start with. The mission is to reduce all other squads' life count to zero in a series of timed Combat rounds, before the same happens to you. Do that, and claim victory on Champion Hill.
In this mode, everyone starts with the same Loadout, but you will collect cash by taking enemy lives and picking up drops scattered around the map. This cash will allow you to upgrade your starting weapons and purchase new armaments, equipment, Perks, and Killstreaks during Buy Rounds that happen between Combat Rounds.
It's in the Buy Rounds that the real strategy comes in (more on that below). No two matches will be the same, since the way that you use cash throughout each match (e.g. held for bigger upgrades as the Rounds go on, or used on smaller, more incremental upgrades along the way) will greatly change how you and your squad counter every other squad. It's a chess-match, and one that has a ton of opportunity to dynamically evolve as each match progresses.
But anyone knows that a great strategy is only as good as its execution. And with that, players can be confident that their skill in those Combat Rounds will determine whether glory is earned or not.
Another unique aspect of Champion Hill is that it is made up of four maps combined into the Champion Hill arena. Specifically, there is a central Buy Station Area and four Combat arenas: Airstrip, Trainyard, Market, and Courtyard. A cool feature of this setup is that once you are eliminated, you can watch the tournament continue from the Buy Station Area spectator platform. You can also press the Up directional button to enter Spectate Mode, get a bird's eye view of the battle, or select an area to see the fight through your competitor's eyes. But ideally it doesn't come to that. Let's discuss some ways to help you stand atop Champion Hill.
Tips for Being the Last Squad Standing
Know Your Enemy:
As mentioned above, the Buy Rounds are where you and your squad have a chance to use cash you've earned to improve your loadout (including weapons, perks, and killstreaks).
The key here isn't only to focus on your own firepower, though, but to pay attention to the style and loadouts the other squads are going into each Combat Round with. It may be worth countering a top enemy's choice of weapons or perks, i.e. picking a certain gun that performs better in situations where they are weak in, or a perk that will overcome their strengths.
At a base level, getting a sense of how aggressive or vigilant the other squads are will go a long way to approaching your next Buy Round to defeat them.
Diversify Your Approach:
Try a few different tactical approaches to each match until you get a sense of where your groove lies.
For instance, it may make sense in one match to make sure you're keeping pace right from the start. What this may mean is that you're spending cash every Buy Round, building firepower throughout and holding serve with the rest of the teams. If this works and you end up being one of the last two teams standing, you could very well find yourself in a white-knuckle brawl between an evenly-armed foe, where your squad's combat skill is going to make all the difference.
Or, it may make sense to hold onto the cash you're earning along the way, by either making more modest (cheaper) upgrades during each Buy Round or none at all. That is until the very end, where you've built up enough cash to buy that Killstreak (or perhaps a V2 Rocket) that could obliterate the lives of the remaining squads in one fell swoop. No need for a knock-down-drag-out final fight here.
There are benefits and risks to each, and it may mean taking a few different shots at both tactical approaches to see which one works best for you and your squad.
A Safe Bet – Focus on Weaponry:
If you're having trouble claiming victory in this mode, try focusing on upgrading your starting weapons early on. Upgrading your starting weapons is cost effective and will help secure more win bonuses in those first few matches. When you're flush with cash later in the game, then you might consider swapping out your secondary for that LMG or sniper you've been eyeing.
These are just a few tips to get you started with this incredibly fun new mode Sledgehammer Games is bringing to Call of Duty: Vanguard, and that PlayStation players will experience in the Call of Duty: Vanguard Alpha going live August 27.
Further information on pre-load timing and Alpha access is below, but until then we look forward to seeing you in Champion Hill next weekend!
Preloading and Regional Download Links
Preloading will begin on August 23 at 3 AM PT, ahead of the Alpha's scheduled launch on August 27 at 10 AM PT.
Download the Alpha at the links below for your respective region:
PlayStation 5:
PlayStation 4:
How to Access the Alpha
Those who have Call of Duty: Modern Warfare, Call of Duty: Warzone, or Call of Duty: Black Ops Cold War installed can access the Call of Duty: Vanguard Alpha through the main menu after it is downloaded.
Within any of those released game's menus, selecting the Alpha menu blade — to the far left of the main menu screen — either brings you to the Alpha to jump in and play if you've already downloaded, or redirects you to its download page on the PlayStation Store.
All participants will receive a Calling Card and an Emblem, accessible in Call of Duty: Vanguard upon its release – as well as in Warzone following the integration of Vanguard.
Preorder Now on Digital
This Alpha is just a sample of Call of Duty: Vanguard. Expect more modes, maps, and weapons in the upcoming Beta in September and at the game's launch on November 5.
Visit the PlayStation Store to digitally preorder now and get instant rewards like the Night Raid Mastercraft Weapon Blueprint for immediate use in Black Ops Cold War and Warzone;** secure early access to the Open Beta,*** first on PS5 and PS4; and receive additional bonuses to be available in Call of Duty: Vanguard at launch, such as the Frontline Weapons Pack.
Alpha starts August 27, 2021, on PS4 and PS5. Actual platform availability and launch date(s) of Alpha subject to change. See www.callofduty.com/alpha for more details. Minimum Alpha duration is 2 days. Limited time only. Internet connection required.
*PS4™ and PS5™ owners in Germany will need a PS Plus subscription due to the game's age rating. A nominal fee is required for PS4™ and PS5™ owners in Japan.
**Offer content and availability may vary by region and is subject to change. Call of Duty : Black Ops Cold War/Call of Duty : Warzone™ on pre-order platform required to redeem offer. Sold/downloaded separately. Must be redeemed by November 5th, 2022.
***Actual platform availability and launch date(s) of MP Beta subject to change. Minimum Open Beta duration is 2 days. Limited time only, while Early Access Beta Codes last, at participating retailers. Internet connection required. Online multiplayer subscription may be required.