As the game celebrates its 25th anniversary with an enhanced version launching on PlayStation today, id Software developers reflect on its legacy.
In 1996, id Software's Quake whisked players to new dimensions – not just the Gothic realms beyond the Slipgate where players battled otherworldly monsters, but also a forever-changed landscape of gaming and most literally, the third dimension with its revolutionary 3D graphics rendering.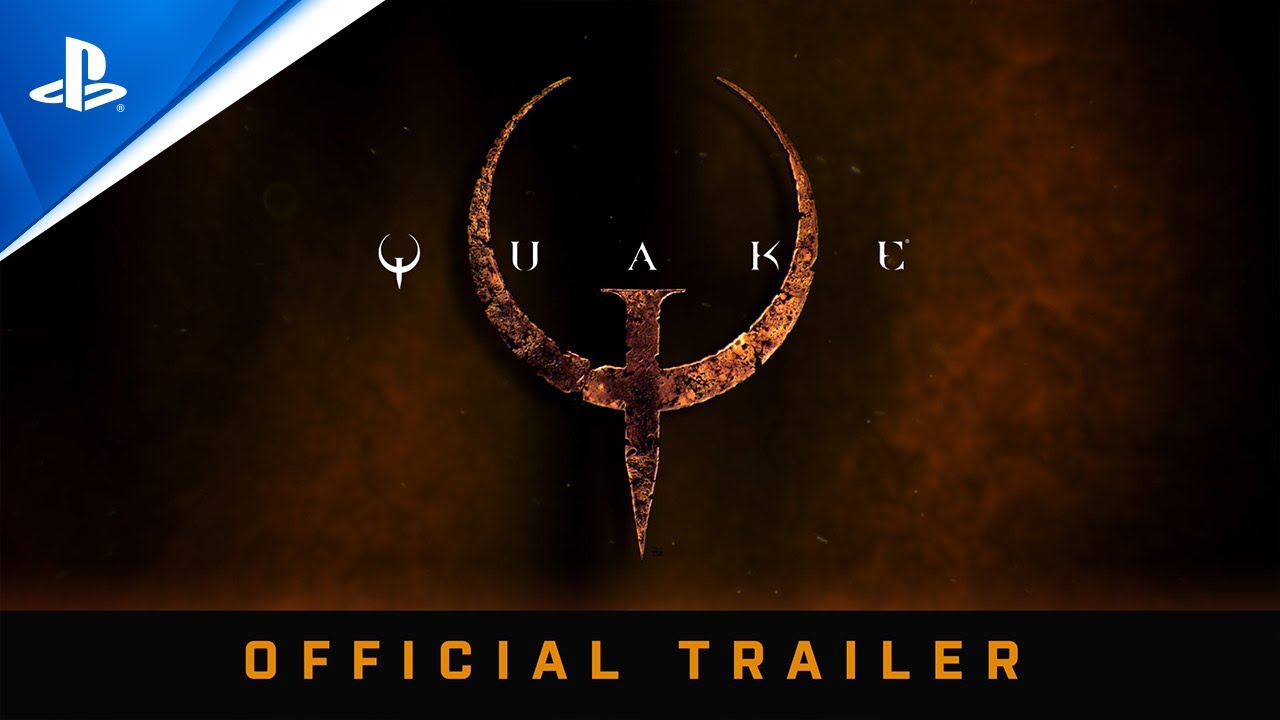 Announced at QuakeCon 2021, Quake celebrates its 25th anniversary with its long-awaited debut on modern hardware with an enhanced re-release of the lightning-fast shooter that changed everything. Available now for PlayStation 4 and backwards compatible on PlayStation 5 with next-gen support, the return of Quake not only commemorates the franchise's origins but also reconnects FPS fans with a classic that still resonates loudly in the culture of gaming.
"You can pick almost any part of games today and trace it back to the work Quake began," says Mike Rubits, senior programmer at id Software. "In a time where generations of hardware would sometimes be measured in months, Quake would become the standard for how many early 3D games would work."
"Quake was the first true 3D shooter," adds Kevin Cloud, executive producer at id Software who worked as an artist on the original Doom and has been at the company for over two-and-a-half decades. However, Quake wasn't just a technical marvel – its high-speed, high-skill gameplay stood the test of time and is ready for a new generation of gamers to experience.
"I believe what is appealing (about Quake) is the fast movement and combat with clear and fun game mechanics," explains Cloud, with the re-release preserving that element of what he calls "moving fast and shooting faster."
The enhanced version
Players can experience the full single-player campaign, as well as its two expansions, in addition to cross-platform support for co-op play up to four players, deathmatch with up to eight players, as well as lighting and model enhancements.
PlayStation 5 owners will also get to experience additional features taking advantage of the console's next-generation technology. In addition to future support planned for native 4K resolution and 120Hz refresh rates – an exciting prospect for any fan of fast-paced shooters alone – the re-release of Quake will also feature DualSense wireless controller support, offering players haptic feedback, adaptive triggers, motion aiming, and game audio through the peripheral's speakers. "The DualSense controller is a fantastic controller and I'm always interested to see what other games do with it," says Rubits. "I'm a big supporter of gyro aim in shooters and the DualSense controller's motion controls are top notch."
The re-release is a joint operation between id Software and Nightdive Studios, who have built a reputation for bringing retro shooters to modern platforms, including the re-release of the cult classic Doom 64. "Considering their history of modernizing older titles, it's hard to think of a better team to work on this," says Rubits.
Nightdive's timing couldn't be better, as gaming culture is currently undergoing a 'retro shooter' renaissance – a surging revival of FPS games that embrace the fast and furious designs of past shooters like Doom, Wolfenstein, and the original Quake.
"I think Doom (2016) showed that there was a thirst for something more quick, fun, and 'pure,' so to speak," says Christian Grawert, senior level designer at MachineGames, developers of Wolfenstein: The New Order and Wolfenstein II: The New Colossus. "All the retro shooters capitalize on that as well. That's also something you'll get loads of in Quake, along with excellent level design and a fun bestiary."
"For me, the best of these retro shooters are about movement as defense," says MachineGames Level Designer Andrew Yoder. "Keep moving, keep prioritizing targets, stay alive. There's a dance to Quake, and learning how to sidestep a lunging Fiend or how to do the 'Shambler Dance' is a real joy."
The soundtrack
Another iconic preservation of Quake's re-release is its soundtrack, famously composed by Trent Reznor and his industrial music group, Nine Inch Nails. Not only did the original music work set Quake's tone with its ethereal, ambient sound – it also helped push what was possible for music in games into the era we currently enjoy.
"I remember when we first got going that it was going to be an issue on how to make this music, because everything up until this point was pretty much chip music," reminisces Chris Vrenna, Nine Inch Nails drummer and contributor on Quake's original soundtrack, remembering a time where Reznor remarked that if they wanted to make something "innovative and cool," they would need a difference approach.
The solution was streaming the soundtrack directly off the CD-ROM of the game while it was being played – exactly the kind of technological solution you'd expect from id Software, whose reputation for maximizing the most out of software is legendary. "It was really a breakthrough," Vrenna says regarding the freedom this allowed them as musicians. "You were listening to an instrumental ambient Nine Inch Nails album that was made specifically to be played with this game."
The legacy
Quake's technical and creative achievements, though highly influential, are just half of its legacy. Once the game was finally in players' hands, that's when Quake truly cemented its status as an industry changer.
"Quake was a significant influence on us – and not only Quake, but id Software and pretty much everything they did," says Jerk Gustafsson, MachineGames Executive Producer. "I got into the business thanks to a map pack that I made for Quake II called "1964: Echoes of the Past." Gustafsson was one of many future developers who got sucked into Quake and yet another facet of its longevity: its modding scene.
"Playing games was much more of a social thing where we got together, had a few beers and played games – mainly Doom and Duke Nukem at the time. Then, I placed a successful bet on a local hockey game and won some money. Initially I wanted to buy a parrot, as I thought it would be fun to teach it how to talk, but one of my closest friends convinced me to buy a computer instead."
One Pentium 90 computer, a modem and a copy of Quake later, Gustafsson's destiny was set. "It was that combination that would forever change my life," he says. "I loved the game, especially the environments. I didn't just play the game, I studied it. Then, after some time, through the ability to connect to Internet, I discovered fan-made maps and realized, 'whoa, I can actually build my very own maps!'"
Whether it was its envelope-pushing graphics, timeless action, genre-defining online multiplayer, gripping Gothic aesthetic, memorable soundtrack or its influence on those who would go on to produce the video games of today, there's no shortage of props to give to Quake.
And now, with its re-release on PlayStation 4 and PlayStation 5, yet another generation of players will experience what made this classic title persist in so many minds over a quarter of a century. To long-time shooter vets and newcomers alike, there's no better time than now – download Quake today and see what lies in wait for you beyond the Slipgate.