First details on Campaign, Multiplayer, Zombies, and the new Warzone map.
We're thrilled to give PlayStation players the details on the latest Call of Duty title coming this year, as was just revealed in Call of Duty: Warzone. Players will be able to experience WWII combat like never before, as the award-winning Sledgehammer Games introduces Call of Duty: Vanguard, scheduled to launch worldwide on Friday, November 5, for PlayStation 4 and PlayStation 5. There is a ton of great content coming with this game, and we'd like to share just a few of the details with you here.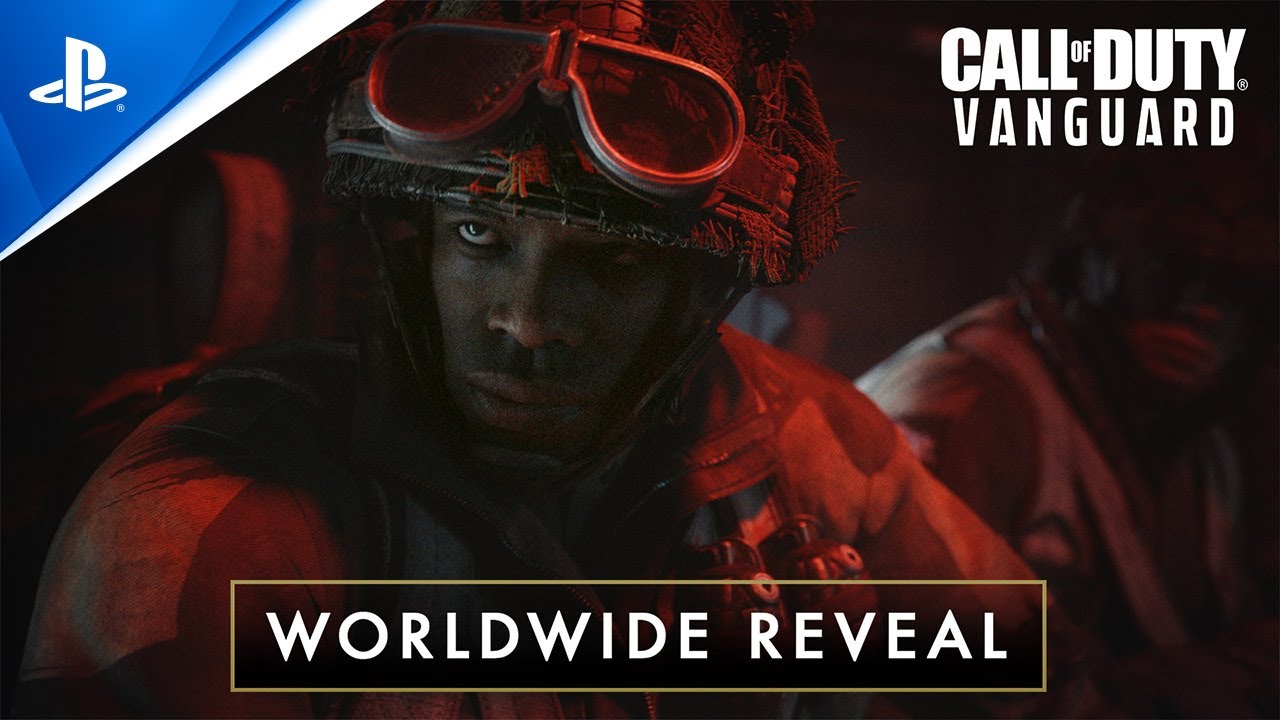 Witness the origins of Special Forces as you play a pivotal role and change the face of history, forming Task Force One in a gripping Campaign across four major theaters of war. There's more, too: compete in 20 Multiplayer maps at launch, dive into the first-ever crossover Zombies experience, and prepare for full Warzone integration, including a new, massive map.
There are a few SKUs for PlayStation players to choose from, as well as incentives and benefits for pre-ordering on PlayStation.
Finally, for those playing on PS5, one of the benefits is experiencing the visceral sensations of war in a deeply immersive way with the DualSense wireless controller.
Let's dive into the details of Call of Duty: Vanguard.
Change the Face of History
Experience combat through a story of the multinational soldiers who came together to form Task Force One and set the stage for Special Forces as we know it. These are the heroes of Call of Duty: Vanguard:
Sergeant Arthur Kingsley, 9th Parachute Battalion, British Army
Lieutenant Polina Petrova of the 138th Rifle Division, Red Army
Lieutenant Wade Jackson, Scouting Squadron Six, United States Navy
Private Lucas Riggs, 20th Battalion, Australian 9th Infantry Division, British Eighth Army
Through the gripping narrative and remarkable journey of these steeled soldiers, players will experience influential battles across four theaters of World War II as they engage enemies across the Eastern and Western Fronts of Europe and fight for the free world throughout the Pacific and North Africa.
Multiplayer brings 20 Launch Maps and more
Expect a huge day one Multiplayer offering as Call of Duty: Vanguard launches with 20 maps across a wide variety of environments, including 16 built for core gameplay. Prepare for signature Call of Duty action as you rise through the ranks in your journey to become one of the original Special Forces Operators.
Sledgehammer Games is bringing plenty of Multiplayer innovations, too. Customize your weapons like never before using the advanced Gunsmith. Experience the new Caliber system, which brings immersive and reactive environments to a new level, as well as having an impact on destruction and fire rate. Plus experience the next generation of the seminal 2v2 Gunfight mode first introduced in Call of Duty: Modern Warfare.
Learn more during the worldwide Multiplayer reveal coming soon, including info on the forthcoming Open Beta.
The First-Ever Zombies Crossover Experience
Discover the unspeakable horrors of the precursor to Call of Duty: Black Ops Cold War Zombies while holding off the relentless onslaught of the undead. Led in development by Treyarch Studios, the cooperative experience continues the Dark Aether story to create deeply engaging lore, all while innovating the core gameplay that the mode is famous for.
Expect more details on Call of Duty: Vanguard Zombies as All Hallows Eve approaches.
Warzone brings a New Map
With development led by Raven Software, Warzone is set to make Call of Duty history with a brand-new main map launching later this year, as well as a full integration between Call of Duty: Vanguard and Warzone.
Prepare for the most connected Call of Duty experience ever seen, as Vanguard and Warzone host free post-launch content, including a massive calendar of new maps, modes, playlists, and limited time and seasonal events, as well as community celebrations integrated between the two games.
Stay tuned for further details about the integration between Vanguard and Warzone in the weeks prior to launch.
A cross-gen, connected experience
Vanguard is a cross-generation title, meaning players can party up with friends on PS4 and PS5, for a truly connected experience. And when you move over to a PS5 console, you'll take your profile, progression, and stats with you.
The Battle Pass system also returns, allowing you to unlock post-launch content with unified progression across both Call of Duty: Vanguard and Call of Duty: Warzone. As always, you can unlock items like base weapons, customization items, and more, simply by playing the game.
Feel the action with the DualSense wireless controller
The heart-pounding intensity of global warfare is at your fingertips (literally). Call of Duty: Vanguard puts players in the midst of battles around the world — for those players experiencing it on a PS5 console, one of the additional benefits will be that the DualSense controller will help make those battles all the more visceral and exciting. From large, bombastic moments to the smaller, more tactile sensations both the haptic feedback and adaptive triggers of the DualSense controller will deepen the incredibly immersive gameplay experience of Call of Duty: Vanguard.
Stay tuned for more
Expect a colossal calendar brimming with free post-launch content, including new Multiplayer and Zombies maps and modes, seasonal events, community celebrations, and much more. Stay tuned for more information coming soon.
Pre-order Call of Duty: Vanguard now for the PlayStation 4 and PlayStation 5, launching globally on November 5.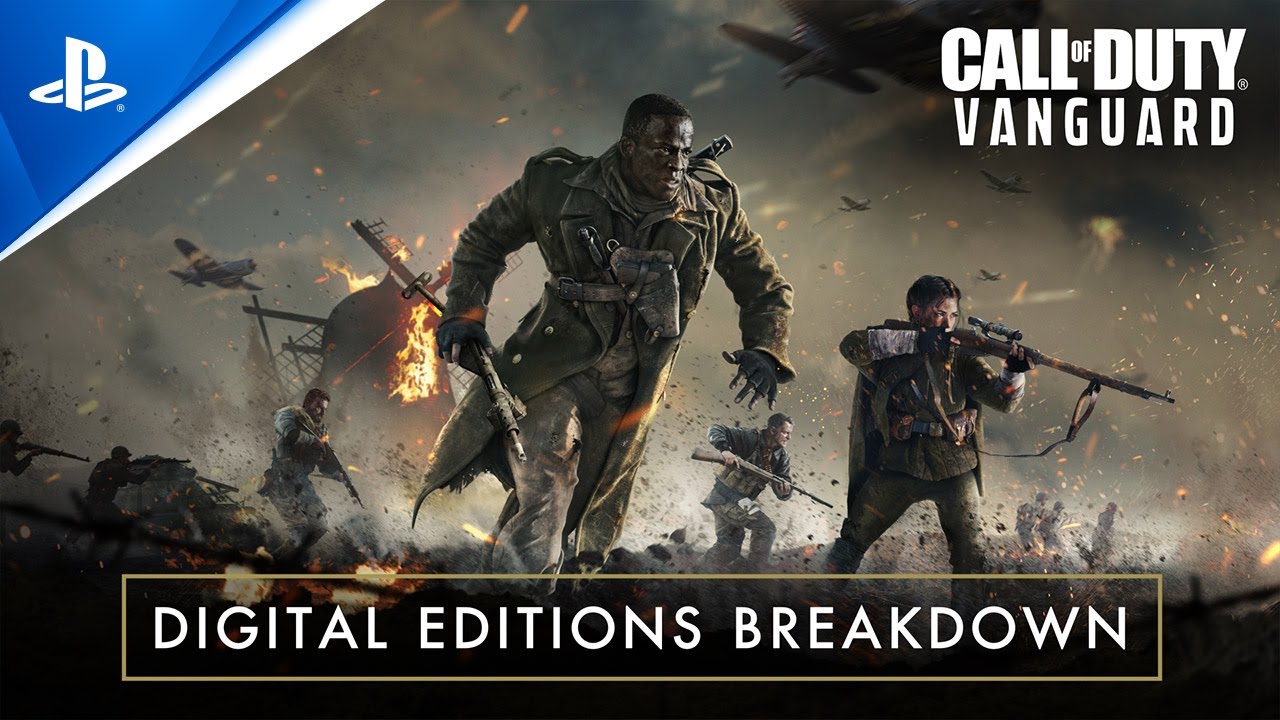 Editions to choose from and pre-order bonuses
For those PlayStation players wanting to pre-order, there are three distinct digital editions to choose from: Standard (MSRP $59.99/£59.99/€69.99), Cross-Gen Bundle (MSRP $69.99/£69.99/€79.99), and Ultimate (MSRP $99.99/£99.99/€109.99). Check out the PlayStation Store for details on each edition.
Any Digital Edition: Whether you pre-order a Standard, Cross-Gen, or Ultimate Digital Edition, you receive the following:
Early access to the Call of Duty: Vanguard Open Beta* — first on PS4 and PS5
Night Raid Mastercraft Weapon Blueprint (for immediate use in Call of Duty: Black Ops Cold War and Warzone**)
Operator Arthur Kingsley (to be received later for use in Call of Duty: Black Ops Cold War and Warzone**)
Frontline Weapons Pack
The opportunity to pre-load the game before launch.
Disc-based physical editions of Call of Duty: Vanguard also available for pre-order:
Standard Edition for PS4 (MSRP $59.99/£64.99/€74.99). This includes:
Call of Duty: Vanguard (PS4)

Plays on PS5 (disc-version) via backward compatibility.***

Pre-order and get early access to the Call of Duty: Vanguard Open Beta*
Standard Edition for PS5 (MSRP $69.99/£69.99/€79.99). This includes:
Call of Duty: Vanguard (PS5)
Pre-order and get early access to the Call of Duty: Vanguard Open Beta*
*Actual platform availability and launch date(s) of Beta subject to change. Limited time only. Minimum Open Beta duration is 2 days. Internet connection required. PlayStation®Plus subscription may be required.
**Offer content and availability may vary by region and is subject to change. Call of Duty®: Black Ops Cold War/Call of Duty®: Warzone™ on PS4™ or PS5™ required to redeem offer, sold/downloaded separately. Must be redeemed by November 5th 2022.
*** This version will have an option to upgrade to the PlayStation®5 version of the game, through the PlayStation Store, for a discounted price. Note the PlayStation®4 disc must be inserted into the PlayStation®5 to access the digitally upgraded PS5™ version of the game. Note that you cannot upgrade a Standard Edition disc to the discless version of the PS5™.
© 2020-2021 Activision Publishing, Inc. ACTIVISION, CALL OF DUTY, CALL OF DUTY VANGUARD, CALL OF DUTY BLACK OPS, CALL OF DUTY WARZONE, MODERN WARFARE, and WARZONE are trademarks of Activision Publishing, Inc. All other trademarks and trade names are the properties of their respective owners