A love letter to 90s' beat 'em ups launches tomorrow on PS4.
Greetings everyone, I am Emre Sağırlar, Community Manager of Hero Concept. Our latest title Mayhem Brawler will be out on streets tomorrow and I wanted to talk about the project's development process, how it evolved, and the studio's innovative approaches to this classic genre. Let's scroll the belts, shall we?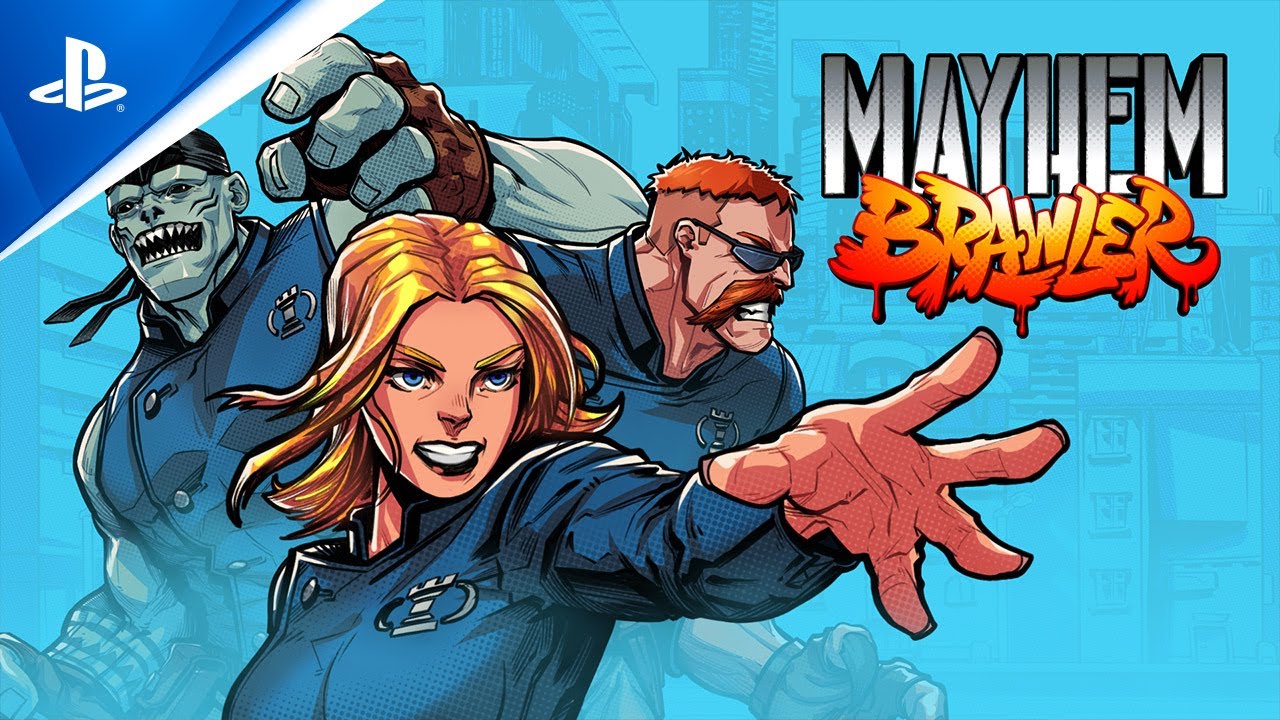 One wild coin was yet to be inserted
Mayhem Brawler is an urban fantasy-themed beat 'em up game with a comic-book art style. But it wasn't always that. Originally, we'd set out on this project to create a digital trading card game. We wanted to create an urban fantasy universe with a superhero motif, featuring stories from every corner and perspective. TCG's are well-known for their huge amount of lore, locations, characters, creatures, and much more, which made it the ideal genre to realise our world in.
Ultimately the team realized it would take a significant amount of time to bring all the corners of this rich universe into a cohesive whole with the careful balancing we'd want in a trading card game. Yet with all the materials we'd created, a sudden thought struck: why not adapt them into a classic style, side-scrolling beat 'em up? With our world, characters and art style drawing inspiration from the likes of comic-books, classic beat 'em ups, and novels that told everlasting stories, the crew was able to bring some new things to the genre.
Even though we've inspired from the classic beat 'em ups, the story won't involve the overused "save the kidnapped daughter/girlfriend" formula. Instead, players will be the top metahuman officers of super-powered law enforcement agency Stronghold. You – and up to two friends in local multiplayer – will police the streets and save the residents of Mayhem City.
The urban fantasy-theme gave us opportunities to create varieties of enemy minions and bosses, such as wizards that assemble for spine-tingling rituals, vampires that own megacorps to do their evil deeds, lycanthropes that live among mankind for filthy errands, and mejins that came from another dimension to simply party in the neighborhood. As beta players shared their surprise and delight at the fantastical creatures they faced, we knew we were off to a good start with the choices we've made for the project. We're proud of this world we've created and as such, the idea for a trading card game at some point in the future is still very much alive.
Does the walker choose the path, or path the walker?
The immense amount of lore written for Mayhem Universe allowed us to create a "choose your own adventure" style journey.
With a more labyrinthine progression system, the story will offer three completely different endings. The story has twelve stages in total, but players will go on seven patrols in one playthrough as choices will be made at the end of every level. These choices will determine which ending players will confront. Each level is divergent from others with its unique locations, stories, enemies and a final boss. For example, players can finish the game without encountering a single wizard. We believe this will offer multiple, distinct player experiences, with separate stories to hear, diverse enemies to arrest, and tons of pop culture references to notice. Naturally, this will heighten the replay value as well.
Know thine enemy, exploit their weakness
We've taken a page out of the RPG handbook in rolling with status effects as a combat mechanic. Our officers can perform offensive and defensive special abilities. Not only these skills will improve players combo potential, but they will also leave opponents with certain condition effects, such as Bleed (making the target take additional damage) or Expose (decreasing an opponent's resistance). Weapons that you'll pick up as you patrol the streets (crowbars, knives, handguns) will also be able to apply condition effects depending on their type. Using the right effect on the right enemy will help you deal greater damage, clear stages faster and obtain higher scores. Be warned: Minions of Mayhem City can possess special abilities or use weapons to leave our officers with condition effects as well!
From Istanbul with love
The team diligently worked on this project for two years. Those who know our previous titles, Doughlings: Arcade and Doughlings: Invasion are probably aware that we love timeless classics in gaming history. Developing a beat 'em up game was inevitable for the studio. We did our utmost best to create one that feels nostalgic yet fresh for the arcade veterans and newcomers. The game releases tomorrow, on August 19 for PS4 (and is playable on PS5). It features English voiceovers along with subtitles and UI in Chinese, French, German, Italian, Japanese, Korean, Portuguese, Russian, Spanish and Turkish.
As Hero Concept, we hope you enjoy Mayhem Brawler to your heart's content! Now go patrol the streets.