The War for Wakanda has begun as Black Panther unites with the Avengers.
The War for Wakanda Expansion is the next free update to our game, and it's our biggest one yet. Whether you're new to Marvel's Avengers or one of our veteran players with multiple max-level heroes, there's never been a better time to play. Let's dive into everything that comes in the Expansion.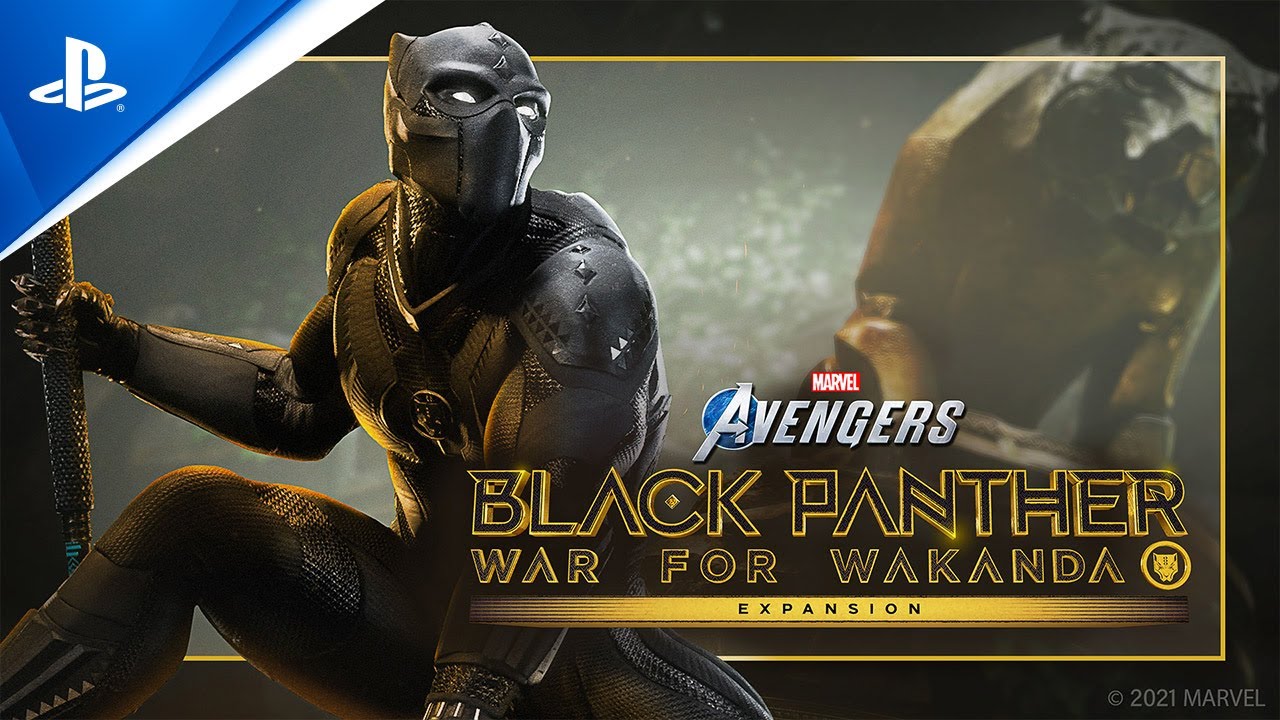 The War for Wakanda
We know how important story is to you all, so we worked incredibly hard to create for you an epic Black Panther narrative that adds hours of new cinematic story content to the game.
War for Wakanda is an original story set in our Marvel's Avengers universe. The Expansion picks up years after the events of A-Day — T'Challa rules over Wakanda, and the country's borders are closed to everyone… until the devious Ulysses Klaw finds a way in. When Klaw invades the country in efforts to harvest its wealth of Vibranium, T'Challa has to team up with outsiders – the Avengers – in order to protect his home.
Our team collaborated with Black Panther comics writer Evan Narcisse in crafting our original story. Narcisse is known for the popular "Rise of the Black Panther" comic run!
Enter: Black Panther
Black Panther is our new playable character in War for Wakanda, and his martial arts-inspired playstyle with feel totally different from the other Avengers on our roster. Some of his moves include: Pounce, which allows him to leap at and grapple-attack enemies; Percussive Blast, which drains your Intrinsic Meter with a blast of stored up kinetic energy; and Devastating Daggers, which is a ranged attack that allows you to do increased damage to enemies that are embedded with your daggers.
T'Challa's Assault Heroic is King's Mercy, which sees him summoning a Vibranium spear and hurling it at hapless foes. His Support Heroic is Kimoyo Beads, which hover around the area to support allies or stun enemies. Finally, his Ultimate Heroic leans into the spiritual side of his character, summoning a spectral projection of the panther goddess Bast to grant him a major damage buff.
The Enemies of Wakanda
War for Wakanda introduces a variety of new enemy types, including Vibranium-armored mercenaries and grunts armed with Sonic-powered weapons. Klaw also commands an army of Crawlers both big and small. If you love our Villain Sectors, the Expansion includes two new fights against Klaw in his comic book-inspired sonic form, as well as a fight against his head lieutenant: Crossbones. The Wakandan Jungle is a dangerous place!
The Jungles of Wakanda
Our Expansion introduces an entirely new (and massive) biome for you to explore. The Wakandan Jungle is more treacherous than previous biomes. There are pitfalls you'll have to avoid, defense weapons you'll have to dodge, and light puzzles in ancient structures you'll need to solve to progress in certain areas.
You'll get to explore a new Outpost, too: Birnin Zana, the capital city of Wakanda, where you'll run into familiar faces like Shuri and Okoye.
An All-Star Cast
We pulled in more amazing vocal talent for War for Wakanda. Chris Judge will play T'Challa, Debra Wilson (Star Wars Jedi: Fallen Order) will play Okoye, Erica Luttrell (Westworld) will play Shuri, Dave Fennoy (The Walking Dead video games) will play Zawavari, and Steve Blum (Star Wars Rebels) will play Ulysses Klaue.
Our actors worked closely with Beth McGuire, the vocal coach behind the accent in Marvel Studios' Black Panther. Beth worked with each actor over multiple VO sessions to ensure that their Wakandan accents were properly delivered.
UI Updates
Lastly, the War for Wakanda Expansion comes with a major overhaul of our user interface, putting all of the character tabs on one easy-to-navigate page. This change comes out of feedback from the community, and it will allow you to gear up and get back into the game faster than before.
There's never been a better time to jump into Marvel's Avengers. The War for Wakanda expansion adds to a game already packed with content including a total of over 25 hours of single-player story content across several campaigns, nine playable heroes, and endless multiplayer co-op action for up to four players. In addition, new modes and events are introduced regularly, and dozens of outfits inspired by Marvel comics and films are available to customize players' favorite Super Heroes.
Go to social and let us know your thoughts when War for Wakanda launches tomorrow.