First details for tomorrow's open Beta of the legendary disc-throwing game.
Bonjour, this is Cyrille from Dotemu! I'm the executive producer of Windjammers 2.
You may be familiar with other works of ours, such as Streets of Rage 4 (released last year) and the port of the original Windjammers for PlayStation 4 and PlayStation Vita in 2017. We are a small team here in Paris and retro is our motto. Ever since our re-release of the first Windjammers game, we've been anxious to do a sequel. In fact, Windjammers 2 is the first game that we're developing 100% in-house! We can't wait for you to try it yourselves. More on that in a bit…
…But first, I'm happy to confirm that the game will be released on both PlayStation 4 and PlayStation 5! The PlayStation community was extremely supportive of the first game, so bringing the sequel to PS4 and PS5 was a no-brainer.
Development is going well, and we wanted to provide gamers with a sneak-peek before our launch later this year. So get your controllers ready, because from August 11 until August 22 we're hosting an open Beta for Windjammers 2 on PlayStation 4 and PlayStation 5.
The open Beta will be free and available for all – no PlayStation Plus subscription is required. Also, Windjammers 2 will offer cross-play between PlayStation consoles, so you'll face players from both platforms. It'll be a blast!
What is Windjammers?
Windjammers is a sports arcade game where you have to shoot a disc into your opponent's goal to win. It's fast-paced and highly addictive…think of it as Street Fighter meets Pong. And we're pulling out all the stops to ensure that Windjammers 2 is even more exciting and engaging than the arcade classic.
Here's a quick tutorial that explains how to play Windjammers 2. We've asked an old friend to lend a hand with this – none other than the legendary Windjammers champion of the United States. The one…The only…Gary Scott!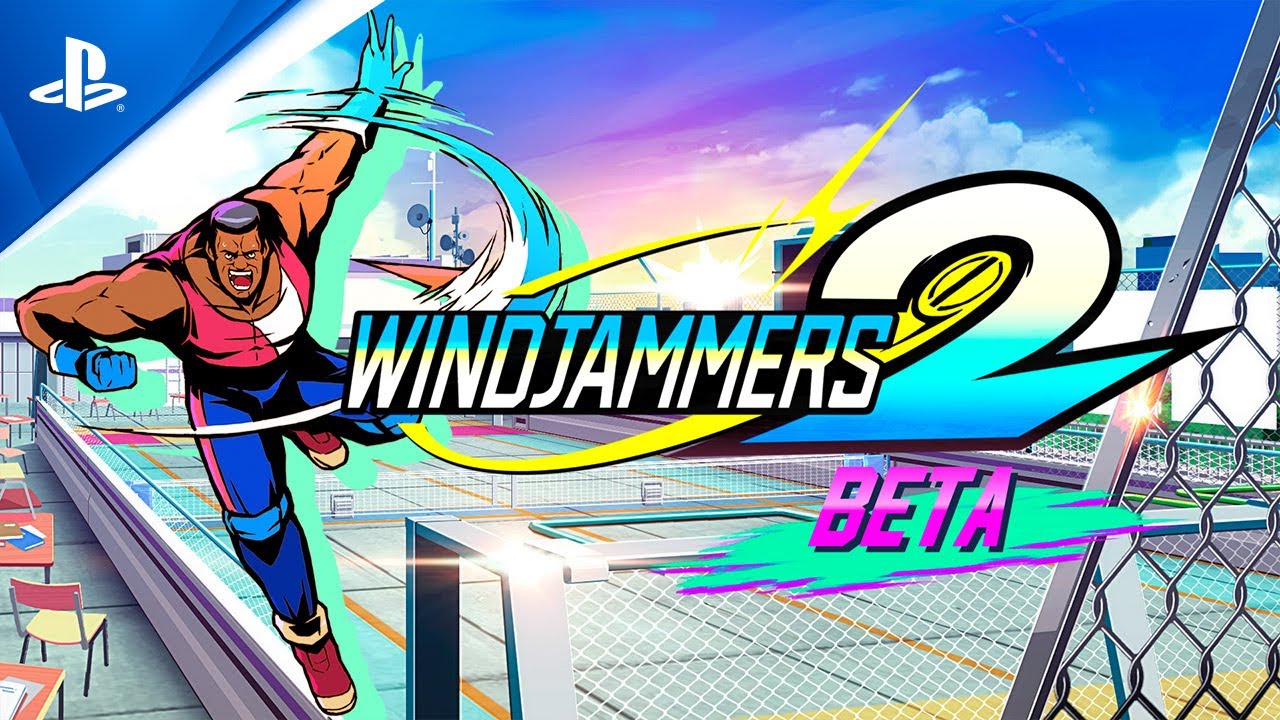 Open beta content
During the Beta, you can demo four characters:
Steve Miller (United Kingdom)
Clever and agile, Steve excels at executing split-second reversals and tricky curved shots.
Gary Scott (United States)
The American heavyweight may be slow, but he's one of the game's most powerful characters. And I have to admit, he's also the Dotemu team's favorite.
Loris Biaggi (Italy)
Swift, strong, versatile…this well-balanced champion hasn't lost a step.
Sophie De Lys (France)
We just had to add a French character, right? But attention: she's fast and furious.
Each character has a unique balance of power and speed – find the one that best fits your playstyle! More characters are included in the full game, with even crazier tricks and throws.
The Beta also features four stages:
Beach: a narrow court that facilitates fast games and quick throws.

Ring: a wide stage perfect for running your opponent ragged.

Stadium: this court boasts a 5-point zone that grows larger when a player scores multiple times in a row. A great way to catch-up!

Rooftop: a regular court, except for the bumpers that change the disc's direction when they're hit. Careful, they're as diabolical as they sound!
Windjammers 2 is not only fun and exciting, it's also competitive – which is why the open Beta will feature ranked matches. We want to build a global community around the game and we know that international competitions are essential.
Some of the features we've cooked up for the full game will remain a secret for now, but don't worry – you'll get your fair share of surprises later on, I can tell you that much.
Windjammers 2 will launch on PlayStation 4 and PlayStation 5 later this year. In the meantime, the Dotemu team looks forward to throwing some discs with you when the Beta launches August 11 to August 22.