Jump online and skater together with up to 10 players in Skater XL's new multiplayer mode.
What's up PlayStation Nation?! We are very happy to be back on the blog to announce that Skater XL Multiplayer Free Skate mode is now available for PlayStation players! With this update, friends from all corners of the world can link up online and share a skate session, regardless of location, weather, or physical ability.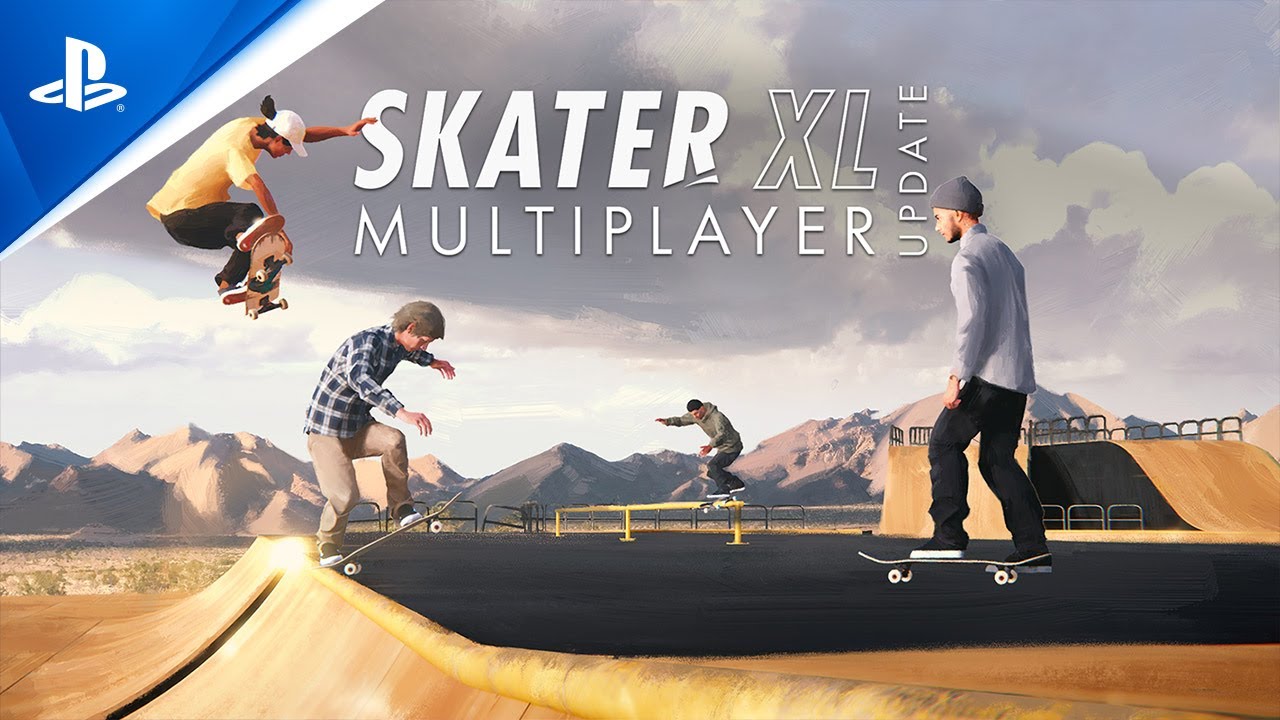 Skateboarding is more fun with friends, and there's nothing quite like hanging out, talking shop, and vibing off each other. That essential experience inspired us to create Skater XL's online Multiplayer Free Skate mode.
Multiplayer Free Skate mode is built to replicate the energy and hype of a real life skate session as closely as possible. No rules or barriers, you and the homies decide where to skate, what to skate, and how to skate it. Whether you want to match each other trick for trick, choreograph party lines, or just vibe off each other in a more freeform way, Multiplayer Free Skate provides the platform.
The social component of skateboarding has always been part of our vision for Skater XL, so we've given Multiplayer Free Skate players the capability to capture and save video of impressive lines and momentous trick moments using the in-game replay editor. Videos are a big part of the culture and we felt it was important to give players a way to share and rewatch their favorite moments long after the session is complete. A check of the Instagram #SkaterXL will give you an idea of the amazing content that is already coming out of the creative community.
Building on our foundational goal of giving skate gamers more control than any prior title with our innovative Independent Foot Control system, the opening of the social ecosystem will allow for an even more immersive experience through increased interactions, collaboration, and more lively environments.
Multiplayer Free Skate is our first step in opening up social modes in the game and features:
Skate with up to 10 people online – Join a random room or start your own private one and invite your friends to join using a passcode
Replays – Replay and save your group party lines, with the same replay editor functionality available in single player mode
Smooth frame rates and a lag-free experience are so important to Skater XL's physics-based gameplay and, given the extra processing and complexity of running online multiplayer, we wanted to make sure this update would feel as good as possible.
Alongside the development on the multiplayer features, work began back in January on optimizing many of the systems and assets in the rest of the game. A huge number of hours have gone into turning over every stone and reworking code, 3D assets, lighting, shaders, and more alongside the multiplayer systems themselves to squeeze out extra performance.
We're excited to say this update comes with big FPS (frames per second) improvements. The game runs significantly smoother now and even with many characters on screen during online play is significantly smoother even than the previous version in single player mode. Skater XL's gameplay and controls are feeling better than ever on all PlayStation consoles.
Also included in this latest update is a small injection of new character gear with shoes from New Balance and Es Footwear, as well as an apparel capsule from Dickies. As we continue to release regular updates, you can expect to see even more new gear hit the customizer.
We have greatly enjoyed connecting with the PlayStation community since Skater XL's launch in 2020, and look forward to continuing the game's evolution alongside such an incredibly talented and creative group of players. Be sure to follow us on social media for more updates, event announcements, highlighted content, and news. Thanks as always for your support and we hope to catch a session in a multiplayer room with you soon.