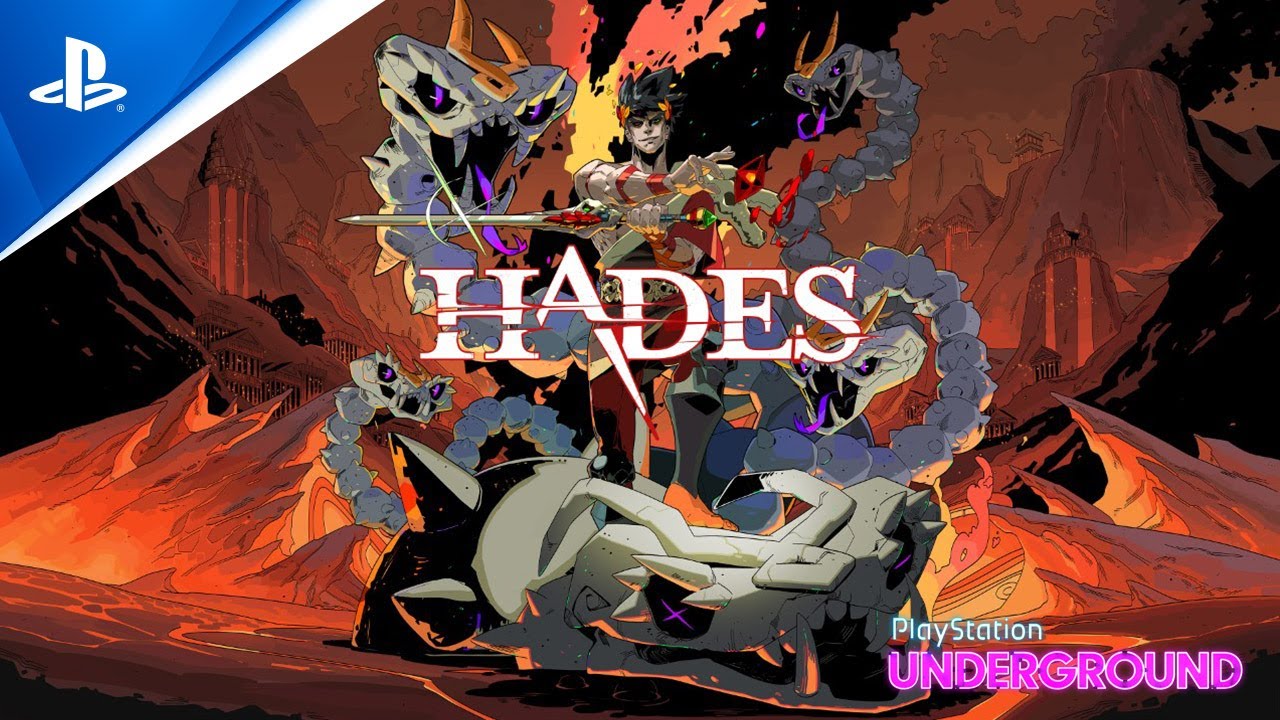 How Supergiant's award-winning rogue-lite dungeon crawler came to be.
Hades launches next week on PlayStation! We hope you have a wonderful time exploring the Underworld of Greek myth and discovering all its many surprises starting August 13. Today marks almost four years since we first started thinking about this game, so I wanted to tell you about some of the unique circumstances that led to our small team developing what's become our biggest hit ever — a game that's already earned more than 50 Game of the Year awards from publications including IGN, Eurogamer, and many others. Suffice it to say we could never have imagined all this when we were just starting out!
We first started talking about the Hades project in the late summer of 2017, just weeks after the launch of our third game, Pyre. Our studio had recently celebrated its 10th anniversary, and we were in a reflective mood, thinking back on the different games we'd made. From Bastion, to Transistor, to Pyre, we jumped from one original setting and playstyle to another. However, a central goal in each project was to create a richly atmospheric, fully realized world for you to immerse yourself in. Practically speaking, that meant discarding our best ideas from our last project and starting from scratch. After all, we didn't want our latest games to feel overly similar to their predecessors, and wanted each world to stand on its own. But, heading into Hades, the thought of yet again setting aside all our best ideas from the past felt needlessly limiting. Couldn't we build on our best ideas and experience, rather than starting over yet again?
So, one of the foundational ideas behind Hades was to make it sort of a 'greatest hits' of everything we'd been able to accomplish and enjoyed doing in our previous games to that point. Here then were some of the central ideas behind Hades:
A 'narrative rogue-like'. We were drawn to creating a game in the rogue-like format, meaning a game centered on replayability, where each time you die and start over, you get a different experience due to procedurally-generated encounters and other interesting bits of randomness. Despite this being a popular genre with many outstanding titles, we felt we could contribute something to it by placing a bigger emphasis on narrative and storytelling than the genre is typically known for. This approach would not only play to our strengths as a team, it would hopefully help open up the thrills of rogue-like games to more players.
Our first-ever adaptation (rather than a wholly original setting). We've had the privilege of being able to create our own unique worlds for each of our games. After three titles, we had a good sense of what that experience was like. But something we'd never done before was adapt an existing world or setting in our own style. We chose the world of Greek myth, both because I and others on the team have a lifelong fascination with it, and because we felt it was such a good fit for the rogue-like genre. We also felt like we had a specific point of view on Greek myth that we hadn't seen expressed much in modern adaptations, through our focus on the Olympians as a big, dysfunctional family, and centering our perspective on the Underworld and its own little-known gods.
Immediate, responsive action. We wanted just about anyone to be able to pick up and start having fun with Hades in seconds. This was in some ways a callback to our design approach in our first game, Bastion, where we wanted players to be able to jump right into it and then discover what was unique about it. We also wanted Hades players to be able to enjoy the game either for minutes at a time or for hours at a time, whatever they felt like.
Depth from interconnected systems and surprising permutations. Here we wanted to build on one of our favorite aspects of our second game, Transistor, which has a deep and intricate combat system where you can create your own set of powers by combining the properties of other powers in different ways. We felt this kind of approach would be key to giving Hades its longevity as a rogue-like game. You'd get lots of different powers from different Olympian gods, and they'd interact in many surprising and interesting ways.
Character-driven story with no game-over state. Our narrative structure builds on ideas and lessons learned from Pyre, a game whose story always moves forward, whether you succeed or fail. We wanted that sense of a big, continuous story where failure was just part of the experience rather than a constant source of frustration and interruption. You get to decide how much you want to engage with the story and characters in Hades, and you'll find that the characters are always responsive to your latest accomplishments.
With these ideas in mind, we took our first steps building what became our biggest, most successful game we've ever made. Whether Hades on PlayStation is your first experience with one of our studio's games or whether you've stuck with us for the long haul, we really appreciate your interest and support, and would love to know what you think – so let us know! We're @SupergiantGames on Twitter. Take care, and good luck getting out of Hell!