Step aboard a curious flying hospital, where life goes on around you as you play.
Hey there! It's Goldie and Jason from the Wayward Strand team, based in Melbourne, Australia. We've been working on this game since 2016, when our ideas were just doodles on scraps of paper, so it feels both incredibly exciting and quite surreal to be here on the official PlayStation Blog to tell you our exciting news: Wayward Strand will be coming to PlayStation 5 and PlayStation 4!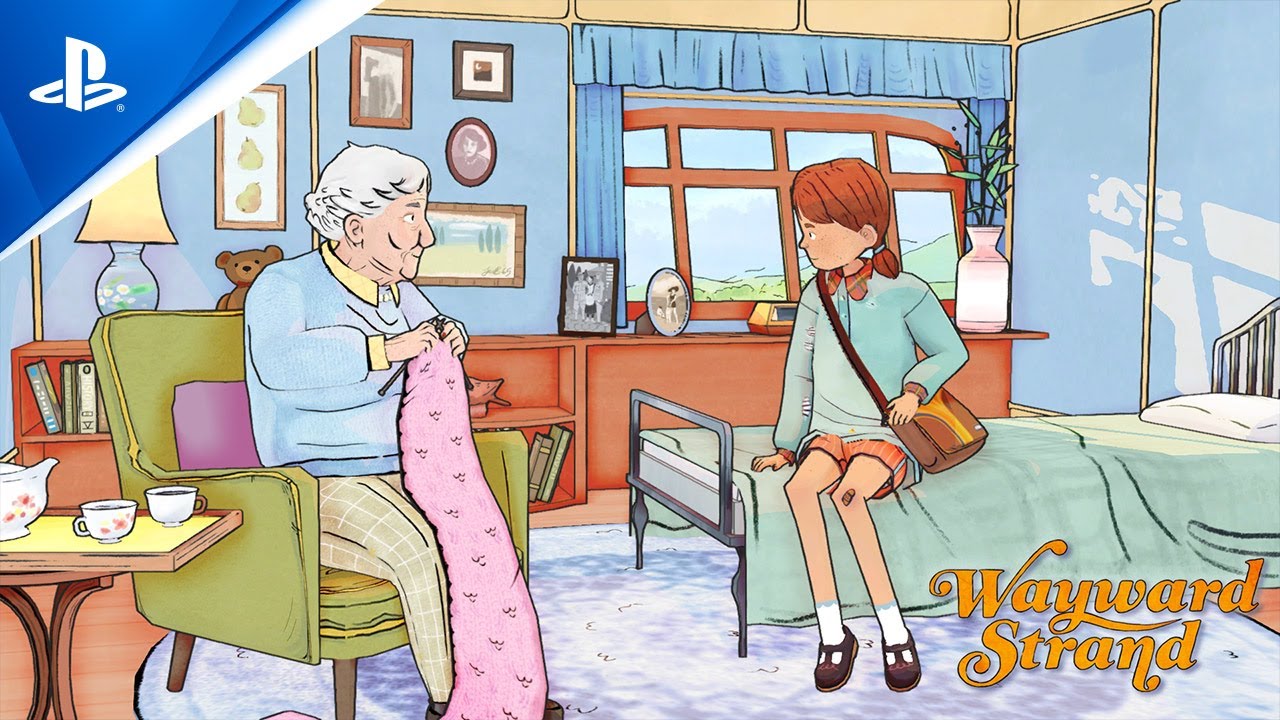 Wayward Strand is a new type of playable story, set in a living world. It's a thoughtful, heart-warming tale, woven together from multiple distinct threads, all of which play out simultaneously aboard an airborne hospital in 1970s Australia. (Yep – that's the hospital airship up there!)
You play as Casey, a teenage girl visiting the hospital for the first time. Your mum is the head nurse of the brand new hospital that's being constructed on the airship, and she's asked you to spend three days in the aged care ward, where you'll explore the mysteries of the ship, and get to know the elderly patients and staff.
There are over a dozen characters who live or work on the airship that you can meet and spend time with, each going about their lives as you explore. Some are charming, some eccentric, some rude – each has their own desires, goals and imaginations.
You'll meet Esther Fitzgerald, an eccentric older resident who used to work as a psychic on call-in radio and who now communes with spirits aboard the ship. Esther can be blunt, and won't hesitate to tell you whatever's on their mind – if you can prove that you're trustworthy enough to confide in.
Or, you might meet Neil Avery – before becoming a resident he had a successful career as a motivational speaker and writer of self-help books, and he's planning to write a book about the ship itself. He's friendly and very talkative, and has almost too much advice for Casey on her fledgling career as a high school journalist.
During your playthrough of Wayward Strand, as you are spending time with one character on the ship, the others will continue their day. Within the world, time passes for everyone – NPCs continue their stories without waiting for you to interact with them.
This is the core mechanic that defines Wayward Strand – as a team we've spent the last five years crafting the intricately interwoven stories of each characters' life over the course of these three days, defining and detailing how they each interact with, and bounce off, each other.
This means that the actual experience of playing Wayward Strand feels incredibly open – you're dropped into a living, breathing world, where stuff is happening around you all the time. At any particular moment, you are choosing what, and who, to focus on… just like real life.
As you play, when you see a character, you can follow them, and listen in on their conversations. You can also go into their rooms and talk with them: asking questions, starting discussions, or joining ongoing conversations.
Each time you play Wayward Strand, you can focus on different characters at different times, filling out your understanding of their story, and deepening your personal relationship with them.
Each character has their own, unique story, and we explore many themes in their stories – themes of care and neglect, infirmity and death, friendship and community. These are also personal stories – we've been inspired by real stories and histories told to us by our grandparents, parents and the older people in our communities as we were growing up.
Wayward Strand is a really different experience as a video game, and that speaks to our inspirations – we love games with experimental narrative structures like The Last Express, and we're also drawing from interactive theatre. Playing Wayward Strand isn't about challenge, or trying to solve puzzles. It's about being an active participant in a world full of unfolding stories.
We're super excited to share the experience of Wayward Strand with you. And if you are looking for a game to play with someone who has never picked up a controller before (perhaps someone older in your life) then we feel Wayward Strand is the perfect introduction to the world of videogames.

We'll be sharing more about Wayward Strand soon, so keep your eyes peeled in the coming months. For now we're busy making it, but we can't wait until you can play Wayward Strand on your PlayStation next year.