Netflix series takes over the Battleground with an all-new Battle Pass featuring heroes and monsters from the show.
Eleven, Hopper, The Demogorgon, and The Mindflayer are not in Hawkins anymore. They're in the Battleground of the Gods, as part of the all new Smite x Stranger Things Crossover event starting July 13 on PlayStation 4!
Bringing Stranger Things to life in Smite has been a dream come true for our team, and I can't wait to tell you all about how our dev team got turned Upside Down.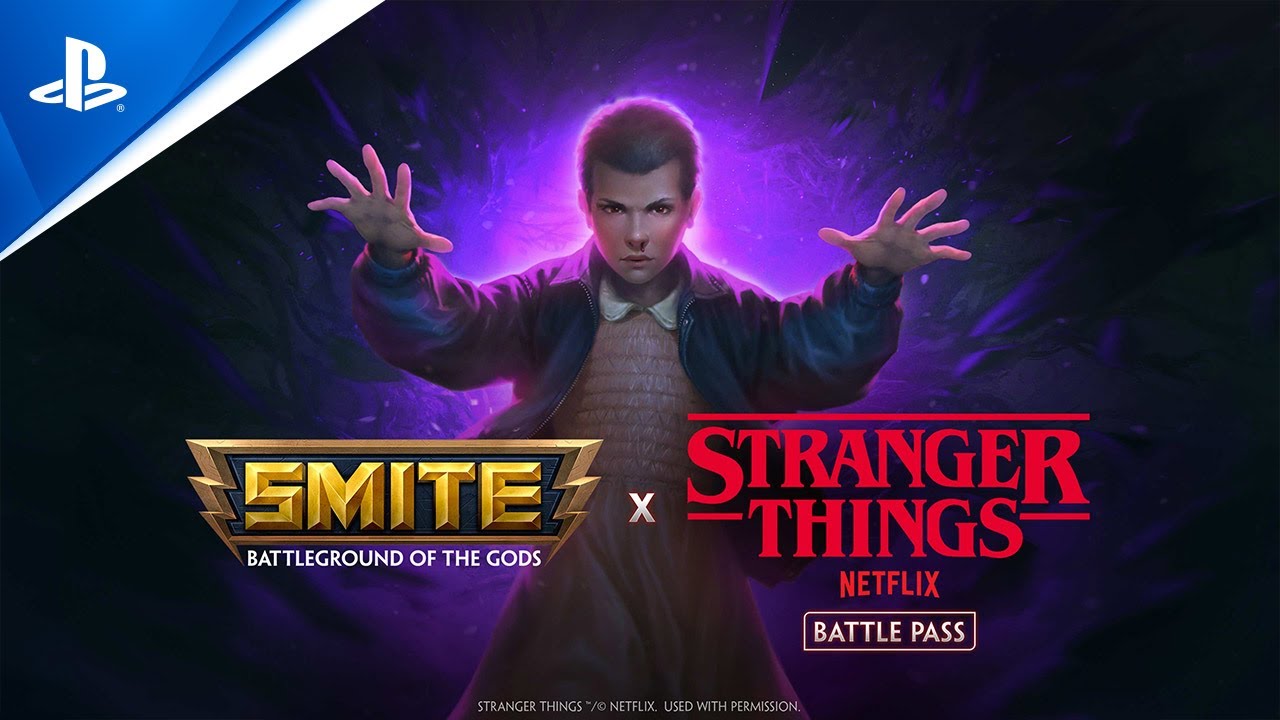 What is the crossover?
The Smite x Stranger Things crossover brings four fan-favorite characters from Stranger Things to life in Smite. Eleven, Hopper, The Demogorgon, and The Mind Flayer are all available as part of an all-new Battle Pass.
Each Stranger Things character comes to life as an incredible skin for an existing Smite God: Eleven Scylla, Hopper Apollo, The Mind Flayer Sylvanus, and The Demogorgon Bakasura. When you purchase the Battle Pass, you'll instantly unlock Hopper Apollo, or buy the Battle Pass Plus to instantly unlock everything up to The Demogorgon Bakasura. Of course, there are tons of free rewards as well — and a Prestige Track featuring 60 extra levels of goodies and a special 80's mall-themed Starcourt Eleven Scylla.
The Battle Pass is not all we have planned for this epic crossover. For the first time ever, we're implementing a crossover into the environment of one of our game modes.
When you take a look around the Arena map, you'll notice that Stranger Things' trademark Upside Down has seeped into the classic Roman coliseum. The skybox has been updated to a dark, doomed sky with The Mind Flayer looming over the Battleground. You can also find fun callbacks to the show like the flashing Christmas lights. Take a close look to see if you can find any surprises our environment artists may have hidden.
Titan Forge Games loves Stranger Things
When the team first heard about the Stranger Things crossover, we were beyond excited. Our studio includes some major superfans who wanted to get the characters just right. We knew from the start that Eleven had to have her iconic blindfold, and the Mind Flayer had to be as fleshy and creepy in-game as he was in the show.
I mean who throws a car, really?
We start each crossover by focusing on our Gods' abilities. If Eleven was to become Scylla, the Greek Horror of the Deep, how could we change her ultimate? We know that Eleven isn't secretly hiding any dog-headed monsters, but Scylla's iconic ultimate "I'm a Monster" sees those giant hounds attack her foes. How could we replace that ultimate with something true to Eleven?
We sat down and watched a few episodes of Stranger Things, and we found our answer in Season 3. There's an unforgettable scene where Eleven picks up a car with her abilities and throws it across the mall. It was one of our artists who first said, "What if that was Eleven Scylla's ultimate?" It was challenging to get the car to feel equal to the gameplay mechanics of the hounds (i.e hitting the target similarly, audio cues) but once the team saw it in playtest, we knew it was the path forward.
From God to Monster
The Roman Keeper of the Wild Sylvanus is a God deeply entwined with nature… while The Mind Flayer is a monster who is an affront against nature. But as we looked closely at Stranger Things, we realized this unlikely pairing was the perfect fit to bring The Mind Flayer to life in Smite.
Sylvanus's peaceful tree is replaced by the fleshy tendrils of The Mind Flayer. Watch closely and you'll even notice that the tendrils go in and out of his body, much like how The Mind Flayer absorbed and changed body parts in the show. The ability Nature's Grasp is changed from a grasping vine to a slimy tendril, reaching out from The Mind Flayer's mouth to grab unsuspecting foes. It's creepy yet really cool.
These are just a few changes that the team has put into the game and I can't wait for players to get in the game and check everything out. If you're a fan of the show, you'll love the callbacks we made, and if you're just a Smite fan who has never seen Stranger Things you'll still love these creative takes on your favorite Gods.
Special offer for PlayStation Plus members
To celebrate the Stranger Things crossover, we've put together a limited time offer for all PlayStation®Plus Members. The Smite x Stranger Things Mega Plus Pack unlocks all four Gods featured in the Battle Pass, their Voice Packs, 5000 Battle Pass Points, a 30 day Account Booster, and 10,000 Viewer Points for the Viewer Store. Plus: You can unlock a Daily Deal bundle of your choice, containing three great cosmetics chosen just for you. Visit the Deals tab in the Store to redeem your Deal of the Day Token. The Stranger Things Mega Plus Pack is a great way to get started on the Battle Pass! You'll need to purchase the Battle Pass though to unlock the Stranger Things skins.
I hope you all log in tomorrow to claim your Smite x Stranger Things Mega Plus Pack, and to check out this incredible crossover. Our team was thrilled to bring these four Stranger Things characters to life and I can't wait for you to experience them in the Battleground of the Gods — Upside Down or rightside up.