March to the third major city of Teyvat filled with new landscapes, stories, characters, and mysteries.
Hello, Travelers! On behalf of the entire Genshin Impact team, we're very pleased to share with you that Inazuma, the much-anticipated third city of the seven major cities, will finally arrive with the upcoming Version 2.0 The Immovable God and the Eternal Euthymia on July 21.
Today, for the first time, we're going to take you on a short tour of the unique cultural landscapes of this major city completely surrounded by the ocean, and the beings that inhabit it. Meanwhile, we'd also like to share some latest features and supports added to PlayStation, including the cross-save function among PlayStation, PC, and mobile.
The Nation That Seeks "Eternity"
While Mondstadt believes in freedom and Liyue honors contracts, Inazuma and its ruler, Raiden Shogun, the Electro Archon, pursues eternity. But what makes the Archon with the power of the fleeting lightning seek eternity? As the story unfolds, this will be a theme that runs through your adventure in Inazuma.
In contrast to her Almighty Shogun's pursuit of eternity, Inazuma is a place where you can find ephemeral beauty everywhere. Unlike the clear sunny days in Mondstadt and Liyue, the weather in Inazuma changes quickly and drastically, tinting the landscapes with a strong sea breeze, flickering light and shadow, and raging thunderstorms in the blink of an eye.
The Inazuma area consists of six main islands and a series of islets scattered across the ocean, each with a unique landscape and history. You may visit the Grand Narukami Shrine and Sacred Sakura on the mountain of Narukami Island, or admire the blooming cherry blossoms and the magnificent Tenshukaku where the Shogun resides at in Inazuma City. You may also witness the giant skeleton and the palpable aura of the Tatarigami at Yashiori Island where the Raiden Shogun battled a great serpent, or traverse the desolate coastline where lies the ruins of war at Tatarasuna. You may also find yourself getting lost in the area shrouded in thunderstorms, or stumble into huge mysterious underground areas and ruins hidden beneath the sea surface.
With Version 2.0, we're only releasing three of the six main islands of Inazuma. There are many more landmarks and locations with distinct scenery, stories, secrets, and their respective connections to the history of Inazuma and the Electro Archon waiting for the Traveler to explore.
Living Beings in Inazuma
Inazuma is ruled by the Electro Archon, so purple has become the dominant color for many local species affected by the power of the Electro element.
This vast land isolated by the ocean is also home to some unique and peaceful animals that are very different from the creatures of Liyue and Mondstadt. Due to Inazuma's unique location and traditions, you may also come across some lovely animals that coexist in harmony with the locals.
However, not all beings come in peace. Across the Inazuma islands, Travelers will inevitably encounter wandering samurais and even a new branch of the Fatui.
Meanwhile, new boss enemies will be added to the map for Travelers to challenge and obtain more rewards. The Hypostasis family will see a new Pyro member joining – the Pyro Hypostasis. Strangely enough, the Perpetual Mechanical Array and a few other bizarrely-shaped machines similar to the Ruin Guards in Mondstadt and Liyue will also appear in Inazuma. In addition to the new enemies, after its debut in Version 1.6, Maguu Kenki will also be found as a World Boss and a source for Character Level-Up Materials in Inazuma.
A New Chapter of Your Journey
We hope to leave more of the fun of the new areas including the latest Archon Quests as well as side quests for players to explore. But before you embark on a fresh new adventure, we'd like to introduce three new reliable companions Ayaka, Yoimiya, and Sayu from Inazuma, who may join your party. Not only can these three characters become valuable assets in your daily battles and exploration, Ayaka and Yoimiya will also make their debut in the upcoming Archon Quests.
Kamisato Ayaka is a long-awaited character who has been familiar to many fans since closed beta testing. Ayaka is the daughter of the Yashiro Commission's Kamisato Clan, a branch of the Tri-Commission under the Raiden Shogun. Wielding the power of Cryo and a sword, Ayaka has often been conceived as dignified, elegant, wise, and strong. However, she also has her own worries and desires like other young girls of her age.
Yoimiya is the other five-star character joining in Version 2.0. She's a Pyro archer and an expert in fireworks. Known as the Queen of the Summer Festival, Yoimiya excels in her craft of creating fireworks that symbolize people's hopes and dreams. The last character, Sayu is a four-star ninja character who wields an Anemo Vision. Despite her petite stature, she can wield a giant claymore bigger than herself.
During the journey, you will also discover various new puzzle-solving gameplay. Unlike puzzles in Mondstadt and Liyue, Inazuma's puzzles do not require you to have a character in your team who can use specific elemental powers in order to solve the puzzle. Successfully solving the puzzle only requires a little bit of your wisdom to make good use of all the clues and items around you!
If you want to take a break in your journey, we strongly recommend revisiting your realm in your Serenitea Pot. With Version 2.0, you can now collect seeds of plants via a special container gadget, and grow different plants in your realm once you have cultivated some fields with the help of Chubby, the teapot spirit.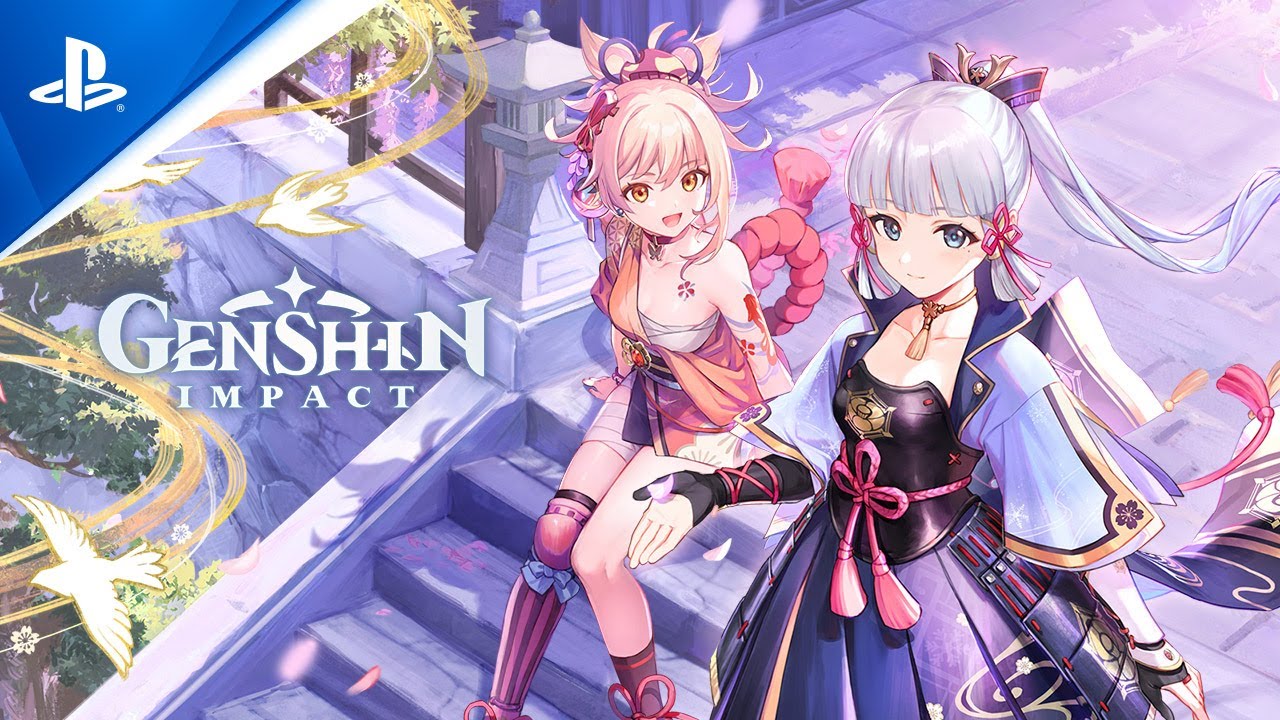 An Upgraded Experience on PlayStation
Thanks to the efforts of our partner Sony and the whole Genshin Impact team, we're very proud to announce that starting from Version 2.0, all Travelers will be able to share game progress across PS5, PS4, and all other available platforms.
Meanwhile, we also have more good news for PlayStation players. A list of new trophies will be added with Version 2.0. Furthermore, some PS5 players may already notice that we've been adding parts of the haptic feedback features on the DualSense wireless controller since the release of the native PS5 version in May. For example, when a combustible barrel explodes, you can sense stronger quakes if you're closer to the explosion. With Version 2.0, you can expect a lot more tactile feedback with your DualSense controller when you draw a bow, use your wind glider, rush into the woods, and perform various actions in the game.
We've also enhanced the character shading so that the effects of real-time lighting can be more clearly shown on your character. As you bathe in the setting sun and stroll down the streets under Inazuma's sakura trees, your characters will be tinted red in the sunset glow, with swaying leaves casting their shadows on them.
We're very proud to finally bring all players and Travelers a new city and a better gaming experience on the PlayStation platform, after months of efforts by the entire team. Inazuma is a huge area surrounded by sea, with very different geography, people, and cultures. All music that players will hear in the Inazuma region are also brand-new, composed by Yu-Peng Chen and performed by the Tokyo Philharmonic Orchestra. We're only showing parts of it in Version 2.0, and there are more surprises waiting for you in the future. And that's all for now, Travelers! We hope you'll have a great time exploring Inazuma this summer.