Find out how, as a Viking hero, you'll stave off Ragnarök and save the world.
Hi PlayStation community, I'm Julian Maroda, creative director at Norsfell. On behalf of all the team, I just want to express just how excited we are to reveal more about what you can expect to see in Tribes of Midgard!
Tribes of Midgard is an up to 10-player co-op action survival RPG developed by our team at Norsfell and published by our friends at Gearbox Publishing. You'll play as an Einherjar – a glorious Viking hero who's been residing in Valhalla, hand-picked by the Valkyries to descend from the heavens and protect the earth (aka, Midgard).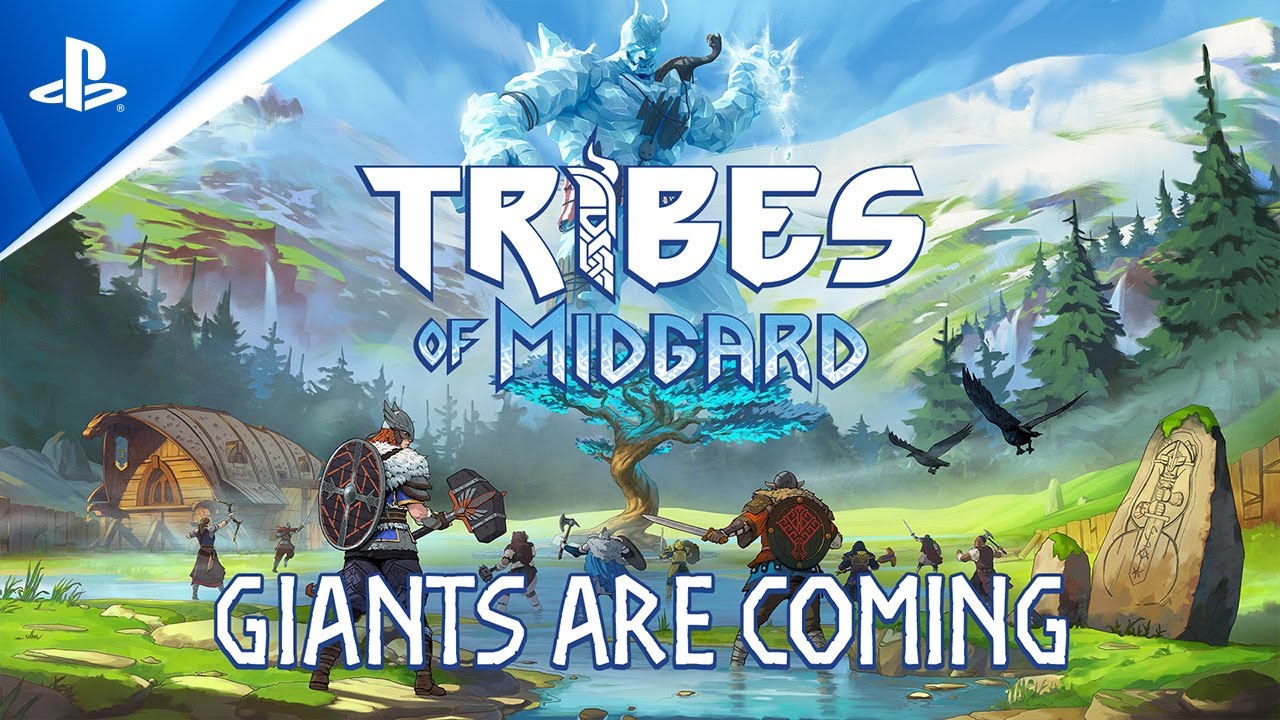 Now, let me set the stakes with my narrator cap: the Seeds of the World Tree Yggdrasil, that have protected and nourished Midgard since the dawn of the Nine Realms, are now scattered and hidden throughout the realm. Enemies of Asgard seek these flickering remnants of life and light to bring forth the end of the world – Ragnarök. That's where you come in. There are two ways you and your friends can save Midgard: an Adventure mode where you will need to try and defeat our challenging seasonal boss, and a survival-based "how long can you survive?" style Endless mode.
Thrive in the wilderness by hacking and slashing through enemies, and collecting the resources necessary to craft tools and gear to help you survive. You can of course explore the world on your own, but we recommend you bring along some friends along with you, as you can play with up to 9 others! The world of Midgard is full of treasures to discover – including enhancements that can have dramatic effects on combat, gathering and more.
But before you can slay Trolls and conquer enemy camps, every mighty Viking has to start somewhere – for you, that's with a few sticks and some flint. Gather these materials to craft basic tools, allowing you to harvest sturdy crafting materials like wood, ore, and stone. You can also chase the heck out of some deer to get leather for armor, but crafting a weapon might be the easier option. For more advanced equipment, you'll need some of the fancier resources that you won't find in the average rock – like silver, gemstones, and obsidian. Oh, and look out for Eir Effigy's (statues that provide boons for health, speed and mana) scattered around the wilderness. They can be a lifeline…because if you die out there, your Souls are gone for good, and you have to make quite the hike to retrieve all the loot you dropped. Think of all that deer meat, left out there in the wild for the scavengers!
Once you're back at the safety of your village, pool your resources at the War Chest. You can level up the many Villager Stations about town, giving yourself access to the best weapons, armor and power-ups (potions, buffs, etc.) a Viking can dream of! You'll craft fortified materials from your friendly villagers (who will also help you in combat!), and use Souls you collect from enemies, to construct mighty gates and watchtowers. Make sure to spend time preparing and building up your defenses by strengthening village walls.
Stave off Ragnarök by protecting the Seed within your village from the hordes of Helthings that arrive each night. Take them down, grab their loot, and maybe even let out a victory cheer – or use one of our emotes to celebrate with your Tribe.
Make it through the night, and head off to explore different biomes, complete quests, and chase down in game events (like rescuing a prisoner or finding elusive roosters) to earn rewards. Some of those rewards may be a little more than a quick jaunt from the village walls, and will require you to build bridges and ramps to scale cliffs and cross rivers to reach these unknown corners of Midgard.
The Helthings aren't even the most dangerous enemies you'll face. Every few days, an enormous Giant (aka Jötunn) will march towards your Village to try and destroy the Seed. Stop them before they reach the Seed or it's game over for you and your tribe.
One last thing: leave your memorization skills at the door, because Tribes of Midgard is never the same game twice. Each journey in Midgard has a procedurally generated map, meaning each tree, bush, and river won't be where you left them (so say goodbye to your favorite rock before logging off).
Tribes of Midgard will launch on PlayStation 5 and PlayStation 4 on July 27. Good luck, Einherjar – you're going to need it.