Bub and Bob are back and ready to aim, shoot, and pop in a reimagined classic launching later this year.
Hi folks! Survios here, developers of PS VR games like Creed: Rise to Glory and The Walking Dead Onslaught, and we are bubbling with excitement to announce that in collaboration with Taito (and in celebration of Bub's 35th Anniversary!), we will be releasing Puzzle Bobble 3D: Vacation Odyssey for PlayStation VR, PS4 and PS5. The game will launch later this year.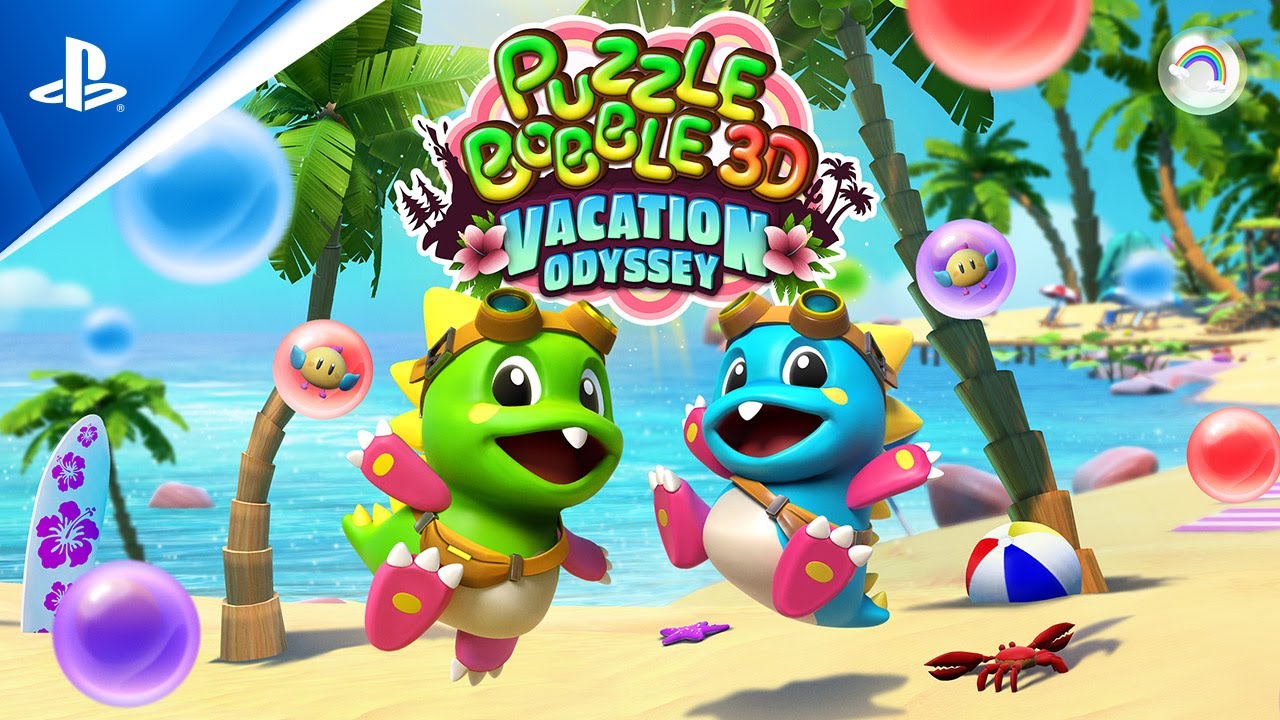 If you haven't seen it yet, you can check out our announcement video that was revealed today.
Bursting with the same vibrant design, adorable characters, and timeless puzzle-solving gameplay as the original, Puzzle Bobble 3D: Vacation Odyssey is the next evolution of the classic Japanese action puzzle game franchise so many of us grew up playing. For the first time in Puzzle Bobble history, bubble puzzles now take three-dimensional form to create new brain-teasing challenges which will test the most die-hard veterans and newcomers to the franchise alike.
Aim, fire, and pop bubbles with your trusty cannon to match three or more bubbles of the same color, while taking on 100 3D puzzles in our Story Mode. Puzzles no longer lay on a flat plane, but take the form of three-dimensional clusters that spin and rotate with realistic physics when bubbles collide.
Puzzle Bobble 3D: Vacation Odyssey will also feature two additional modes: Infinite Mode, an endless challenge for players chasing high-scores, and Duel Mode, fast-paced 1v1 online battles with Quickmatch support across PS4, PS5 and PS VR.
Players will face a variety of gameplay mechanics that will test even the most seasoned bubble-poppers. Players will need to solve and clear puzzles to earn coins to activate game-changing power-ups and maximize their popping power.
Puzzle Bobble 3D: Vacation Odyssey is designed to be an intuitive, pick-up-and-play puzzle-solving experience for players of all ages. We hope long-time fans will be excited to test their skills in this multi-dimensional take on the classic bubble-popper, while introducing new players to a timeless franchise which has kept gamers engaged in solving and mastering puzzles for more than three decades.
Thanks for taking the time to read this. We are excited to reunite players with this nostalgic and beloved title in a new and immersive way! We'll have more details and gameplay to share with you as we get closer to our release, with more 35th anniversary celebrations.
Puzzle Bobble 3D: Vacation Odyssey will be available for PlayStation VR, PS4, and PS5 later this year.