Get an early look at the Power and Perks of the new Killer: Nemesis.
Hello, People of the Fog! Whether you're a fan of Resident Evil, Dead by Daylight, or both, there's a lot to look forward to these days.

We're thrilled to honor 25 years of game-changing survival horror by welcoming Resident Evil into the Fog with our latest Chapter. While we'd love to get into more detail about our legendary new Survivors, Leon S. Kennedy and Jill Valentine… they'll have to wait for another day.
Today is all about Nemesis and his playground: our new map of the iconic Raccoon City police station.
Dig in below to learn more about our massive new map and the new Killer's deadly Power, Perks, and a Special Enemy never before seen in Dead by Daylight.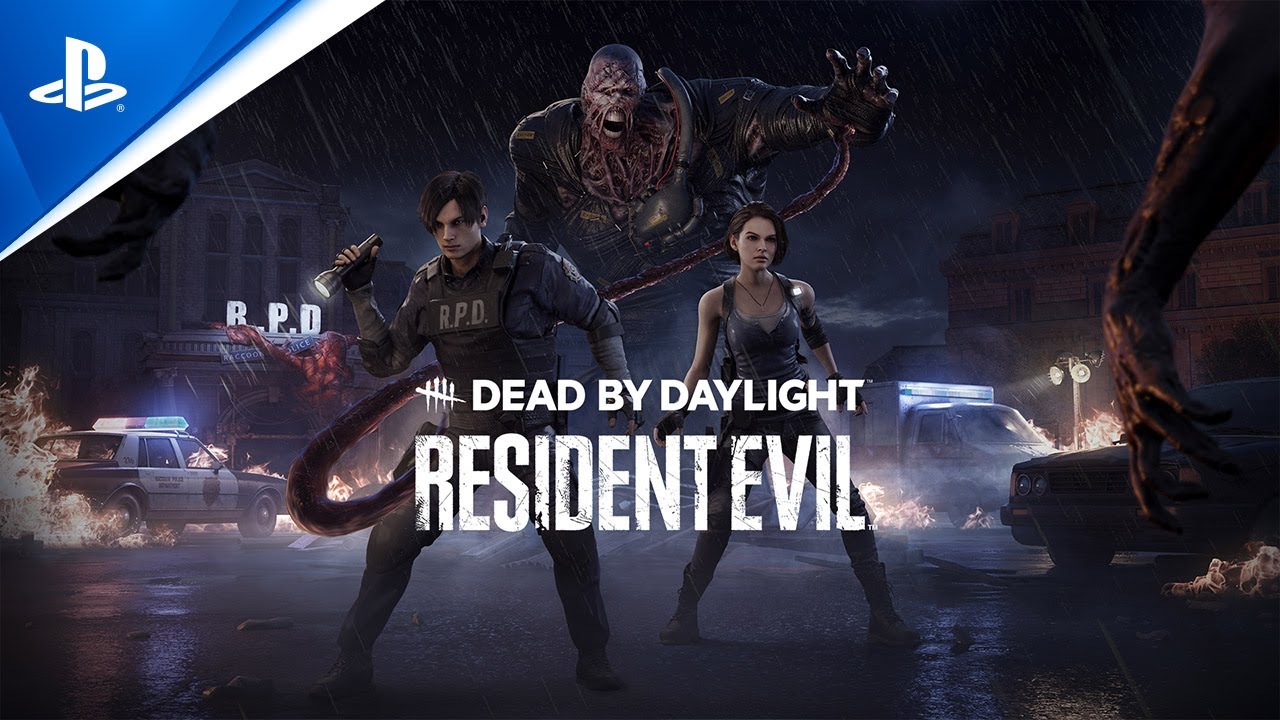 The Raccoon City Police Station
The Raccoon City police station stands as one of the series' most famous locations and is featured heavily in both Resident Evil 2 and 3. Sprawling and dripping with atmosphere, the unique setting created the perfect challenge for our Level Design team to sink their teeth into.
"If you've played the Resident Evil series, you might know that the Raccoon City police station was originally a museum. Everything from the architecture to the art pieces are gorgeous," shares Stéphanie Hellin, Dead by Daylight's Team Lead Level Artist. "It has its own flavor and mood that permeates the whole map and really shapes your experience playing the game."
If you're a Dead by Daylight veteran and have been hungry to dive into a new map, you'll be happy to know the Raccoon City police station should keep you busy for a while to come.
"This is by far the biggest map we've ever introduced into Dead by Daylight," says Stéphanie. "It was a challenge specifically with the time we had to create it. While the setting is huge, each room has its own look and feels which makes the map easier to navigate. We can't wait to see how players adapt to this kind of layout and how both Killers and Survivors approach its opportunities and challenges."
While fans can expect a faithful recreation of the Raccoon City police station, they can also expect a few special twists to help merge the world of Resident Evil with Dead by Daylight's gameplay and storytelling.
"Our challenge was to make sure that both these worlds not only fit together, but complemented each other," continues Stéphanie. "We needed to bring the essence of both games together in one map. Dead by Daylight's gameplay is very hide-and-seek, and so we had to create more exits, entrances, and adapt some of the spaces and level-art composition while still staying true to the source."
In Dead by Daylight, Survivors like Jill and Leon will also find themselves dealing with an entirely new evil: The Entity.
"The Entity is the essence of Dead by Daylight," adds Stéphanie. "Our partnership with Capcom gave us the opportunity to have the Entity be even more present in our map. It feeds off hatred, and with these worlds combined it's hungrier than ever. The Entity is rarely seen in our game, but here it surrounds you in the map at almost every turn – a perfect representation of the nightmare you'll get to experience."
New Killer: Nemesis
Now that you're up to speed on our new map, let's break down the new Killer who will be stalking its hallways: the Nemesis.
Nemesis Power: T-Virus
The new Killer's power is the T-Virus, which causes extreme mutations and can be transferred to others. Its effects heighten aggression and strength within the Nemesis.
Special Attack: Tentacle Strike
Tentacles are a Tyrant's best friend.
Tentacle Strike works to help boost Nemesis' strength and range as the Survivors he's hunting are weakened. Charge up, then unleash Tentacle Strike on a Survivor to afflict them with the Contaminated status effect. Contaminating a Survivor will make them easier to spot as they cough and vomit their way around the map. Hit a contaminated Survivor a second time and you'll damage their health.
Survivors can cure themselves and their allies by injecting a vaccine found in Supply Cases (not Chests!) around the map. But use them wisely. Vaccines are limited and every injection reveals the Survivor's location for a brief time.
Mutation Rate
Hitting a Survivor with Tentacle Strike not only contaminates them, but it increases Nemesis's Mutation Rate as well. Tentacle Strike will gain greater range and the ability to destroy certain elements within the environment.
At Mutation Rate 2, a Tentacle Strike can destroy palettes and even breakable walls.
At Mutation Rate 3, the Tentacle Strike range will increase allowing him to attack over palettes, window vaults, and other tricky obstacles.
Check your power icon to view your current Mutation Rate.
Special Enemy: Zombies
That's right. Zombies. For the first time in Dead by Daylight history, a Killer will be assisted by AI characters.
Whenever you play as Nemesis zombies will spawn and begin roaming the map. Zombie attacks work the same way as Tentacle Strikes. If a Survivor gets hit by a zombie, they are afflicted with the Contaminated status. If they get hit again while contaminated, they take damage.
Survivors can destroy zombies by dropping palettes on them, and as Nemesis you can increase your Mutation Rate by destroying them with a Tentacle Strike. Zombies will always respawn after a short time.
Nemesis Perk: Lethal Pursuer
Nemesis was designed for the sole purpose of tracking down and destroying its targets. So naturally at the start of every trial, all Survivor auras will be revealed to you for a short time. The perfect way to get a head start.
Nemesis Perk: Hysteria
Make an example out of any Survivor who crosses your path. Whenever you put a healthy Survivor in the injured state with a basic or special attack, all other injured Survivors on the map will suffer from the Oblivious status effect for a short time.
Nemesis Perk: Eruption
As Nemesis, you don't just have the brawn – you have the brains, too.
Kick a generator and its aura will be highlighted in yellow. Now the trap is set. Put any Survivor in the Dying State and all affected generators will explode, reducing their progress. Any Survivor repairing an affected generator when it explodes will suffer from the Incapacitated status effect for a short time.

As huge fans ourselves, we couldn't be happier to bring the world of Resident Evil into Dead by Daylight and we can't wait to put these new characters and map into your hands. Will you lead your team of Survivors to safety as Leon or Jill? Or will you become the Entity's new favorite Killer as Nemesis?
The Resident Evil Chapter will be available in Dead by Daylight on June 15 for PS4 and PS5.
See you in the Fog!