Today's major mid-season update brings heaps of new content.
Fall Guys: Ultimate Knockout's Season 4 beamed players into a neon-drenched Blunderdome of the future, full of fluorescent treats and techno beats. Today's major mid-season update brings heaps of new content including two new Rounds, the roll out of Custom Lobbies, plus plenty of fixes, features and improvements for stumbling enthusiasts worldwide! Here's what you need to know, with top tricks and tactics straight from the team to help you tackle our latest Rounds and grab those EZ quals!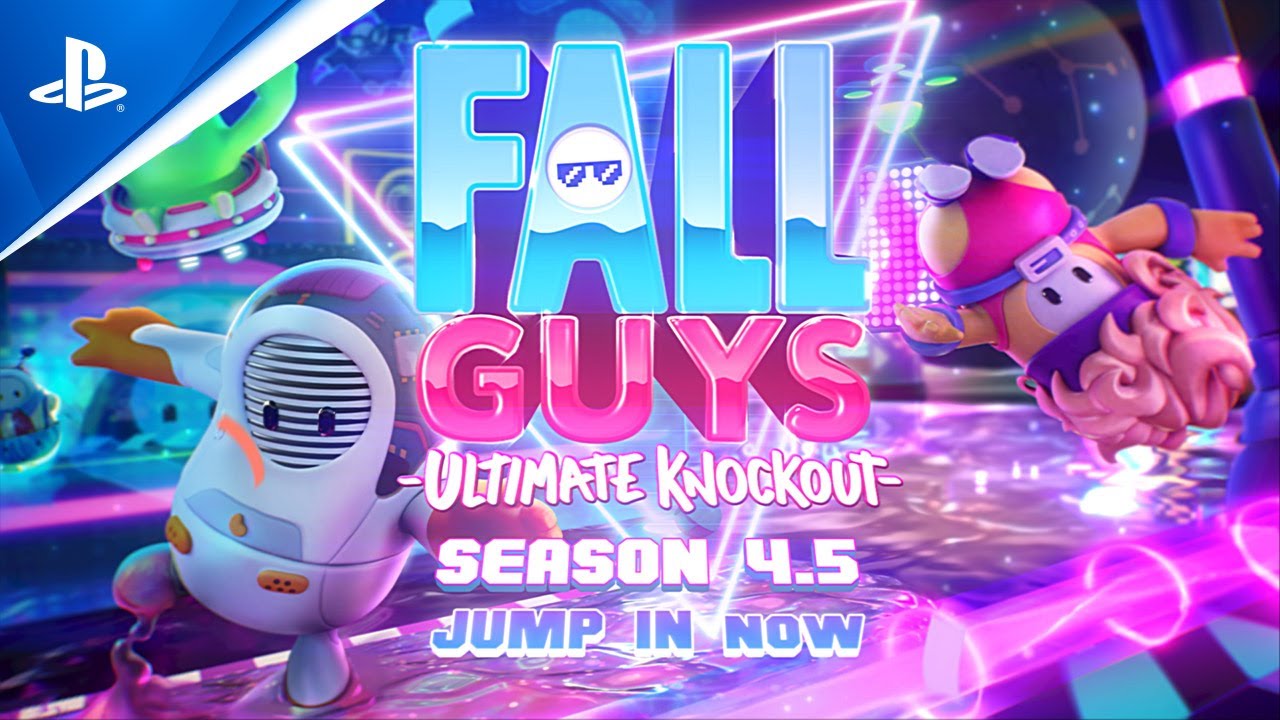 Fall Guys Season 4.5 brings two fresh (and deliciously different!) Rounds to conquer on your quest for the Crown…
Button Bashers – It's cool to duel!
For the first time ever, Fall Guys players will face off 1v1 in a quick-fire mini arena bout! Button Bashers separates brave beans into pairs for a rapid reaction face-off, with the goal of reaching lit buttons first to earn points while navigating fiendish obstacle effects. Most points when the clock runs out claims victory, with nerve-wracking overtime in the case of a draw…
"My main advice for players would be to keep calm and rethink how you approach obstacles!" says Harry Prebble, game designer and Button Bashers creator. "When you grab that first point, it can be a shock seeing an obstacle activate, so your instinct may be to back away as quickly. However, think of these as an opportunity to up your game—Low Gravity Zones and Fans can also propel you way faster than walking, so if you get your angles right, these can become short-cuts to the next button and another vital point."
As a timed round, you'll be eager to wrack up those points as quickly as possible, but knowing when to let points go can be just as important for sealing qualification. Community Manager Bianca Sarafian explains…
"When I first dived into Button Bashers, my approach was very much 'gimme the points!'; a button would light up and I'd zoom towards it, no matter what. Spoilers: it didn't end well. The more I played, the more I started to try and control the center ground. Running after a lit button your opponent is closer to can leave you in a worse place for the next one. So pick your battles and don't go after those lost causes!"
The Slimescraper – Tumble to the top
This spiritual successor to Slime Climb sows chaos across multiple floors in a dash to the summit! On your trip to the top, you'll encounter a dizzying array of obstacles, from Conveyer Belts to Laser Swings, to Bounce Cubes and Turntables. Plus, Pinball Flippers galore await beans as a final challenge to outrun the slime. So, what's the deal?
"It's easier said than done when the slime's hot on your heels, but a lot of the obstacles can be overcome with a bit of patience," muses Max Boyle (Game Designer). "When it comes to sections with Force Fields and Punching Gloves, keep an eye out for when they activate and how they cycle. Taking a moment to time your dash for the maximum window of opportunity is way safer than rushing!"
Taking your time is all well and good, but what about when you're teetering on the edge? Abbie Williams, junior community manager, had this to say…
"Sticking to the walls is always the safest strategy, but it's not the quickest. And while running headlong into obstacles rarely ends well, some of the trickier ones can actually end up being more friend than foe! Pinball Flippers can catapult you away from the rising slime in a real pinch. Plus, the end isn't always the end – Bounce Poles on the walls below can help you clutch safety, so if you find yourself stumbling off, aim for a Round-saving upwards bounce!"
Custom Lobbies – The host with the most
Fall Guys Season 4.5 also sees the release of Custom Lobbies, enabling any player to host their own invitation-only Fall Guys match-up! Unique codes can be shared with the beans of your choice, with a wide array of Shows to dive into.
Custom Lobbies with as few as four participants can now take on bountiful Shows from the main roster, right up to a full 60 players if you happen to be particularly popular (lucky you!) We're super excited about Custom Lobbies and will be keeping a keen eye on community feedback to help with improvements and making this as fun as absolutely possible.
Smoother stumbles – new variations, features and improvements
The Blunderdome Construction Crew have been working hard to bring players all sorts of other exciting content, with today's update bringing spicy additional features and fixes a plenty. Including…
Dozens of Round variations – unexpected shenanigans have been added to your favourites, with fresh twists on classic Rounds and some devious Thicc Bonkus appearances
Player reporting – Spot someone being a bad bean? You can now let us know immediately, in-game.
Latency Improvements – Mantling and grabbing objects should now feel far more responsive.
Connection quality indicator – Check your connection quality to troubleshoot with ease.
Fall Guys: Ultimate Knockout Season 4.5 is available to play right now on PlayStation! We absolutely cannot wait to hear what you think of Season 4.5 – see you in the Blunderdome.