State of Play presents an in-depth look at the gameplay, characters and arsenal of this summer's action-adventure.
Hey everyone,
Today we're stoked to share with you a special preview of Ratchet & Clank: Rift Apart on State of Play. This episode will have updates on a couple of other titles before giving you 15 minutes of never-before-seen gameplay footage, new reveals, and updates from Creative Director Marcus Smith.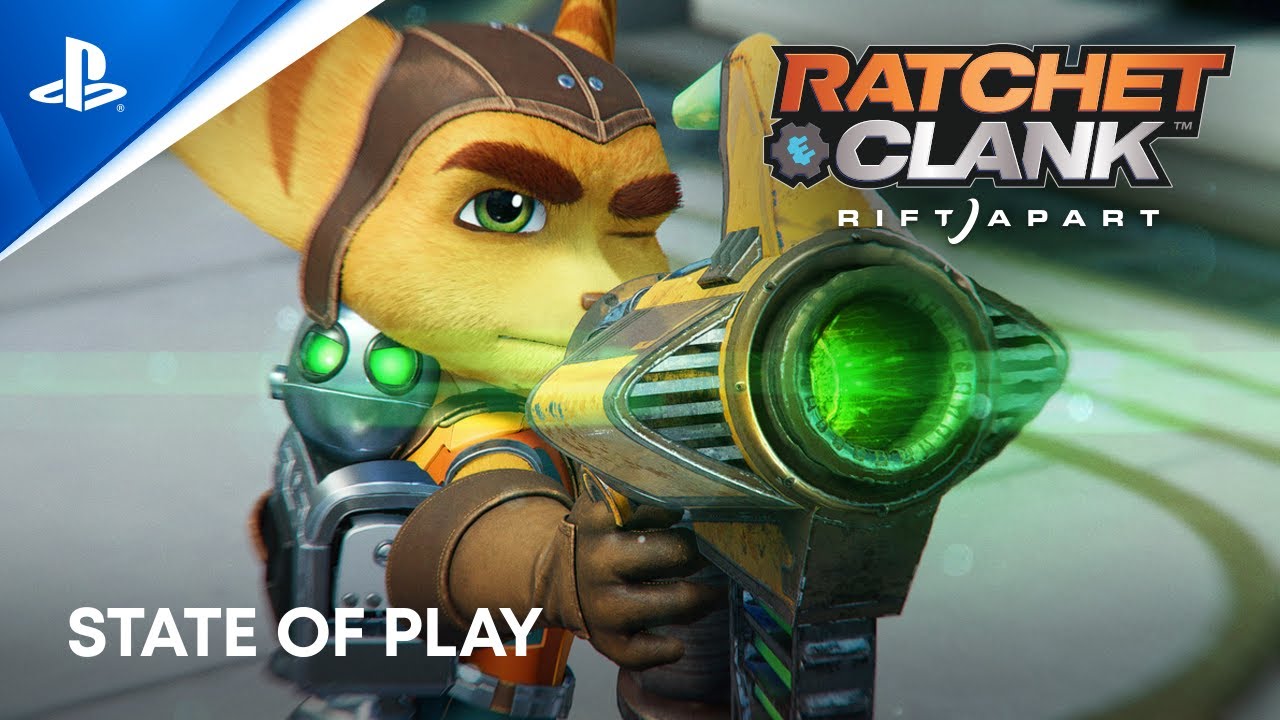 Ratchet & Clank: Rift Apart is a brand-new full-length standalone adventure that is great for both returning players and newcomers alike. We're pulling out all the stops to make this a showpiece exclusive game for your PlayStation 5 console as you jump between dimensions, handle an explosive arsenal (made even more visceral by the DualSense wireless controller), and strive to save the galaxy from the evil Nefarious.
In today's episode we gave you our most in-depth look yet. The power of the PS5 shines with amazing visuals from Nefarious City and Rivet's home base on the alternate dimension Sargasso. The game was built for the next-generation and shows it!
Ratchet & Clank: Rift Apart's dimensional chaos wouldn't be possible without the SSD either, thanks to near-instant loading. And today's State of Play showed some of the various ways that dimensional aspect changes gameplay with the Rift Tether, dimensional shifts, and pocket dimensions.
We also illustrated some of the new gameplay traversal mechanics, like Phantom Dash and wall-running, and showed how Ratchet and Rivet can utilize these new abilities and the Rift Tether in both combat and traversal.
Weapons are at the heart of any Ratchet & Clank game and we showed how we are taking advantage of the PS5's DualSense controller's adaptive triggers and haptic feedback to create the most immersive Ratchet & Clank weapons yet. This included a longer look at previously revealed weapons and a taste of a brand-new weapon, the NegaTron Collider.
We touched on Accessibility Options, including a toggle-able Game Speed mode we're very proud of. We'll share more details on all the game's accessibility options soon.
Lastly, we gave you a brief look at the many other features in Rift Apart: New open levels to explore, Clank puzzles, Glitch combat, arena challenges, aerial combat, and the first ever Ratchet & Clank Photo Mode will give you all sorts of ways to show off all the various armor pieces you can find during your adventure.
We're so excited for everyone to experience Ratchet & Clank: Rift Apart for themselves on June 11, 2021. In case you missed it earlier this week, we released a new gameplay trailer that gives you a taste:
As well as a look at the five additional armor sets you get with the Digital Deluxe Edition.
If you have an… uncontrollable urge to pre-order, here's where you can do that.
That's all for now, we can't wait to hear what you think of today's State of Play.