Plus details on the revamped combat, enhanced visuals, newly recorded voice-overs, and more.
We're excited to show you more about NieR Replicant ver.1.22474487139…, the predecessor to NieR:Automata, where you'll follow the journey of a young man on a quest to cure his sister from a deadly disease. During your adventure, which features different endings over multiple playthroughs, you will have many memorable encounters with an unlikely cast of characters, including Grimoire Weiss, a mysterious talking book with a somewhat snooty attitude and Kainé, a fierce fighter with a foul mouth.
Speaking of Grimoire Weiss, Square Enix partnered with the PlayStation team for a new episode of PlayStation Underground featuring the verbose tome. Watch below for a new slice of NieR Replicant gameplay: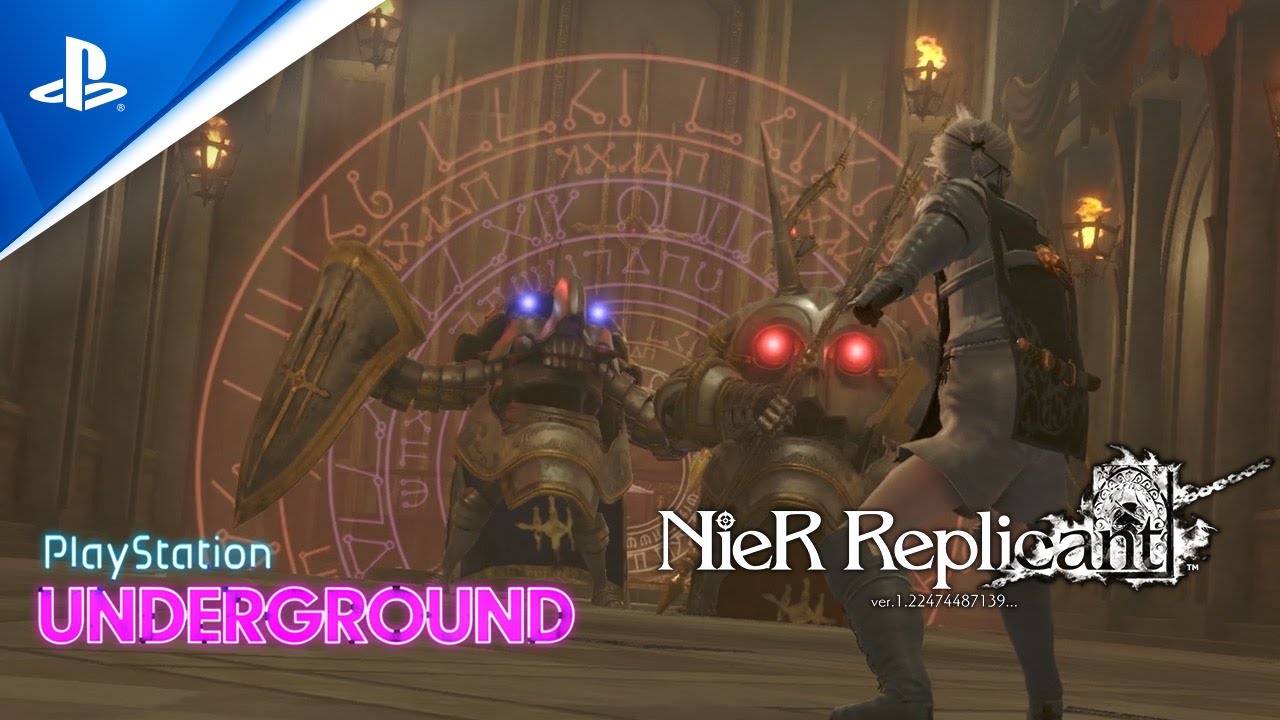 The original version, titled NIER (also known as NieR Gestalt in Japan), released in 2010 on PlayStation 3, and became a cult hit thanks to its unique setting, engaging storytelling, and outstanding soundtrack. It was followed in 2017 by NieR:Automata for PlayStation 4, which quickly gained vast critical acclaim thanks to its fluid combat and mind-blowing narrative. With the success of NieR:Automata, we're happy to bring you an enhanced version of NieR Replicant (the 2010 version that was previously only released in Japan), so you can experience the original story with revamped combat, enhanced visuals, newly recorded voice-overs largely featuring the original cast, a re-arranged and re-recorded soundtrack, and more.
NieR-ly perfect combat
The original release was praised for story and music, but we're taking that to the next level by upgrading the combat. In NieR Replicant ver.1.22474487139…, you'll be fighting a variety of enemy Shades, who are weak to sunlight, as well as large bosses shrouded in mystery.
Combat has been overhauled to feel more snappy, refined, and fluid than before, to provide a more NieR:Automata-like experience. In battle, you'll be able to use combos, by mixing your light and heavy attacks. There is also active dodge, counters, and parrying, which will help you stagger enemies and make them more susceptible to damage. Try mixing these tactics to find your favorite style to dispatch Shades.
A unique feature, and difference from NieR:Automata, is the ability to use magic in this world. Grimoire Weiss, a magical tome who joins your team, gradually unlocks Sealed Verses (aka powerful and flashy magic spells) as you progress. While not only providing great banter, he also helps in battle with a variety of ranged combat options, which are especially helpful while you're busy dodging crazy, bullet-hell-esque attacks. Skills like Dark Lance help knock down enemies, so you can close in and finish them with physical attacks. Sealed Verses use up your magic gauge, but spells like Dark Blast don't deplete your gauge as quickly as it refills itself, so you can use it in extended bursts to keep you safe from enemy projectiles. You can have two magic abilities equipped at once, so don't be afraid to mix and match to find your ideal combat style.
Of course, NieR Replicant ver.1.22474487139… also includes perspective shifts and different gameplay genres that fans of the series have come to expect—from hack-and-slash to side-scroller platforming to bullet-hell and more. And for those who want to focus on the story or take a break during subsequent playthroughs, we've also included Auto-Battle Mode, which can be turned on and off by simply pressing a button. This is available on the easiest difficulty mode, and is comparable to the same function in NieR:Automata.
More than just a remaster
Whether you've played the original or are completely new to the series, NieR Replicant ver.1.22474487139… is the best way to jump in and experience an astounding world and characters, while also enjoying significant story and gameplay enhancements and more.
We invite you to check out a plethora of new enhancements and extra content added into this release when it launches in a week, on April 23, 2021. Fans who pre-order the game will receive a digital mini soundtrack, which includes three tracks from the White Snow Edition soundtrack CD Disc 1—"Hills of Radiant Wind", "Song of the Ancients", and "Kainé". All editions of the game will also come with an exclusive PS4 dynamic theme and avatar set, featuring the beloved cast of characters.
We can't wait to see what you all think. Thank you for reading!